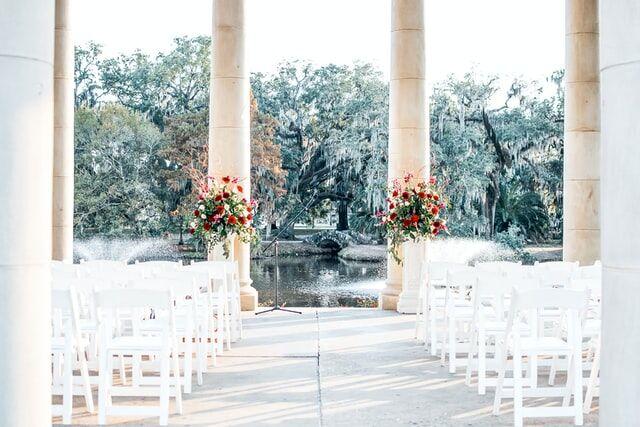 Choosing the right wedding venue and vendors who will carry out your wedding can be overwhelming nowadays.
The market is overpriced and highly saturated, so you need to be careful as there can be many costs associated with your selection. 
A wrong move can mean a significant expenditure if it turns out that the venue doesn't have everything you need. 
Being cautious when choosing a venue is even more critical for weddings during COVID-19 pandemics. It can make all the difference whether you will be able to celebrate your love safely.
Today, we share the top 7 pro tips for getting the most out of your wedding venue so that you can prepare for your big day relieved and stress-free.
Determine What The Price Includes
While some venues provide full service and include almost everything you might need for a wedding, others don't have such an offer. When making your selection, make sure to determine what's included in the rental fee to get the most out of your site.
A perfect place to check is the rental agreement and the venue's inventory. A sneak-peak into these documents will give you a clearer idea of what's offered and the exact number of chairs and tables that come with the venue. A visual check will help you determine whether their style fits your wedding plans, or you will have to go with the rentals and have additional costs.
Also, don't forget to ask the staff to give you the final quote for everything you want at your wedding, the so-called "plus-plus," with tax and service charges included. 
When it comes to the price, deposit and payment plan are also important for your budgeting, so check them out with the staff as well.
Consider The Menu Options
Besides breathtaking scenery, you need to astonish your guests with the exceptional wedding menu for your wedding to be entirely successful. (And, naturally, amazing desserts selection.)
When getting married in New Zealand, fantastic scenery is granted. Some Auckland Wedding Venues can also impress with their excellent food offer, helping you create a complete, unique wedding experience.
While some venues have their cuisine, you will also need to plan catering when renting others. If the venue doesn't offer food, it's good to ask the staff for catering information. In most cases, due to their experience, they will provide you with a vendor recommendation.
You don't want to leave anything to chance when it comes to food, so ensure you get some firsthand info about the quality. Venue's social media accounts can be a source of valuable information in this area, so use some of your time to check out the reviews.
Check Out The Hours
It's also crucial to determine how many hours you will have the venue available during the big day. Even though such information is a major one, couples often forget to ask when making their reservations. 
In such cases, they often purchase more extra hours when they find out that the vendors won't have enough time to set up and break down.
More often than not, you will have the place for yourself just a couple of hours before the ceremony starts and a couple of hours after the wedding finishes. If purchasing extra hours is possible, don't hesitate - you won't regret it.
Consider Accessibility
You want your guests to enjoy your wedding just as much as you do. That's why you need to ensure the venue is easily accessible, particularly for those not familiar with the area or the out-of-town guests. 
Before making your final decision, think about the needs of your guests. You can focus on these questions:
Will guests be able to find accommodations in the area?
Will they be able to understand the directions on how to reach the venue?
Can they find transport?
If you have people with disabilities among your guest, you might need to choose a wedding venue with provisions such as handicap-accessible bathrooms or wheelchair ramps.
Get Your Wedding Photographer Onboard
If you want to have some spectacular photos from your wedding, its the best to spend some time with your photographer and bring them onboard. 
The good idea is to take them for a walk around the venue so that you can plan the photos together. This way, you can show them the features you would like them to capture. Such planning will save your time on the big day, and you will spend more time with your guests. 
Ask For The Plan B
When hosting a wedding outside, you always need a backup plan, so question the staff about it. Some wedding venues have great plan B options, while others fail short on their offer.
Make sure you check out the setup and determine whether you need to make some changes to make the space more appropriate for the ceremony. 
Then, calculate the possible additional costs - it's much better to know them in advance and be prepared than getting hit by them in the week before your wedding.
Make It Official
It's easy to get emotional when choosing a wedding venue, but remember that it's not a done deal until you sign the agreement. Now's the time to be professional and put your feelings aside. If this is hard for you, find a person who will support you during the negotiation. 
Read the contract carefully - venues revise their prices and policies often, so a few things might have changed since you've talked to a representative or visited the place.
If you're not happy with what's written in the contract, be ready to negotiate its terms. Make the list of the changes you want to make in the agreement and decide on your priorities. If, in the end, the essential things on your list cannot be resolved to your satisfaction, the venue is probably not the right choice for you.
Now that you've read these tips for getting the most out of your wedding venue, you can feel more at ease and prepared as you go on planning a successful wedding.