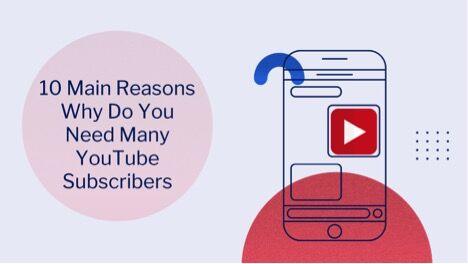 YouTube remains one of the most popular social networks in the world. And many people are looking for success as a YouTube blogger. Becoming an influencer on this platform is a complex work, that consists of many factors. One of them is the number of subscribers that you gain with your activity. Here we want to explain to you and highlight ten reasons why you should fight for every 1000 subs on your YouTube channel. 
Making Money 
Monetization of your videos depends on a few conditions. And having a big audience is one of them. YouTube offers this feature when you get more than a thousand subs and 4,000 hours Watch Time in total. Thus, getting a bigger crowd to see your content is vital for your channel to give you a revenue as a result. Also, having a large number of subscribers gives you an opportunity to earn money from donations. When you gain enough loyalty from your subs, you can encourage them to patronize the further production of your content. Though you could feel intimidated to ask for money at first, but think about it this way:
Creating a worthy content is hard work that deserves to be supported by its consumers. 
Besides, no one is talking about forcing someone to pay. You can use services like Patreon or Gumroad, and simply suggest users to show their appreciation and support. To make the donation more interesting to your followers, you might offer them some extra features:
Exclusive content 
Special products and merchandise 
Personal conversations or meetings
Don't forget that the most important thing that you must do is a constant improvement of your quality. Without that any calls to donate would be useless. 
Better Discoverability of Your Channel
You need to gain many subscribers to promote your videos within YouTube. Big numbers in your stats are counted in by the algorithms of the platform,which are responsible for such sections as "Up next", "Suggested videos", etc. Recommendations are one of the most powerful tools to spread your influence. So you must not neglect your chance to widen your target group and attract new viewers to your videos. Also, big stats are the interest picker by itself. This is how the mechanism of social approval works. Imagine an occasional user is looking through your profile, and he sees a large quantity of subscribers. The first thought he would possibly get is the conclusion that your content is interesting to many people, thus it is okay to check it out too. This way you increase your rates exponentially. But increase the effect, work on your SEO:
Write powerful titles
Add descriptions to your videos
Include navigation through video, if necessary 
Upload fine thumbnails that drive attention to your content
Add relevant keywords
Building A Community 
That is the ultimate goal of every person who wants to become an influencer on YouTube. Strong and large group of people who appreciate your content is an instrument for further growth. And the best feature to it is the fact that with time, this instrument works without your efforts. Your fans will promote your videos to other people, just because it is natural for humans - talking about things they like. Your only concern is to produce great videos all the way. With the big audience that loves you, it is possible to spend less time on promotion and more time on creating and editing your videos.
Raising Activity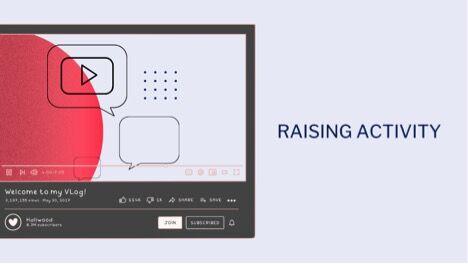 YouTube is a social network, and it is important not only to gain subscribers, but to retain them as well. The secret of doing that is in encouraging users to show activity on your content, like commenting and hitting likes. This can be done in a few ways:
CTA's, or direct queries to viewers, suggesting them to make actions
Communication through comments and starting discussions
Contests, giveaways, games, etc.
The trick is that when your audience is big enough, you spend less time on these things, except maybe contests. But stuff like comments will rise by itself, as people will engage in conversations without your participation in the process. Thus, with constant communication will affect your results positively.
Improving Cross-platform Promotion Results
Even if YouTube is your main platform, you still need to work on enhancing your profiles on other social media, like Facebook, Instagram, or Pinterest. Cross-platform marketing needs many subscribers on all platforms that you embrace, to make the process become an endless loop. With a growing audience, you will be able to improve the rates almost automatically, just with a proven tactic of promotion. Although, we should notice that some impromptu posts can also drive attention to your other platforms. 
Extended Feedback About Your Content 
Another good feature of having many subscribers is that you will be able to gather more information about the quality of your videos. Of course, it means that you will have to deal with a large amount of complaints and simply inappropriate words towards your video, but this is a sure way to deliver something that your followers would really want to see on your channel. Also, reading through positive feedback about your work will make you feel happier, which is important for your mental health.
More Customers For Your Business
YouTube is one of the most selling platforms, given that the content is planned and nicely shot. And having a lot of people subscribed to your channel means that you have got yourself a lot of potential customers. The best ways to increase your sales on YouTube are:
Presentations of your products which highlight its best features
Reviews uploaded by your actual clients
Educational videos that show how your product works
Collaborations with influencers and other brands of similar niche
Aesthetic advertising videos to impress viewers
Backstage stories about production process
Videos revealing values of your brand
Increasing Brand Awareness 
It is important to make your brand become a trend, highly discussed topic. Uploading videos on YouTube is one of the good methods to get closer to the target audience and deliver your message. Provocative and controversial content is an interesting idea to bring community's attention to your channel, but you must be ready for criticism and negative reactions to it. 
On the contrary, you can highlight some socially meaningful deeds that your brand contributes to. It gets the interest of the public not worse than provocations do, and as a result you would also increase the loyalty to your brand. That is vital, because in the era of social media you cannot sell products without attitude to different affairs of the world. 
Becoming Trend Yourself 
Another endgame for a YouTuber. Getting many followers is what defines a trendy content, which will be copied by all other bloggers. Viral videos require a big audience, so they can spread fiercely through all the network. However, virality is a matter of luck as well, because users are the power that makes video go bananas all over the internet. 
Beating The Competitors 
Huge number of followers is one of the conditions that define a personal victory for you as a blogger. Even though YouTube is a very widespread platform, and in theory there is a place for everyone, there is still competition between influencers and brands from the same niche. Having many subscribers is one of the peaks that indicates content that is the most interesting to people, as well as the most engaging persona behind the production.