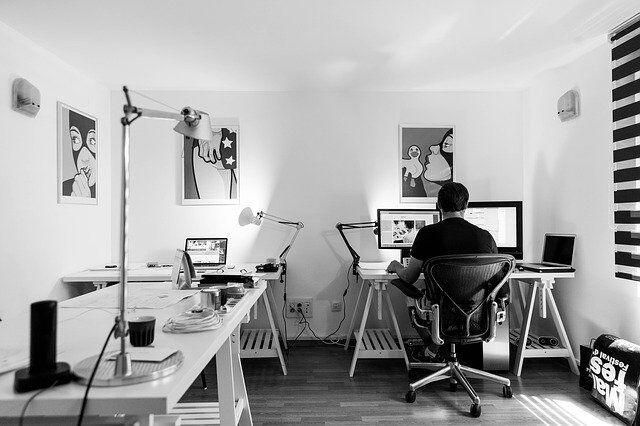 Thanks to the COVID-19 pandemic, many people have been effectively forced to create their own home office. This has meant many spare rooms, sheds and kitchens have been converted into home offices, with multiple functions.
If you have the time and/or the money, a home office does not have to consist of repurposed kitchen furniture and a cramped spare room in the house. With a few stylish items, coupled with a bit of interior design, you can enjoy a room that inspires and stimulates all who enter! 
Hygge is the new Feng Shui
Adopted to get Danes through the long, dark winters; Hygge is taking over Instagram and Pinterest, and in 2016 it was the official Oxford Dictionary Word of the Year. Originally from Denmark, Hyyge is popular across the US and the UK. It is about being "consciously cosy" and has been called "socialising for introverts". It is essentially a mix of gratitude, relaxation, happiness and being relaxed. Hygge is also a lot to do with good food – which is perhaps part of the reason it has become so popular!
Hygge is potentially a great source of inspiration for a home office. You can use the design principles to create a happy, productive & positive space where you actually want to work. With its emphasis on happiness & wellbeing, Hyyge could, in turn, make people more productive, creative and engaged (probably via messenger); when compared to a lead-design office.
A Hygge office would consist of cosy chairs, not plastic and metal office chairs, sofas and armchairs for meetings, lots of plants, desk lamps not overhead lighting, large ceramic mugs for coffee or hot chocolate, a sense of cooperation not competition - if you have any coworkers. Finally, candles are a big thing in Hygge, electric/fake ones are fine if a naked flame makes you a bit nervous.
Notebooks are a feature in a Hygge office too, whenever practical, take a break from the computer screen and jot down your ideas or to-do list on a notepad instead. 
Furniture
Tables with electric standing desks often provide the foundation of a home office, with everything else designed around it. With style and Hygge in mind, the Villiers range of stunning home office furniture may well provide the table that you are looking for.
Featuring a desk that is both functional and beautiful, the desktop dimensions are 174 x 79cm. Made of reclaimed eastern white pine wood, each piece of furniture has its own character thanks to the unique, high-quality timber with its own knots and markings.
If you are looking for old-world rustic charm, with practical storage space and comfort, then this stunning table, chair and cabinet – might be ideal for a luxurious home office & study.
If the rustic look is not in keeping with your taste, consider getting a glass table with a stylish covering or a more simple oak table.
If you don't have the budget for a new oak chair, then you can convert an office chair to a Hygge one, relatively easily. Just add a covering or a faux sheepskin rug to the chair, and you're pretty much done! 
Computer & Home Office 'Network'
Well, this is a bit of a tricky one…unless you want to work from your Commodore 64, then vintage computers that are anything Hyyge related, are difficult to find!
With this in mind, a top of the range Mac is a good choice for anyone looking for a luxurious office. It's operating system and resistance to viruses, make it a popular computer for those who can afford the relative expense. What's more, you can also create your own home office network by connecting your Mac to your iPad, iPhone and iWatch. You can also connect the Apple Homekit to control the radiators with a smart radiator thermostat – which can make the office warm and snug – which is very Hyyge!
The tado° Smart Radiator Thermostat Starter Kit V3+ can be used with an Apple app and detects open windows, the weather and integrates with the Apple Homekit and voice controls. 
If you want to warm the authentic Hygge way, then ideally you'll need to install a chimney and get an open fire or a wood-burner – which may be pretty messy and expensive. Alternatively, consider some cosy blankets. Weighted blankets have been shown (in limited studies) to reduce anxiety. More information on weighted blankets on the Harvard website here.
Finishing Touches
Now, it is possible to go all out and buy expensive lampshades, cushions and exotic plants, but you can achieve a Hygge vibe, without the expense.
For example, you can repurpose tea tins for pen holders, egg boxes as stationary holders and even Lego figures as cable holders (some will fit in their little hands!)
You can also use a pinboard, with family photos and cards attached – to give you the warm, loving vibe that's a Hygge prerequisite. 
Plants
Plants have a range of benefits. They look pretty nice and according to research, they improve mood and productivity in the office. They can also produce significant amounts of 'fresh air'. Areca Palm, Mother-in-law's Tongue and the Money Plant are touted as the best plants you can buy in terms of creating fresh air.
Aloe vera is also excellent plants when it comes to creating clean air, whilst cacti are probably good if you are looking for something low maintenance. If you are looking for something expensive and somewhat glorious, then take a look at Saffron Crocus, a beautiful purple flower that, by weight, costs around $1,300 per pound. 
Extra Tips for Staying Cosy & Relaxed
It's nice to stay cosy but you also need to get work done! Productivity tips can also help reduce stress significantly, however. Get organized – by decluttering and having a to-do list in an app or diary. Clear any clutter on your computer too, by deleting or filing away unused items on your desktop. You can also play some relaxing Hygge music with a playlist on Spotify. If you are self-employed consider hiring a legal answering service  – to reduce interruptions from unwanted sales calls and the like.
Breathing exercises are also proven to aid relaxation. If you need a quick break, try 1 minutes of mindful breathing -  breathe in through your nose for 4 seconds, hold the breath for 7 seconds, and then breathe out through your mouth for 8 seconds. You should consult your doctor if you have any respiratory problems though.
Other ways of inducing a sense of calm & focus, include hot drinks such as passionflower and/or lemon balm. An essential oil diffuser is very Hygge too, and lavender is one of the most relaxing oils to try. As mentioned previously, weighted blankets can help with relaxation, with something called "deep pressure stimulation".  Active relaxation including walking and spending time in nature, is also a great way to relax – if you can find the time!