Autumn is marked by its own singular beauty, introducing bright reds, oranges, and yellows into nature's color palette. And when it comes to bringing these colors into your home, the next best thing to flying in a New England maple tree is to create floral arrangements that celebrate the harvest season.
You don't have to be a pro to create a striking arrangement to centerpiece this fall. Just look for inspiration in a few places and follow some easy tips. You'll be amazed by the beauty you can easily capture.
Think Outside the Vase
Before automatically picking up your usual glass flower vases, consider unusual containers you can use for arrangements. Baskets, metal containers, pottery, old pitchers, a wooden box are great choices. Even beautiful blue and white porcelain shouts "It's fall!" when filled with sunflowers.
If your new container is waterproof, arrange the flowers in flower foam that have been soaked in water for 15 minutes. However, if your container was not meant to hold water, place the flowers in a small glass of water inside.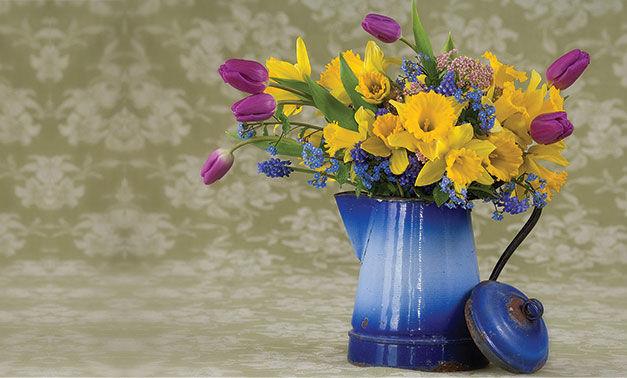 A grouping of three vases of the same color but different shapes—or of three baskets of different sizes and textures—creates a lovely arrangement. Arrange the same flower in each container or fill each with a different flower in autumn hues of yellow, orange, and burgundy. These can be all the same height or three varied heights, small or very large, depending on the space you are filling.
Look for loose fall flowers at grocery stores and farmers' markets, and combine them with dried grasses, wheat, and pussy willows available at craft stores. Sunflowers and chrysanthemums are fall favorites, and they can look quite different in unusual containers—especially when mixed with different sizes and types.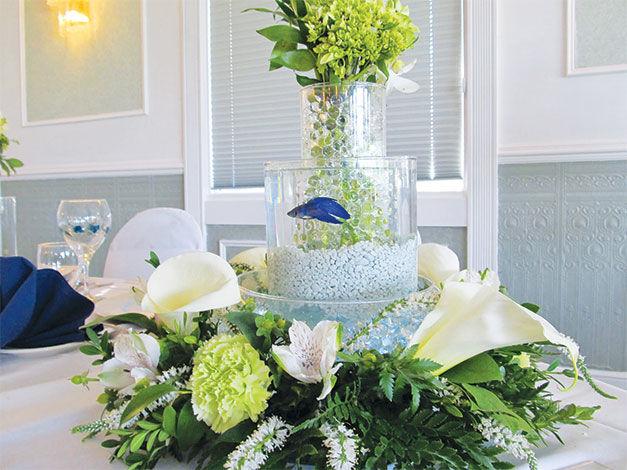 Some of the most beautiful harvest arrangements are elegantly simple. Begin with a floral frog—a multi-pronged stand that holds flowers upright—in a shallow bowl. Place three tall flowers, such as the bird of paradise, at different heights. Then arrange one or two large leaves, perhaps from the flowers themselves or from your yard, and scatter smooth stones at the base.
Look for Harvest Inspirations
Fruits and vegetables can also serve as containers or as a striking element of the arrangement. Now's the time of year to pick up pumpkins of all sizes, which look best in groupings. Place the flower arrangement inside a hollowed pumpkin and place two smaller pumpkins beside it. And don't forget white pumpkins—they can make a great statement.
After carving a pumpkin, you also can place live potted flowers inside by tilting the lid of the pumpkin on the side. These look beautiful on stairways and outdoor tables. Buy extra pumpkins early in the month and save them for containers for flower arrangements for Thanksgiving. Gourds, pomegranates and apples can also be placed around the base of your arrangement, or even used as candle holders.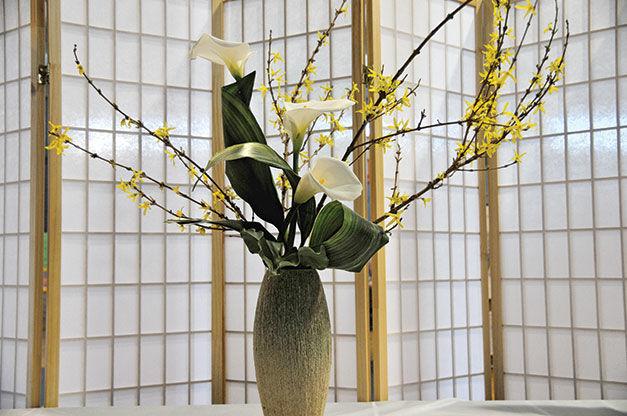 On a simple walk, you can often glean all you need to inspire a beautiful fall arrangement. Look for dead branches with interesting form, colored leaves and even dried weeds—but watch out for poison oak! It can be beautiful, but you will regret choosing it for your floral arrangement.
You can also collect dried pods and seeds such as acorns and liquid amber pods to scatter around the base of the arrangement or used as filler in a clear vase with flowers. Try placing a glass filled with water for your flowers within a larger clear vase filled with unshelled walnuts. For this arrangement, golden marigolds or chrysanthemums would be especially pretty, as they would seem to be growing out of a field of walnuts.
And don't always assume that bigger is better. It can be more charming to separate similar flowers from the typical fall bouquet and place them in separate smaller arrangements around your home.
Master Loose Arrangements
For a no-fail way to make your arrangement stand out, follow these simple instructions:
If you don't have a flower preserver, fill your clean vase with water containing a few drops of bleach and one teaspoon of sugar to make the flowers last longer. Another option is to add a cup of 7Up to the water.
Strip stems so that no leaves will be covered by water and decompose.
Cut stems to about twice the height of your vase, leaving several stems an inch or two longer for the center of your bouquet.
Insert stems of foliage and filler flowers, crisscrossing the stems as you go to create a grid that helps hold the other flowers in place.
Starting at the rim of your vase and working toward the center, add other flowers, spacing them as if they were points on a triangle. Place the longest stems in the center of your bouquet.
Don't forget to stand back and review your bouquet, making adjustments as needed.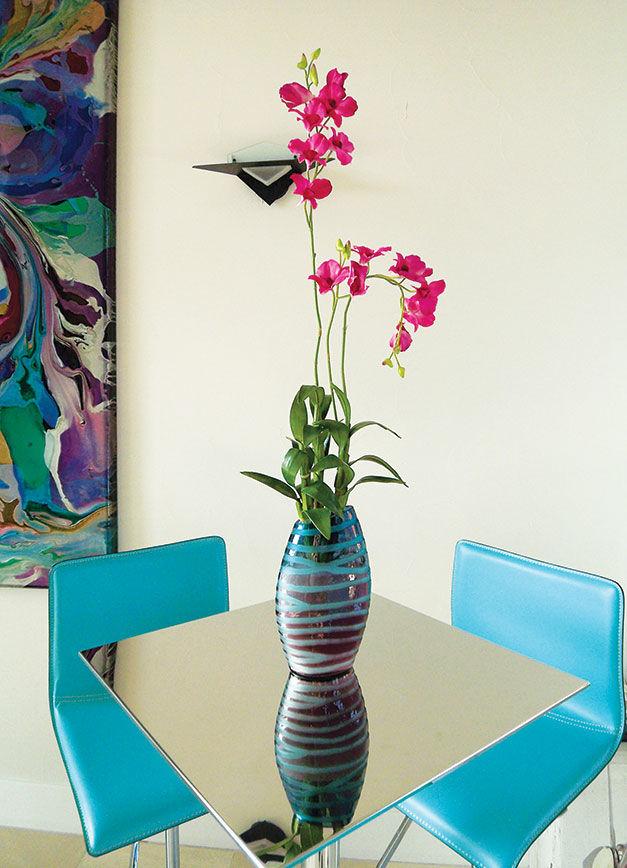 Follow a Few Tips
A couple of tips will make sure you enjoy your floral arrangements:
Cut an inch off the stems using a sharp knife, especially if the flowers will sit a while before being arranged. The fresh cut will help the stems absorb water better.
If the stem is woody, pound the end of the stem with a hammer first so it absorbs water better.
Store your freshly cut stems a few days before an event in the refrigerator. (Note: You will probably have to remove a shelf.) This also keeps roses from opening before you want them to.
Use florist's foam to keep flowers in place and constantly hydrated so they last longer. Soak the foam in water for 15 minutes before cutting it to fit the container, and water it every few days. You can also use small stones to help stabilize flowers in a container.
For a tall arrangement, make your bouquet one-and-a-half times taller than its container, and balance the width with the height. For some arrangements, you may want to drape greenery such as ivy over the container's rim.
When crafting your arrangement, remember that fall is a time for the gathering of family and friends, and time spent creating beautiful floral collections adds beauty and warmth to the season's special moments. Enjoy the peace and tranquility that comes in capturing autumn's matchless beauty.
Written By Suzanne Broyles owner of Coastal Home Design Studio
Here are Some Other Articles Related to Your Search: