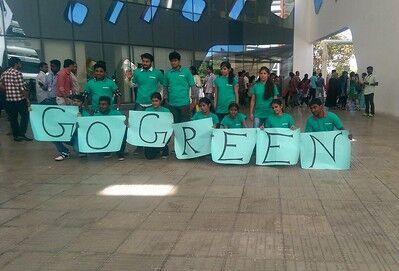 By now, we all know the three Rs of green living: "Reduce, Reuse, Recycle." While we may applaud the theory, many of us may be feeling just a little depressed - especially about the "Reduce" part of the slogan.
But greener living needn't be austere. We can still be comfortable - sometimes, even more so than we were before - and reduce our burden on the planet at the same time. It's not only the planet that benefits. After all, when we reduce consumption, we also reduce spending. Sounds good? Let's take a look at some practical examples to get you started.
1. Check out your Aircon's SEER Rating
What is a good SEER rating? The acronym stands for "Seasonal Energy Efficiency Ratio," and it's a mighty good number to know. Once you have it, you can calculate the overall cost of running your aircon, and since that's based on its energy use, you can look at reducing that cost without actually living with summer's heat.
The higher the SEER number, the more energy efficient your aircon's condenser will be. It still does the same job as the lower-rated one, but it does it using less resources - both the planet's and your cash.
Admittedly, the money saving is often relatively small if you were to look at it on a month-by-month basis, but over the useful lifespan of your aircon, it could add up to your aircon paying for itself and even giving you a small return on your investment. Aircon is one of your home's biggest energy consumers, so for significant results, SEER ratings are a good place to begin.
2. Choose Energy Star Certified Appliances
While SEER ratings are a way to check the energy your air conditioning consumes, Energy Star certification makes checking the energy efficiency of your appliances easy. If you haven't encountered this term before, it's no gimmick. Although it sounds like a catchy brand name, Energy Star status is allocated under the auspices of the EPA.
If your home appliances are getting a little outdated, chances are they aren't working as well as they should. If they are working as well as they did when you bought them, they may be using way too much energy in the process.
3. Check Out the ROI on Solar Energy
Home solar energy systems have come a long way in the last 20 years. Solar energy is cheaper, more effective, and more reliable than ever before and the best part is that you can gain credits with your utility by "selling" your surplus back to the grid.
That means that you can have all the reliability of grid energy but still pay less for it. You'll also be generating absolutely pollution-free energy that will be used at home and elsewhere. Now that's something to make both your environmentally conscious side and the frugal aspects of your personality happy. You don't have to sacrifice a thing, but you're still using less energy from sources that generate pollution.
It's Not the Same as Doing Without
Many people are more than willing to undergo a little inconvenience to save money and benefit the environment, but these are examples of changes that may even make your life easier. It's a far cry from the calls to turn off the lights you may have heard in your childhood. It's worlds away from the air conditioner-less lifestyle of your grandparents. Energy efficiency is cool, comfortable, and trendy, and the more people pay attention to it, the better the world of tomorrow will be.