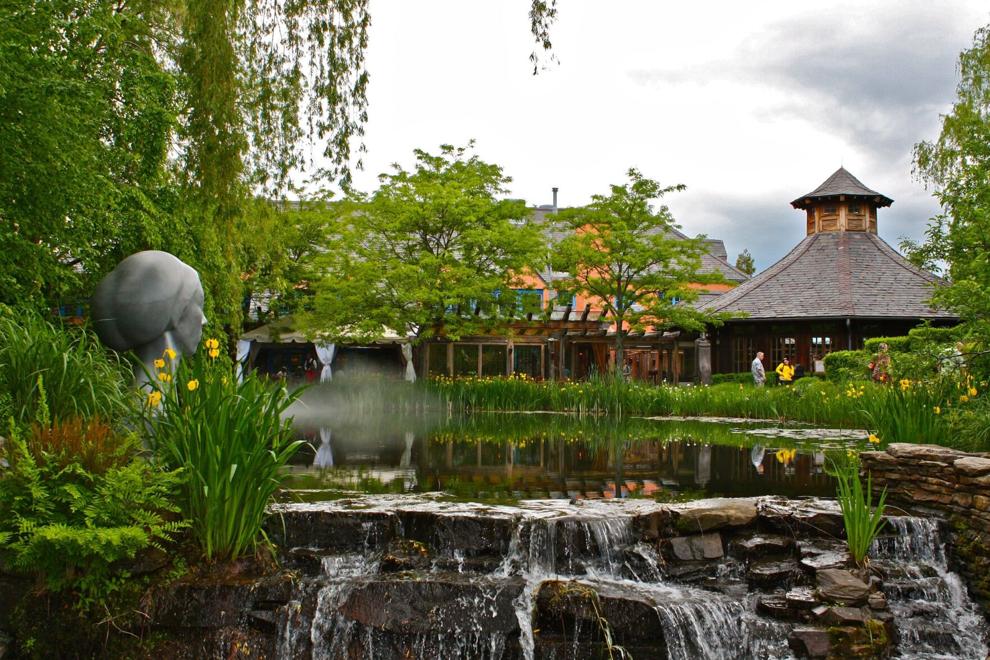 Creating a zen garden in your concrete backyard is much easier. You can transform your patio or deck into a peaceful retreat with the right plants and elements. This guide will walk you through everything from designing your zen garden to maintaining its upkeep.
Zen gardens can offer you many benefits, such as they can help you relax and unwind. They can also help you connect with nature for mindfulness. There are various types of Zen gardens, like Dry landscapes, Hill, Tea Garden, Stroll Garden, Courtyard, and Flat. Find out more about the design and elements used here. 
Plan the Garden's Design
Once you've decided to build a Zen garden, the next step is to plan its design. The size of your concrete backyard will determine how large and intricate your Zen garden can be. A smaller space should still have plenty of room for plants but may not allow for elaborate structures such as waterfalls or bridges.
Your chosen theme will also affect the layout and design of your Zen garden. If you opt for an Asian-themed garden, then it might make sense for there to be stepping stones leading up from an entry gate into a small pond surrounded by bamboo stalks.
If, instead, you choose an African theme with tall grasses surrounding rocks carved into animal shapes, like lions or elephants, then this would call for more open space between these elements so visitors could walk through them unimpeded by overgrowth or dense foliage.
Adding a zen garden to your house will increase its value. Data from Sold shows that awell-designed garden can add 20 percent to your home value. This means you can get all the benefits of a zen garden during your stay at the house, and it will also help you get more money when selling the home.
Remove the Concrete
The first step to building a zen garden is removing the concrete. You can use a saw to cut through it or hammer away at it with a sledgehammer until it breaks into pieces small enough to pick up and remove with your hands. If you have access to an electric jackhammer, that will make the job much easier too.
Once all of the concrete has been removed, use an industrial-strength power washer on top of each square foot of dirt so that no remaining traces of cement powder are left behind. This will help keep weeds from growing up through these spaces later on.
While you can remove the concrete yourself, there are many reasons you should not. DIYing concrete removal can expose you to injuries, debris, etc. You will also be at risk of damaging your home's structural design. Hence, concrete removal should be best left to the experts with multiple years of experience.
Five Points Excavating has 25 years of experience in offering concrete removal services. The company has completed around 1,800 projects with a high satisfaction rate during these years. It follows a straightforward approach. It starts by giving a quote, planning the concrete removal, and then starting the project. This makes it easier for the company and its clients to manage the project efficiently.
Creating the Base
Now that your concrete base is dry, it's time to start creating your garden. The first step is to use a trowel or shovel to create a level base for your zen garden.
Next, use a leveler or straightedge tool to check that the surface of this base is flat and even across its entire surface. If any areas are raised above others, they can be smoothed out with additional concrete and smoothing tools until everything looks nice and smooth, like glass.
When you're done smoothing out all these high spots, sweep away any excess dust or debris with a broom or vacuum cleaner.
Choose the Right Plants
The first step to building a zen garden is choosing the right plants. You want to select plants suitable for your climate, so if you live in an area with extreme heat or cold, consider bringing in some potted plants from inside during winter.
You also want to choose compact, low-water-use plants that won't require much maintenance once established. This will help keep things simple and free up time for other activities like meditation.
Cost is also an essential factor to consider when choosing plants. This also includes the cost of additional requirements. For example, professional shrub planting costs only $25-$50, whereas lawn seeding costs $550-$1,500, and flower bed installation costs $1,000 to $3,000.
Finally, selecting shade-loving varieties that can thrive under trees or on north-facing sides of buildings is important. These areas tend to have less sun and higher humidity levels than those found on south-facing surfaces such as patios and decks.
You must also consider your area's hardiness levels and choose a plant accordingly. For example, The National Bonsai Foundation states that the Chinese Elm is one of the most common zen garden plants, with excellent survival rates in USDA hardiness zones of 4-9.
Add Zen Garden Elements
Now that you've got the space for a Zen garden, it's time to add some elements.
Rocks: These can be collected from your yard or purchased at a local garden center. If you're unsure where to start, think about which type of rock might fit with the rest of your backyard and use them to inspire other items in your yard.

Sand: Sand is another easy way to create texture in your Zen garden while also helping keep the area looking tidy since it won't blow around as quickly as loose dirt would do. You may want to consider using colored sand to contrast nicely with any rocks or plants placed nearby. This will give an extra bit of visual interest without being overwhelming.

Water: Adding water helps create tranquility within any space by mimicking natural environments like lakes or ponds outside city limits, perfect for relaxing after work. Not all plants can tolerate being near water, so keep things organized accordingly.
Conclusion
Hopefully, you've enjoyed this guide and are inspired to build your zen garden. Remember, it doesn't have to be perfect. If you want an easy way out of the maintenance part, consider purchasing a pre-made kit from Amazon or another retailer instead.