Hands are extremely useful parts of your body, so it is best to treat them with care. The best way to do this is with manicures, as they are good for more than just your nails! Manicures are the best way to treat yourself any time of the week. But if you are not into weekly trips to the salon, special occasions are also a great excuse to get a manicure. 
Basic Manicure Care and Practice
Depending on how fast your nails grow and what type of manicure you get, you should get your nails done every week or every two weeks. Remember that when it comes to any beauty service, you get what you pay for. Higher-end salon manicures can range anywhere from $20-$60, with services going up to $80 (depending on what you get). This does not include tip and yes, you should always tip your manicurist for their service like you would anywhere else. The standard tip rate is 15% to 20%, but if you feel like your service was above and beyond, feel free to tip more!
Always make sure to research a nail salon you are interested in before actually going. You will want to make sure you are getting the best service possible. At the beginning of your manicure, your manicurist should remove your current polish and file your nails to whichever shape you would like (staying with your natural nail shape is best!). Next comes cuticle care, which will start with an application of a cuticle cream to soften your cuticles to make sure they are easy to push down. Sometimes, manicurists will also soak your nails in water to soften the cuticles, then cut them off with a cuticle snipper. It's all about personal preference, so if you are uncomfortable with one practice over another, make sure to let them know. 
Basic manicures are just standard cuticle care along with maintenance filing of your nails, and they are usually finished with a polish of your choice. These manicures will need to be redone weekly. If you get any fancy nail design painted on your nails, make sure to apply a top coat daily to make sure the design lasts throughout the week. This will also help prevent nail chipping. You can also ask for a gel (often referred to as shellac) top coat which will keep your manicure perfect, without routine top coat applications.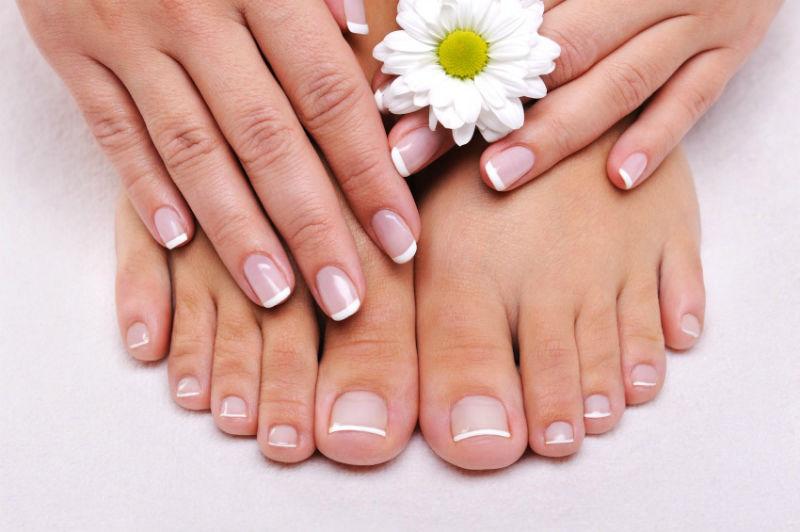 You can also opt for fake nails that will last longer, like acrylic nails. This involves a combination of a liquid monomer and powder polymer that create a protective layer over nails, acting as an artificial nail. This option is great for people who bite their nails or have nails that are stubborn with growth. Artificial nails are usually finished off with a good buffing and gel topcoat. Typically, acrylic nails are associated with a French manicure, but you can get natural-looking acrylic nails and paint over them as often or as little as you would like. Just make sure when you are removing the polish from your acrylic to use a remover that is safe for artificial nails (non-acetone). Depending on how fast your nails grow, these will need to be filled in every couple of weeks. 
Of course, in between visits to the nail salon you will need to make sure your nails and nail beds stay in tip top shape. Invest in a great cuticle oil or butter. Focus on products that contain jojoba oil (like Simply Pure or Hard As Hoof) because its molecular structure is similar to our body oil, sebum. This helps it to absorb into the nails, making them more flexible and less prone to breakage. The oil is great for all over your skin, so massaging it into your cuticles and the rest of your hands will promote great hand and nail health. Massaging either of these products (or any products like them) into your nails daily will ensure beautiful nail beds and healthy nails.
San Diego Nail Salons
San Diego has great salons all over with varying prices. Sakura Nail & Beauty is the first Japanese style nail salon in San Diego. This salon offers manicures that start at $15, polish jobs that start at $10, and gel that starts at $35. Direct prices of services can be found on Sakura's website, as well as more information regarding their services.
Shanti Spa & Gallery is a unique twist on a nail salon with art covering the salon for your viewing pleasure. They offer a high quality manicure with polish for $40 or a paraffin treatment for $10. For more information about their nail and other services, visit Shanti Spa and Gallery. 
Both salons are by appointment only.