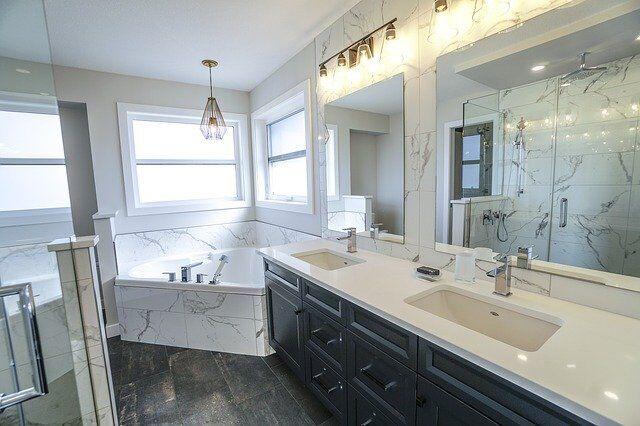 When it's time to get a bathroom makeover, the process may seem pretty daunting. You may not know who to call, how to plan, or how to budget. Here are 8 of the best bathroom remodeling tips to get you headed in the right direction.
Understand Your Materials
Different items require different materials. Bathtubs will utilize other materials from countertops, which will be further from the sink and bath fixtures. 
Speak to your professional remodelers about the latest trends you should follow. Learn about pricing details and timetables regarding work completion.
Get your expectations in place before proceeding with the work order.
Don't Underestimate Flooring.
Flooring can be a bit of an afterthought for many bathroom remodeling projects. Choosing a surface that balances durability and aesthetics isn't the easiest thing to do, but it's essential for long-lasting results.
Thanks to modern flooring materials, you no longer need to compromise between functionality and durability. Many incredible flooring options will check both boxes seamlessly.
Improving Bath Ventilation
You want to make sure your bathroom renovation endures the test of time, which is why proper ventilation is critical.
Ventilating properly is extremely important; it's only a matter of time before you get a buildup of mold or mildew. We don't want that!
Ensure that whoever is doing your remodel is mindful of this. You can ruin an expensive upgrade in just a few weeks if your space is poorly ventilated, including objects like Flooring, walls, and cabinetry.
Future-Proof your Space
Make your bathroom stand the test of time and help improve your home's value along the way. 
If you are putting your home up for sale a few years in the future, you may want to go with a more mass appealing design. If, instead, you plan on living there for many more years, then consider remodeling options that suit your specificities. 
LED Lighting
If you want a more elegant, posh look to your bathroom, think about installing LED lights, specifically recessed lighting. 
These lights help eliminate shadows on faces and provide full illumination in the bathroom. 
Quality of overhead lighting is critical for bathroom ambiance. Perimeter lighting also adds a nice touch to any living space, offering a soft glow-like effect. 
Know Your Plumbing and Wiring
The professional you hired may find an outdated piece of wiring or plumbing, which would mean that you gut out the old pipes and wires.
Re-plumbing or re-wiring requires that you have a high enough budget to afford such work, so make sure you've allocated some more dollars just in case.
Make your Space Look Bigger
Home sellers need to make sure their space looks nice and big to impress would-be buyers. You can do a few little things to your bathroom that make it look a tad bigger when you go to show it.
Start with adding glass shower doors instead of a shower curtain since curtains can block the light and give the illusion of excess enclosure.
When it comes to the vanity area, try using a big mirror over a smaller medicine cabinet mirror.
Grout Plays a Role
It may not be the first item on your bathroom remodeling to-do list, but grout is something you embark on your remodeling project. The right tile grout will help you effectively seal out water, dirt, and grime, improving your install's overall structural integrity.
Planning Your Remodel Lessons The Headache
The more focused planning you do before embarking on your project, the better your results will be along the way.
Remove stress by talking to a licensed contractor who has been there and done that. Get your project off the ground with the right budget, right timeframe, and the right people to make your bathroom remodel a success.