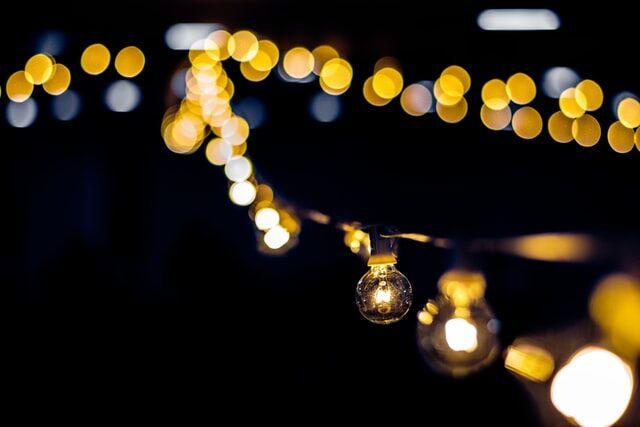 With summer finally arriving, everyone is now spending a lot more time in their gardens. So there is no better time to change up your garden and reap the rewards of a fresh new look for your outdoor space. If you are stuck for ideas, then look no further as here are five great ideas to help you spruce up your garden/outdoor space. 
1. Hang String Lighting
Lighting can make a world of difference for any space, especially for a garden. Depending on what lights you use, lighting can create atmospheres; for example, warm lighting creates a more ambient effect, making the garden feel cozy and comfortable. At the same time, cold blue lighting creates more of a sophisticated and relaxed atmosphere. Lighting gives you more flexibility than you might think, and use string lighting in your garden is sure to make it look a whole lot better. There are plenty of options online to choose from; with different styles of string, bulbs, and colors, you will be spoilt for choice.
2. Install A Water Feature
You might see this point and think that a water feature would be too difficult to install or that your space is too small for one. However, that is not the case! There are lots of easy-to-install water features, and there are plenty of options for smaller spaces too. A water feature does not have to be grand, and over the top, it can be something small and compact and still be a beautiful addition to your garden. If you need some extra tips on using the space in your garden, visit Orenda Home & Garden to learn more about garden improvement. If you do not want to go through the effort of installing a feature, you can buy one that is all made and ready to go. There are small cascading rock pool features, trim LED waterfall options, and many more to choose from.
3. Experiment With Garden Furniture
Another way to spruce up your garden is to experiment with garden furniture. You can use seating and other bits to create 'zones' in your garden. For instance, if you have decking or a patio in your garden, then you can put seating and tables in that area to create a clear distinction in the space. You could also create a chill zone, where you have a hammock, lounger, or swinging chair in an isolated part of the garden. This can be used for relaxing, reading, and even sunbathing space. Also, if you have a family, you might want to consider creating a play zone in your garden. Swings, climbing frames, and sandpits will make a great addition to your garden and will create a fun and family-friendly space. Also, this will encourage kids to stick to this area which will help contain the inevitable mess they make. 
4. Get A Murphy Bar
If you are not familiar with a murphy bar, it is a fold-down bar mounted to a wall or a sturdy fence. The bar is folded away when not in use, and so it takes up minimal space. This is an excellent option for those with smaller gardens as it allows you to have a table and seating area when you need and then when you have more space, you can fold it away. It is an excellent addition to any garden, and you can find a range of styles and colors online. 
5. Use Flowers And Plants To Create Color
The most effective and inexpensive way to spruce up your garden is to use flowers and plants to create color in your garden. You can create color schemes in different parts of the flower beds, or you can go rogue and plant whatever flowers/colors your heart desires. This is an excellent opportunity for you to express your creative freedom, so try not to get caught up in making it look perfect and instead make sure you have fun with it. Also, if you have a family, then this can be an excellent way to get the kids involved and let them feel as though their opinion is valued. Ask them what flowers and plants they want to put in the garden, and then they get the satisfaction of watching their plants grow. This is even more effective when you plant a fruit, such as tomatoes, to visually observe the progress and then later eat them. 
So there you go, five great ideas to help you spruce up your garden. Enjoy the process and enjoy the rewards that come with it. Happy gardening!