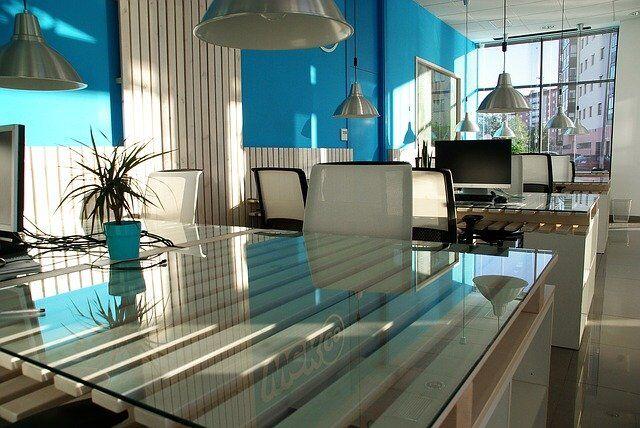 You and your entire staff will spend at least 40 hours per week in the office. Therefore, your space must be conducive to a healthy working environment. The way you structure the office and use space are essential. Space optimization is designed in a way that space is used efficiently while maintaining aesthetic appeal and comfort. 
Your office layout is more than just getting the most out of the space. It also includes in-office environmental factors. It should be done in a way that there is a healthy working environment. Employees are much more likely to be creative and productive in a well-designed workplace. It will take more than rearranging the desks. You'll have to consider furniture, color, lighting, and function. 
How To Optimize Your Office Space
A poorly designed office space can cause higher stress levels, increased tension between departments, reduced productivity, and increased disputes between employees and the company. 
When you think of space optimization, you may consider fitting as many things as possible into one space. However, that is not necessarily the case, and it is much more about creating a functional and efficient working environment. Moveable wall systems and partitions are one way to achieve this. The team at www.portablepartitions.com.au mentioned that you could find quality options that can be used to structure the spaces in your office. It is essential to understand the working environment you need to create to have your company functioning at its best.
Here is how to optimize space and design like a pro. 
1. Make a Plan
The key to properly optimizing your office space is to start with a plan. You want to plan for the number of employees you have, the number of departments, specialized work areas, and things like a working kitchen and possible office gym.
If you moved into an office space with pre-existing rooms, you might want to consider keeping some of them and removing ones that don't work with your layout plan. Try to avoid creating a fully open-space office.
2. Use Vertical Space
Something that often gets overlooked is the vertical space in an office. The potential of vertical space to add more variety and help to optimize the overall office space is something to pay attention to. This is especially true for offices in warehouses or high ceiling buildings.
If you have a space like this, it may not be possible to create an entire second story, but it is possible to develop small landings to put things like meeting rooms, kitchens, or relaxation rooms.
3. Leave Some Space Open
As mentioned before, you don't want to create a completely open office space. However, you should leave some room open. This helps to promote airflow, lighten the atmosphere, and allows employees to feel connected to each other. In addition, having a semi-open, semi-closed office helps to designate the purpose of each working area. Thus creating more variety in the workday and helps employees feel more energized and motivated.
4. Don't Overcrowd With Decor
To create a more lively workspace, you may be tempted to decorate every inch of wall available. Don't fall into this temptation. Sometimes the decor takes away from space that can be used for better purposes. It can also overcrowd the workplace and create a feeling of mental chaos. In the decor's case, sometimes less is more. The best type of decoration to use is functional, i.e., those used for more than one purpose; they don't just look good.
5. Get Rid of Bulky Furniture
One of the best ways to optimize space is to get rid of bulky furniture. These can be desks, chairs, filing cabinets, and any other number of office furniture. Most things in the working environment now are digital, which means there is less of a need for storing material. So instead, switch to lighter but more ergonomic chairs and sleeker desks. These will provide more legroom and mobility. 
6. Create Multipurpose Rooms
Lastly, create multipurpose rooms. The best way to optimize the space you're working with is to have rooms and areas serve more than one purpose. For example, use the kitchen as a casual client meeting area. When not in use, meeting rooms can be used for group collaboration or an alternative working area. Think of what employees might need and coordinate the space accordingly. 
When designing, the most important things you want to keep in mind are the space you're working with, the purpose of each area, and your employees. These three things will guide the decisions you make as you try to optimize your space. This may also include moving to a new place altogether. The critical point is to make sure the workplace is serving your company.