Yoga, paddle board, what? Yes you read right. Yoga on a paddle board craze arrives in San Diego thanks to Bliss Paddle Yoga.
When every day feels like a never–ending to–do list, you may wonder if you're ever going to have time to breathe, let alone give yourself time to relax. But relaxation is important and allowing yourself to unwind and recharge will give you strength to tackle everything moving forward. Yoga is a great way to relieve stress and renew your energy so you can better focus on the task at hand, whatever that may be. 
Bliss Paddle Yoga 
4000 Fanuel St, San Diego | (858) 215-3661 | blisspaddleyoga.com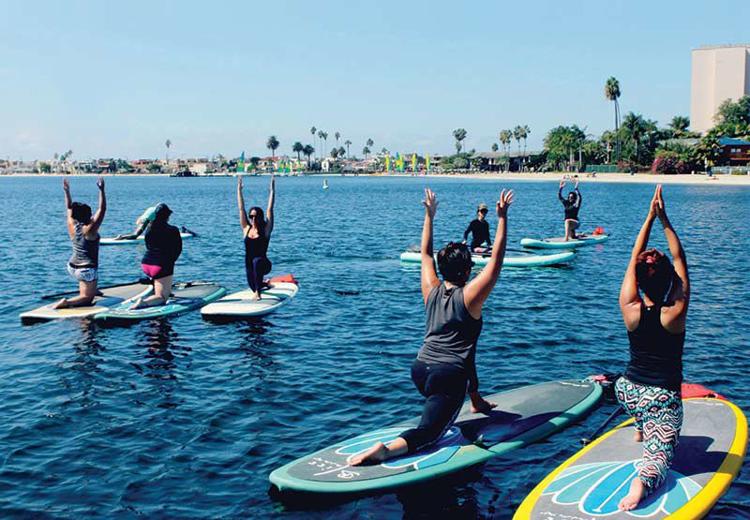 What is Paddleboard Yoga?
The idea of using breathing and relaxation as a mechanism for creating a healthier lifestyle is the entire premise behind Bliss Paddle Yoga, a company launched in Laguna Beach with regular classes in Newport Beach and San Diego's own Mission Bay.
Modern paddle boarding is a Hawaiian sport derived from surfing and adapted for today's lifestyle of fun in the sun and on the water. Paddle board yoga takes the magic and tranquility of the ocean and joins it with the focus and flexibility exercises of yoga.
"I'd always thought early on that stand up paddling was such a great activity," Bliss Paddle Yoga owner and founder Taylor Chaput said. "With paddle boarding, it's not as intense [as surfing]; it's more blissful, and that's what inspired the name."
Chaput began paddle boarding when she ventured into the crystalline waters of Laguna Beach with her mother and quickly fell in love with the sport. Shortly after, she transitioned to practicing yoga on the boards, igniting her passion for paddle board yoga.
Chaput founded Bliss Paddle Yoga in the summer of 2010, offering classes to the locals of Laguna Beach before expanding her practice to Newport Beach and San Diego the following year. 
"The demand is growing for stand up paddle board yoga so much with the number of people that come to classes," said Antony Besso, who joined Bliss Paddle Yoga in 2012 and is now part–owner. "We feel like we're living the dream here in Southern California and particularly in San Diego."
Growing Popularity 
It's not surprising that paddleboarding yoga is growing in popularity. The practice of yoga and paddle boarding are both meant to inspire calm and encourage a collective ness of the soul. When combined, they create an incredibly relaxing activity that allows you to mellow out, recalibrate your focus and center your mind and body, something we could all benefit from on a regular basis.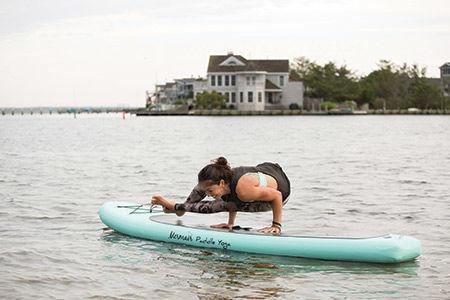 Bliss Paddle Yoga welcomes adventurers of all skill levels, from beginners to skilled yogis. All of the instructors are experienced, well–practiced and coached specifically on paddle board form. Instructors are also required to go through lifeguard routines and SUP rescue techniques in case any problems arise while on the open water. The three–day teacher training is taught regularly at all locations and retreats are often scheduled to allow even more interested people to earn their paddle board yoga teaching certification.
In the past, Chaput has hosted SUP retreats in international waters, including Bali and Costa Rica. Retreats are a way for teachers and students alike to fully embrace the yoga lifestyle by truly removing themselves from the everyday grind. Tropical locations are the perfect setting for relaxing, recharging and letting go of stress. New retreats are always being planned—the next event hosted by Bliss Paddle Yoga will take place in Maui, Hawaii in January 2016 with yogi Laura Sykora.
"What we're trying to do is become a reference for people who are interested in yoga on a stand-up paddle board by teaming up with very inspirational yogis," Besso said.
Sykora isn't the only well–known yogi to team up with Bliss Paddle Yoga. The company sponsors many prominent names in the yoga community, including Kathryn Budig, author of The Women's Health Big Book of Yoga, and Holly Fiske, an avid yoga parent who regularly inspires more than 51,000 followers on Instagram. The aptly–named Bliss Yogis are supported through branded equipment, in–depth interviews and promotion of the water–based yoga lifestyle.
"That's one of our goals—to get people into the lifestyle of being outside on the water," Chaput said. "Our hope is that people will keep coming back, or go get on their own board, whatever it is to make it part of their lifestyle."
The yoga lifestyle is nothing new, of course. People have been practicing the art of relaxation for centuries and little has changed since then. Yoga is still a great way to unwind after a long day or concentrate on sharpening your mental zen skills. Bliss Paddle Yoga actively encourages this method of centering yourself to create a better you.
Yoga paddleboarding class locations
Weather permitting, every San Diego class meets on the sandy shores of Fanuel Street Park on Mission Bay. Bliss Paddle Yoga supplies and transports all of the necessary equipment, so students can relax before they even get started. From there the class begins with a beach lesson, then paddles out together for the tranquil workout regimen designed by the instructor. Chaput said the company tries to hire and train teachers of various yoga styles to offer a diverse range of practices that everyone can enjoy, from Vinyasa to CorePower Yoga and more.
"Sometimes it's easier for people to disconnect when they're out on the water," Besso said. "It might be a little frightening at first, but if you find yourself out on the water […] it's so nature–oriented, it kind of brings people back to their roots. It allows people to escape their mind a little more."
There certainly is something about the open water that allows your mind to drift into serenity, where your daily routines and all of your worries float away with the gentle tide. All of Bliss Paddle Yoga's classes run for an hour and a half, giving students ample opportunity to get used to the board and focus their breathing. Even beginners who have never tried paddle yoga before have found that making the transition from land to water wasn't difficult.
"One of the biggest feedback or most popular things that people say is that they're really surprised at how accessible everything is," Chaput said. "What I would tell beginners is that it's not as hard as you might think and you'll surprise yourself with how much you can do out there. Just have fun, most of all."
Out of Bliss Paddle Yoga's three locations, San Diego is by far the most popular, according to Chaput. The area has a thriving yoga community and its natural beauty and tranquil surroundings are perfect for fostering a meditative mindset. 
"This is really a way to slow down and get back to the foundation [of yoga] and to fall in love with yoga again," Chaput said. "We feel really lucky and grateful to be doing what we're doing and to share our love for yoga and the water with everyone that comes through."