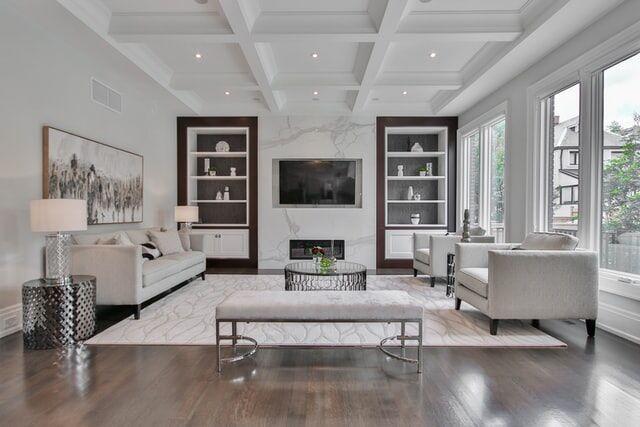 One of the biggest interior trends this year will be a pared-down luxury. We're talking rich textures complimented with sleek woods and earthy color palettes. Nailing the subtle luxury trend needn't break the bank nor require a total renovation. We've put together our top tips for the little things you can do to give your living room a lift, leaving your home feeling like a high-end hotel.  
1. Light It Up
Lighting can make a huge difference when making a room look more expensive. Large drop pendants with metallic fittings can make a room look larger by drawing the eye upwards. Ensure you use a qualified electrician for any chandelier or pendant hanging and wiring, as it can be challenging to do yourself. Check out this electrician in Cheyenne, WY, if you live in the Wyoming area for a quick, professional fitting.
If you don't have the space or cash for huge pendants, use wall sconces to lighten up darker areas of the room. If you have any artwork on the walls, use small downlights at the top of the frame to highlight the piece and give your home a gallery feel. Add small LED lighting on shelving units to add a warm glow to the room and make your living room look like it's from the pages of a catalog.  
2. Mix Up Your Walls 
One-tone walls are so 2021 darling; dividing your walls into two adds height to the room and will give your home a cool modern feel. Draw up a horizontal line running around the room and paint a darker color on the bottom half. If you want something more unusual, draw the line in the upper three-quarters of the room and use a soft color on the uppermost part of the room. If you're feeling bold, paint the soft color onto the ceiling for a cool vibe. 
3. Upcycle
Upcycling your current furniture is a cheap way to make your room look brand new without splashing out on a whole new host of décor. Marble contact paper can be purchased online and is a great way to make old side tables look unique and expensive. Cut to size and roll the sticky paper on a coffee table, ensuring no air bubbles. Paint the legs of any furniture you have in cold, Braff or copper tones and reupholstery tatty old couches with deep jewel-toned velvets or crisp white linen.  
4. Accessorise
Adding accessories can transform a space—layer chairs and couches with thick, opulent throws or bold cushions with beading and fringing. Add large rugs to well-polished wooden floors and tall vases to any empty surface. As well as looking chic, you want your home to smell divine; large scented candles can seem an unnecessary treat but make all the difference to making your living room look gorgeous while adding some luxury. Look for woody ouds or jasmine for minimally decorated rooms and lighter basil and bergamot scents for rooms that are heavy on glamour. The contrast will leave guests feeling refreshed and intrigued!
Are you ready for a living room makeover? Let us know your favorite luxury tricks in the comments!