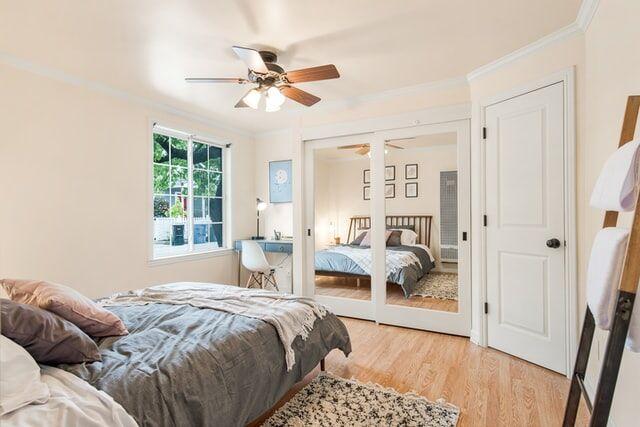 So, you just bought a brand new ceiling fan. Now, you want to keep it in good shape, maintain it, get the most out of its use, and find a nice place in your home for it to reside. Sounds simple enough, right? It certainly can be! Ceiling fans are fantastic, elegant, and superb for improving air circulation and creating a more energy-efficient home. They look good, while it is only the icing on the cake! Getting the most out of your ceiling fan is easy with just a few simple considerations and steps. Here are five of our tips for getting the most out of selecting, installing, and maintaining a new ceiling fan in your home.
Find The Ideal Room
The first thing to do is decide what kind of room you will be placing your fan in. This will largely determine the type of fan that you get. If the room has a lower than 8 ft ceiling, you'll need to consider getting a low profile or hugger/flush mount fan. If the room has a larger ceiling, you'll have to decide on a different kind of mount that includes a down rod. Down rods come in different heights to accommodate various ceiling heights. You can also determine the blade sweep, or diameter of the fan blades as they spend, see how it will correlate with your room. Measure the square footage of your room, and then pick out a fan that corresponds to the size. Fans can come anywhere from 24 to around 90 in diameter, ideal for any room. The smaller the room, the smaller the fan. And vice versa. Once you've gotten all of your measurements out of the way, selected a room, and are ready to go, it's time to get a brand new fan. 
Choose A Unique Style
The best part about buying a brand new ceiling fan is the sheer variety of different ones you can get. There are plenty of styles from which to choose. Modern ceiling fans offer a clean, efficient, transitory property that allows them to fit in well with most contemporary decor. Other ceiling fans, such as the industrial style, also fit this aesthetic differently. The different ceiling fan types are nautical, tropical, farmhouse, and transitional, each with unique visual value and operational standards. Then there are The rustic style ceiling fans that offer a wood-based, natural look that wouldn't be out of place in a ski lodge or log cabin. These rustic ceiling fans are ideal for modern homes, especially if you have hardwood floors or a wooden tone wallpaper. They're versatile fans that can fit where you need it most.
Keep It Clean
As you use your ceiling fan, it will inevitably get dusty or dirty. Dust can also make a fan wobbly, not to mention unsightly. Low-profile fans are pretty easy to clean. You'll want to ensure the breaker is off so you don't accidentally get shocked, but the rest of the process is relatively straightforward. Just use a cloth or dusting device to wipe it down. Using an all-purpose cleaner—placed directly on the rag and not on the fan itself—can help you get some of the hard-to-clean gunk off your fan. You can also clean the lighting areas, including casings or light globes. Keeping a fan clean is crucial to maintaining it, and having an easy-to-access fan (such as a low-profile one) makes it a bit easier for smaller spaces. 
Choose A Remote Control
Remote controls are a fantastic accessory for ceiling fans. They're easier to use than a pull chain and offer more convenience than a pull chain or wall switch. With remote control, you can dim the lights on a fan, adjust the fan speed or reverse direction, and turn it on and off. This beats getting up and pulling the pull chain at any time of the day. Better yet, remote controls usually work with infrared, meaning you won't have to rely on an internet connection to get them to work. Just be sure to put them in their designated spot when you're not using them; that way, you don't lose the remote control. No one wants that.
Get It With Lighting 
Getting a ceiling fan with lights is probably one of the best decisions you can make when it comes to installing a new van. Why? Because lighting can help bring a room aesthetic together while also having a practical function: lighting up the room. Lighting comes in many different styles, including dome, recessed, exposed, caged, and even chandelier styles. Ultimately, the type of lighting you get depends on your interests and the uses you have in mind for it. If you need ambient light or something dimmable, you can get that too in a ceiling fan design. Getting some lights with your ceiling fan is just a great idea, and you should consider doing it when you are making your purchase.