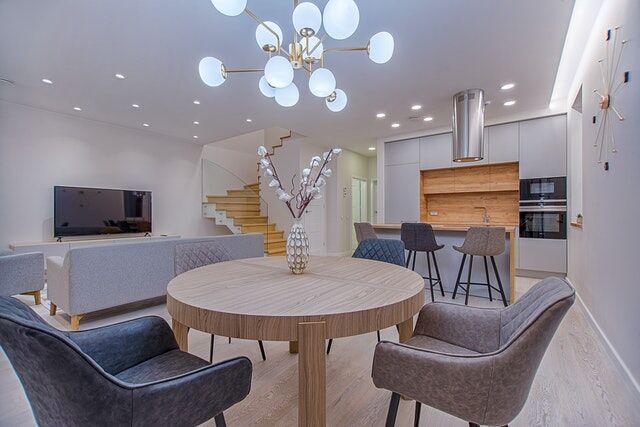 Even the interior can affect your feelings if it doesn't inspire you, even when you are doing your favorite activities, such as playing with the first deposit bonus or watching movies. Yet, you can fix this situation by following these easy tips.
Choose one Main Color and Match It With the Palette.
A combination of shades makes a monochrome interior interesting. If you took white as the basis, complement it with details in light gray, gray, beige, and white tones. For example, we did in one of our projects: smooth white brick and dusty shades of gray on the floor echo the sofa's texture and fluffy pouf.
Monochrome isn't just gray, white, or beige. You can use complex, dark, and saturated tones of different colors and create unusual combinations. For example, if you painted the walls with the base color's lightest shade, then pick up the sofa, cabinets, and chairs in more intense tones. Or vice versa: choose the darkest and most intricate shade for the walls and dilute it with a palette of more natural colors and materials. I feel like an artist looking for inspiration and mixing different colors.
Play With Lighting
The depth and beauty of color and form are dependent on the right natural and artificial lighting. This should be taken care of in advance at the stage of the design project. When you have decided on a palette of colors, think about how your monochrome interior will come to life at dawn and dusk under the lamps' glow. In daylight and artificial light, the hues of the coatings will look completely different.
Give Volume to Your Space
When we get into a room where all the objects are the same color, we have the illusion that everything is flat. Different materials and textures can help us get rid of that feeling and give volume to space. For example, we can use stone, paint, textile, metal, tile, mirror, matte or transparent surfaces.
As a rule, we start with large volumes - walls, floor, furniture, and then add small interior items to them - for example, a pouf or a carpet of the same color palette. Before you buy furniture, check whether it blends with the overall tone of the space. All parts must be of acceptable quality and form together with a harmonious composition.
Pay Attention to the Decor
The final touch is art. Paintings, flowers, candlesticks - every detail is essential. Our eye captures all the nuances, and they are more noticeable in quiet interiors. One random bright trinket can destroy the overall picture. So, it is worth very carefully combining jewelry for each area of the apartment.
How Not to Overload the Interior?
We usually prefer glass objects, vases, fresh flowers, ceramics, and natural human-made sculptures. They look natural and enhance the interior, but at the same time, they do not clutter up space. It's possible that the panel or vase you like will not immediately fit into the monochrome scheme, and you'll have to go through a few options before you find "the one." Do not be afraid to try and experiment.
If you follow all these recommendations and listen to your gut, you will get an interior that will never bore you. It will be easy to relax and unwind from work in such an apartment fully: watch movies, listen to music, and read. Monochrome and properly chosen color schemes will be relevant at any time. Over the years, the interior can be "reassembled," and new accents can be added.