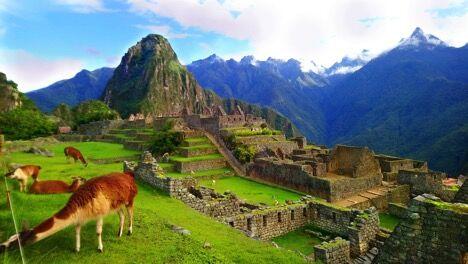 It is almost impossible for one person to visit all the places on earth. Many of those destinations can leave you breathless that sometimes is hard to choose from and decide, in case you are a frequent traveler, where to go next.
There are people who like to be a little bit more isolated and explore new surroundings by themselves without a crowd, while others like the thrill and excitement of travel groups. Either way, it is true that these kinds of travels have their charms. Places that are extremely popular and are just vivacious with tourist life are like that for a reason. We are going to discuss some of those paces today that will hopefully inspire you to make plans for next year. 
The Great Wall
To say the least, the Great Wall of China is quite a sight. There is no need to mention how much of a popular destination it is. In case you would like to experience the beauty of the wall with a "smaller" group of people, it would be smarter to head to  Jinshanling or Zhuangdaokou instead of Badaling and Mutianyu.
They are closest to Beijing, however, just because of that fact, that section of the wall is chosen by many and is the has the most rabble. This is a suggestion that you do not have to apply, whether you follow it or not, you will regardless be stunned by the raw power that the Great Wall of China exuberates.
Iceland
If you are a type of person that has the inclination to believe in magic, Iceland is the place to go. It is a place of a natural phenomenon that will fill your eyes with tears of joy. When the Earth's atmosphere collides with Sun particles, the Aurora is born. A beautiful and colorful veil of light spreads in the sky.
The sight is marvelous, to say the least, but that would still be an understatement. It is no wonder why it is considered as one of the favored places to travel to. The Northern Lights are more than famous and many adventurers from Europe as well as from the United States and other places, consider Iceland for that and many other reasons a perfect place to visit.
Khufu
There is no need for me to be defensive, but, yes, I am biased on this one. The Great Pyramid of Giza is definitely on my bucket list. When we stop and think about how long ago it was constructed and the method that was used, our minds will be blown.
Everyone who loves Egyptian mythology as I do will need no persuasion to travel there. There is no question "why" the pyramid itself is considered one of the Seven World Wonders. Many other pyramids that you can see can be found on the western part of the river Nile, but do not forget to see Giza as well. It does not have a name The Great Pyramid for nothing, after all, it is astonishing. A Sphinx, its guardian is nearby. She is an added bonus in which you can gawk at and take a selfie with.
Taj Mahal
Not only because it has a unique and beautiful story, but because of its appearance as well, the Taj Mahal is a must-see place for every sightseer out there. There is no doubt that this marble mausoleum, placed on the southern bank of the river Yamuna, oozes with wonder and will make you breathless. While you are there, you can always try the incredible and spicy Indian cuisine.
 Machu Picchu
No one can deny the brilliance of Incas and their culture. Their Empire, when it was at its highest, was stretching from Ecuador to Peru, Bolivia, Argentina, Chile, and some parts of Columbia.
They had a great and profound impact on certain parts of South America, Peru included. Machu Picchu is the most famous Peru landmark, which is why it's counted among the top 12 tours to Peru. Unfortunately, since there are huge flocks of tourists that descend there every winter, its existence is threatened.
Machu Picchu is currently considered to be placed on the List of World Heritage in Danger by UNESCO. Peru is limiting the number of visitors each day in an attempt to preserve it, so it's recommended to check it out before you continue your journey through Peru and other  South American countries.
Mother Africa
For people that love wildlife and to observe and admire it, Tanzania alone is a paradise that can make that thing possible. You can spot all of the famous African animals in Tarangire National Park. If you are feeling even more adventurous, take a trip to Ngorongoro Crater.
There are obviously plenty of places to visit. Some can make you stream of excitement while others make you cry because of the emotional impact they provoke out of a person. Wherever you go next, do not think you are making a mistake, you probably aren't since every destination has its unique beauty.