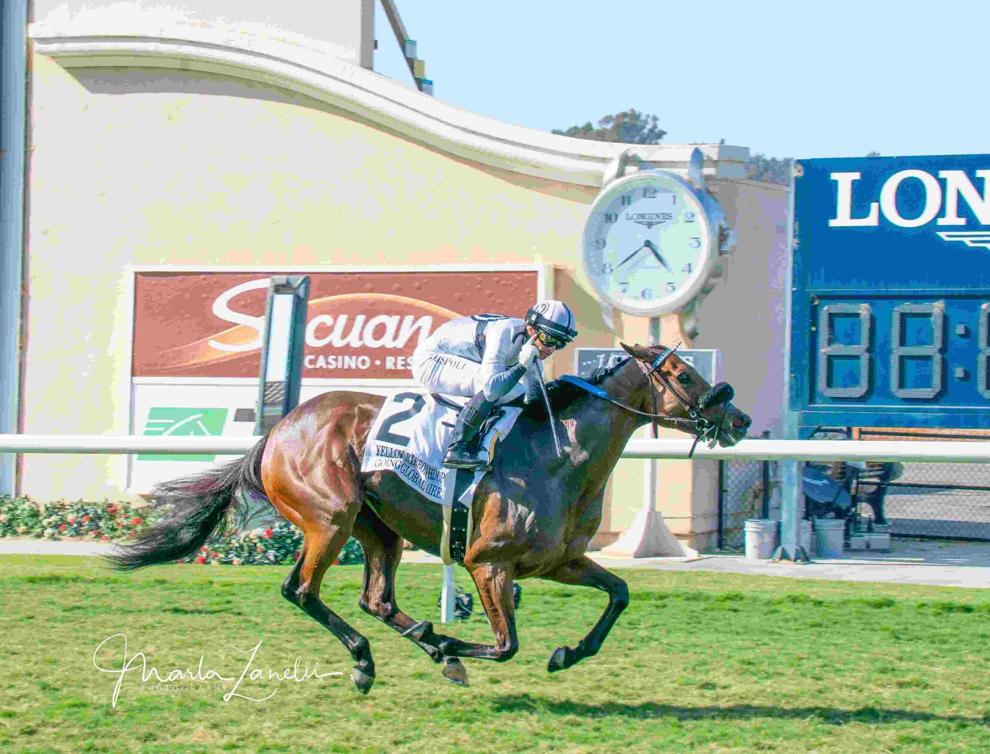 Ever dream of having a life with horses? Phil D'Amato did, and today he is a very successful trainer of thoroughbred racehorses. Phil was born and raised in San Pedro California. As a young boy, he would spend time with his grandfather, on holidays, and such, and grandpa would take Phil to the races. You see, grandpa owned racehorses. The races became a family affair and Phil's parents got the bug and bought into the game.
Phil was a good student in school and went to USC, graduating with a Political Science Degree. From there he went on to Law School and after a year decided he wanted to pursue a career in the horse racing industry. He then decided to enroll in the University of Arizona's Racetrack Program. This program was started in the early 1970s by the late Frank Vessel's Jr of Los Alamitos Racetrack. Frank Vessel's envisioned a program to educate men and women to become the future leaders of the racing industry. He had to shop around to find the right college when the University of Arizona College of Agriculture decided to give the program a five-year trial. The program has continued and attracts students from all over the world, giving the students a chance to interact and network with the industry leaders of the racing world. The Race Track Industry Program is the first of its kind to offer a Bachelor's degree centered on the racing industry. One path teaches racetrack management, regulations, and parimutuel wagering. The other focuses on the animal husbandry of handling and breeding horses. Phil educated himself with a 2-year Equine Science Degree.
He then went to work on the racetrack. An opportunity came up to work for leading Kentucky trainer Chuck Simon. These large successful trainers often have large strings of horses in training and need help in several locations. Phil went to Saratoga for Chuck Simon. He worked back east for 4 years as a hot walker, groom, foreman, and assistant. He spent some of that time as an assistant to the 'giant killer' Allen Jerkins. Phil worked the Kentucky, Florida, and New York circuits during this time of hands-on learning and experience.
Growing weary of the weather back east, Phil decided to come back to California. He heard Mike Mitchell, who was a very successful trainer in California, was needing an assistant. Mike Mitchell told Phil he would give him a one-week trial and at the end of day one, told Phil he was hired. Phil worked for Mike Mitchell for 10-plus years, and during that time Mike Mitchell came down with brain cancer. It was a battle that Mitchell would lose, and so Phil became a trainer on his own when that time came.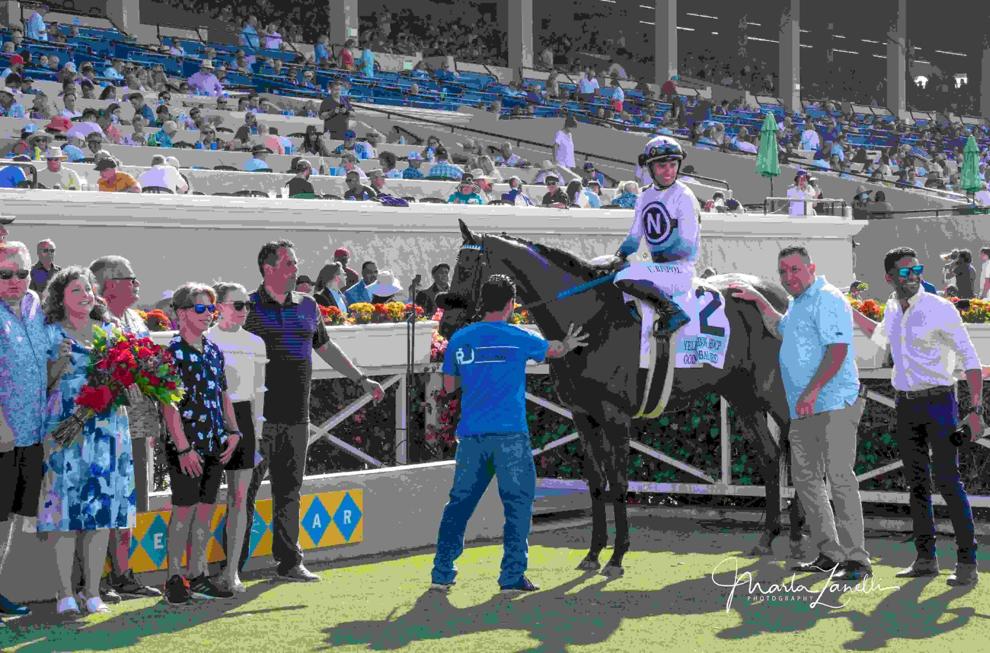 Meanwhile, during Phil's time in the Mitchell barn, Phil met Sherri Alexander, who was an exercise rider for the Mitchell barn. Phil and Sherri fell in love and married. Being in the horse industry is a 24/7 commitment, and relationships can be better if the other half is involved in the industry. Sherri had a daughter, Jessica Pyfer, from a previous marriage, and their daughter grew to love horses and riding. She became a talented rider and an excellent athlete, excelled in the hunter-jumper world, and she decided she wanted to ride racehorses. This writer knows about riding racehorses. It's an experience like no other. To be one with a racehorse is surreal, it's like riding the Matterhorn every day, it's a bond, it's a love, it's a challenge and it's a joy. It's also a dangerous job. Injuries happen.
And so the family affair thrives to this day, Phil trains the horses, Sherri is their exercise rider and very often Jessica is their jockey. Phil has had a very high win percentage throughout the years. Jessica won an Eclipse Award for Apprentice Jockey of the Year in 2021. Phil D'Amato's training statistics to date are 4079 Starts with 456 Wins, 629 Seconds, and 550 Thirds with $52,034,461 in racehorse earnings to date of writing. That is an amazing career thus far, doing what he loves, with his family.
On Saturday of Opening Week of Del Mar this year, Phil's trainees finished 1,2,3 in the San Clemente. His success with European horses has been fortuitous and with the results of this prestigious Grade 2 race, the winner Bellabel, second place finisher Sixteen Arches, and third place Island Of Love are all from Ireland. As is Going Global, a winner of 8 Graded Stake races including this year's Yellow Ribbon at Del Mar. Most of his European horses are fillies and he credits his long-time relationships with several bloodstock agents in Europe with finding his owners these runners. 
Speaking about the length of time it takes a racehorse to acclimate to their move to the US, Phil said he sees English and Irish horses acclimating in several months. South American horses take longer. He does train his grass horses differently than his dirt horses. Grass horses do most of their running down the stretch whereas dirt horses are more involved in their race early on. 
Phil D'Amato's advice to anyone wanting a career in training racehorses would be to take advantage of the program at the University of Arizona and definitely spend time with trainers as employees, and assistants, to gain hands-on experience and knowledge before you venture out on your own.
by Marla Zanelli - a horse lover and horse racing aficionado currently a real estate broker with Coldwell Banker Realty.
Here are Some Other Articles Related to Your Search:
Life Is Good, And Then There's Charlie
A Day At The Spa For A Race Horse