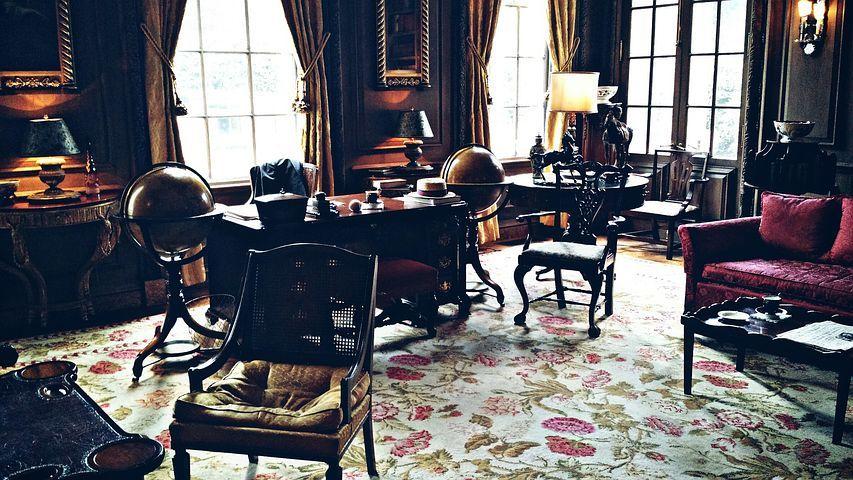 There's something special about a vintage home. It's both beautiful and welcoming, with a visceral connection to the past. As soon as you step in the door, you're enveloped by a sense of comfort and calm. With the right decor elements, you can turn your house into a true retreat from the world.
A vintage home isn't slick or modern. Instead, it feels lived in — and more importantly, loved in. Every space is cozy, so you can feel equally at ease in the kitchen or the mud room. When you can strike the perfect balance between comfort and vintage style, your home turns into a place where friends and family love to gather.
Use Wooden Pieces Liberally
One hallmark of vintage homes is wood. After all, in decades past, furniture builders didn't have access to the affordable, inexpensive materials we have today. Plastic furniture was unheard of, and metal pieces didn't come into vogue until the 1920s. As a result, wood was used almost exclusively to build everything from tables to dressers.
As you're creating a vintage home, don't be afraid to use wooden furniture liberally. A farmhouse-style table or reclaimed butcher-block countertops are a great place to start. In the living room, try using a wooden buffet table as a TV stand; in the bedroom, a wooden bed frame sets the stage for a welcoming retreat. If you're going for a more historic look, pieces with carved wooden details can convey a sense of opulence.
To establish a cozy vibe, aim for a blend of textures and colors. Wooden pieces in a mix of finishes and styles creates an eclectic charm. The finish matters, too — a distressed surface adds an automatic lived-in feeling to a space that gives it a sense of history.
Keep Your Colors Calm
When you stroll through historic houses, one of the first things you'll notice is that the colors are calm and muted. This is partly due to practicality — heavily saturated paint was harder to come by — but it's also due to age. After all, paints and furniture colors tend to lose their vibrance over time.
You can recreate this soothing vibe by choosing soft colors for your space. Try painting the walls in subdued colors, such as sage green or butter yellow. If you want to work in shades of blue, opt for paler shades that aren't too bright. A soft rose and cream combination is also irresistible, particularly in a bedroom or powder room.
The effect? An impossibly beautiful, relaxing feeling throughout the whole house. Your eyes are never assaulted by a bright orange wall, for example, or assaulted by a corporate-white room. That doesn't mean you can't use brighter colors, of course; simply incorporate them into smaller accents, where they won't overwhelm the space.
Invest in Statement Seating
When it comes to cozy, vintage style, seating is crucial. Your goal? Find pieces that look soft and inviting — the kind that make you want to curl up with a book or a cup of tea (or Netflix). And forget about sleek, clean sofas or angular accent chairs. Instead, choose ornate Chesterfield sofas, overstuffed wingback chairs, or elegant chaise lounges. In the dining room, look for chairs with wooden frames and luxurious padding.
For a serious vintage vibe, look for seating that makes a big design statement. Think velvet-upholstered sofas, upholstery with a bold striped pattern, or a chair in an unexpected color. Special accents, such as nailhead trim, button tufting, or pleating also adds to the classic look.
Can't afford to upgrade all of your furniture quite yet? Try making your existing seating more luxurious. Cover a worn sofa with eclectic pillows, or drape a soft throw over your rocking chair. The mixing and matching of fabrics and colors creates a lived-in look that invites guests to settle in.
Choose Bedding That Invites You In
Your bedroom is a key part of a cozy, vintage home. It's the place you retreat to at the end of the day; it's also the place in the house where you probably spend most of your time. What does that mean? It deserves some serious attention.
Bedding is the easiest place to start. Soft, cozy bedding makes you eager to climb in each night. Instead of a sleek hotel-style duvet, look for more traditional options. According to Ally Olson from VisionBedding.com, floral pillows or comforters and crocheted throws bring a vintage flair to a room. For an extra touch of historic charm, pair these classic pieces with sheets in a traditional striped print; this mix of soft, handmade textures and varying prints creates a homey, cozy feeling that will have you looking forward to bedtime. You can also add a handmade quilt for a touch of love and warmth.
When it comes to color, opt for whatever tones feel the most soothing for you. Shades of blue are always calming, while pink adds a feminine touch. For vintage sophistication, go for a blend of cream, sand, and ivory. The trick? Mixing colors, textures, and fabrics for a look that's effortless and casual.
Select Classic Cupboards and Islands
The cupboards and islands in your kitchen play a big role in setting a vintage tone. Forget about keeping it clean and simple — this is your opportunity to go a little over the top. Think ornate, carved door and drawer fronts and beautifully shaped kick panels. Prefer a more low-key country cottage style? Opt for cabinets with thicker wooden doors or paneled fronts in a slightly distressed finish. Imperfections give your kitchen a well-loved look that conjures imagery of pleasant family meals. If you can't afford to upgrade your cabinets, you can make them look more vintage by adding molding to the top edges.
As you're designing your cabinets, consider using some with glass panels in the doors. This type of china-cabinet display was popular in historic homes, and it's a great way to show off beautiful vintage dishes.
Choose Relaxed Kitchen Storage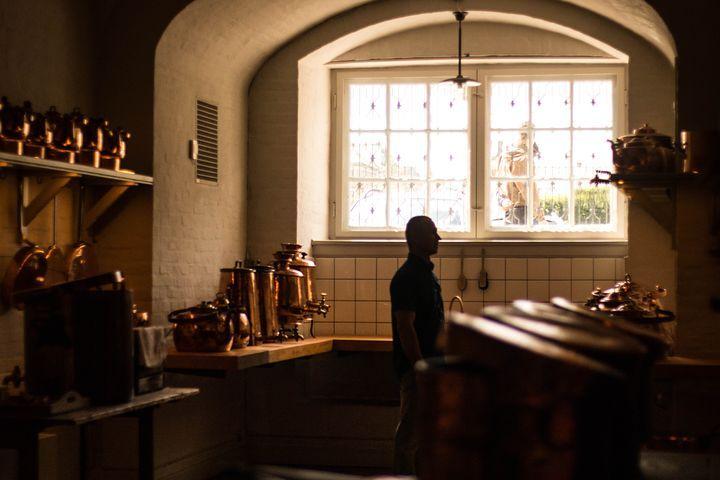 In past decades, kitchens were extremely practical spaces rather than design showpieces. You can recreate this relaxed vibe with exposed storage. Store beautiful copper pans on a wall rack, for example, or use a hanging rack above an island. Instead of hiding your dishes away, stack them on open shelves. Don't worry about matching pieces; a more varied collection gives the impression of a collection that was built over time.
When your belongings are out in the open, they give the space personality and a beguiling sense of openness. The exposed items also add texture and color that adds to the homey vibe. The trick? Use materials that would have been in place in a historic building, such as wood and iron.
Find Vintage-Inspired Light Fixtures
Light fixtures are one of the easiest things to overlook when you're designing a vintage home. Although they're small, they have a big impact. Think metal chandeliers, Tiffany-style glass shades, and wall sconces with scrolling metalwork. It's also fun to mix in vintage industrial-style pieces with sleek metal frames and cage-style shades. Going for an earthy look? You can achieve a classic vibe with fixtures that use elements like wood and rope.
In many homes, hanging fixtures are a great place to start because they make the strongest visual impact. If you're on a budget, start with table lamps. Replace the shades with textured fabric shades, or go with a beaded fringe for extra impact. Stained glass shades and ornate iron bases also create a vintage look. A great trick is to mix styles and eras for a varied look that's not overly "designed'.
Select Floral Prints
Does anything say vintage and cozy more than a floral print? Florals were everywhere in historic homes, from the wallpaper to the rugs. You can recreate the look by spreading different flower-inspired pieces throughout your house.
One easy way to integrate florals is with wallpaper (which is, in itself, a vintage touch). Go for a country looked with a delicate sprigged print, or create an accent wall with a large-scale rose-and-vine pattern. For a touch of serious 1800s glam, try floral carpeting. This would have been limited to only the highest-class houses; today, you can use it to make a huge impact in a single room. Not ready for that level of commitment? A floral rug gives the same vibe.
Accent pieces are another convenient place to work in floral design. Throw pillows, wall art, and even hand-painted vases can give you the look without the high price tag.
Don't Forget the Flooring
Flooring is an exciting opportunity to create a lived-in look. For a classic vibe, try wooden floors; there's nothing quite so cozy as a floor that shows the signs of age and use. If your budget won't allow for a full hardwood update, you can also buy ceramic tiles that recreate the look for a fraction of the cost. Wide panels and a distressed finish can give a room an entirely different feel.
Prefer a 1920s look? Kitchen tiles in a high-contrast design can get the job done. Go for a simple black and white checkerboard, or take it back a few decades with floral medallion tiles. This is also a beautiful way to work in some color, particularly if you have white cupboards.
Another way to bring a vintage look to your floors is with rugs. Rag rugs in the kitchen add a cozy, casual feel, and a border-print rug creates a cohesive feel in the living room. Natural fibers such as burlap and jute can also bring a soft touch of texture to a plain, hard floor.
Load Up On Books
Vintage homes often make use of books, both as decor elements and display spaces. After all, before smartphones and laptops, books were a family's primary source of entertainment and education.
To capture this look, scatter books throughout your home. Stack a few under a lamp, or use them to display a favorite memento. Stand up cookbooks on the kitchen counter, and put a small shelf of books in the bathroom. Hardcovers make the strongest vintage impression, and if you can get cloth-covered books, all the better.
Bring Nature Indoors
When it comes to affordable decor touches, plants are high on the list. They add a comfortable, cozy feeling that instantly refreshes your vintage decor. Arrange flower pots on your kitchen windowsill, or put a potted plant near the window in the living room. Faux plants also work well if you don't get enough sunlight — or if you have a black thumb.
Historically, people used flowers as a cheap, easy way to decorate their homes. You can do the same. Keep it simple by gathering wildflowers and branches from the surrounding land; if that's not a possibility, head to the florist. There's no need to get complicated — a few colorful flowers in a bud vase adds a sweet, homey touch to a side table, dining table, or large windowsill. Small, low-key flowers create a casual look, while brilliantly colored buds bring a vibrant, lively feel.
Add In Personal Touches
The true hallmark of a vintage style home is personality. In other words, it should be a reflection of you and your family. To achieve this, display items that have meaning to you. This might be a family photo in a vintage frame, for example, or a globe nestled in between your books. Do you have kids or grandkids? Hang vintage silhouette portraits of them on the wall.
When you're choosing individual decor elements, look for items that are unique — pieces that don't look like you picked them up from a national chain (even if you did). Don't be afraid to mix and match styles and time periods, and work in modern pieces sparingly.
Some ideas for vintage-inspired decor elements include:
Soft-focus family snapshots

Unusual or ornate mirrors

Vintage toys

Candles in antique holders

Tea service or bar cart
As you plan your home, take your time — great vintage style doesn't happen overnight. By focusing on beautiful, comfortable pieces, you can design a home that's both appealing and cozy.