As far as ceiling treatments go, coffered ceilings and tray ceilings often get lumped into the same catch-all architectural pot. And, of course, there are similarities. Both feature similar design elements like recessed sections and geometric expressions. Both help add depth and dimension to the space and help manage interior acoustics, lighting, and scale.
However, there are differences, both subtle and obvious, that set the two features apart. This article aims to explain those differences and outline how best to apply each design element. Special thanks to Jason Tilton of Fanatic Finish for sharing the below infographic on what every homeowner should know about coffered ceilings.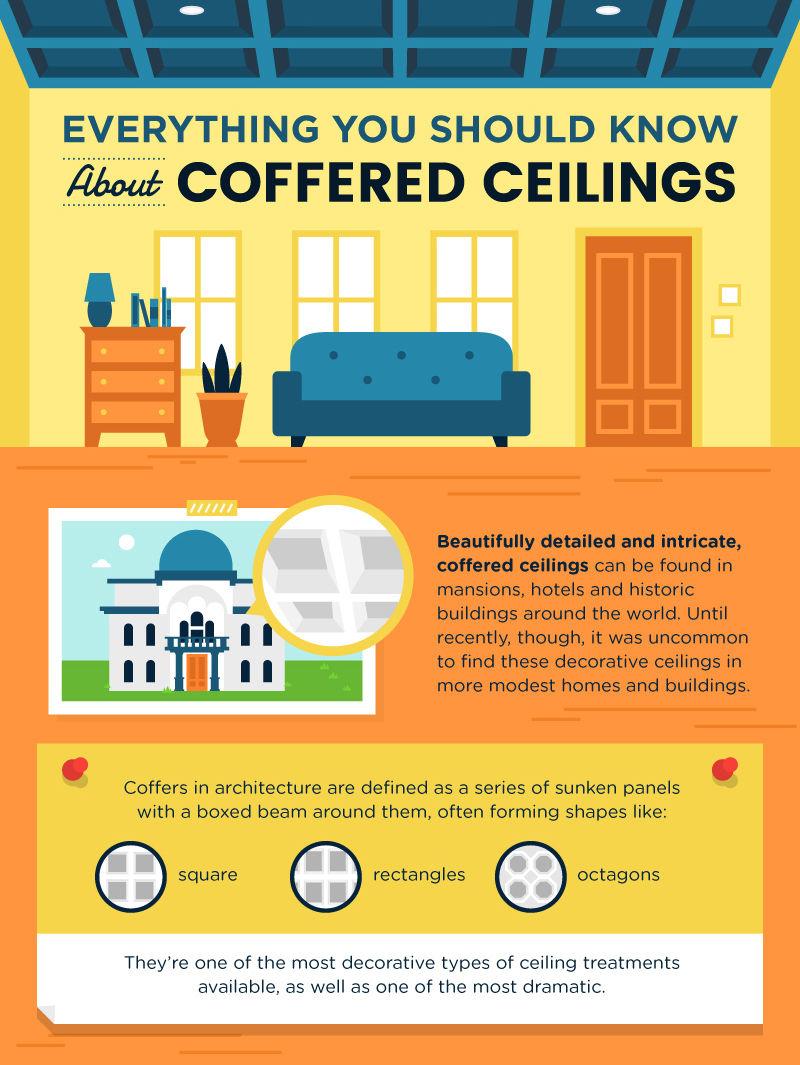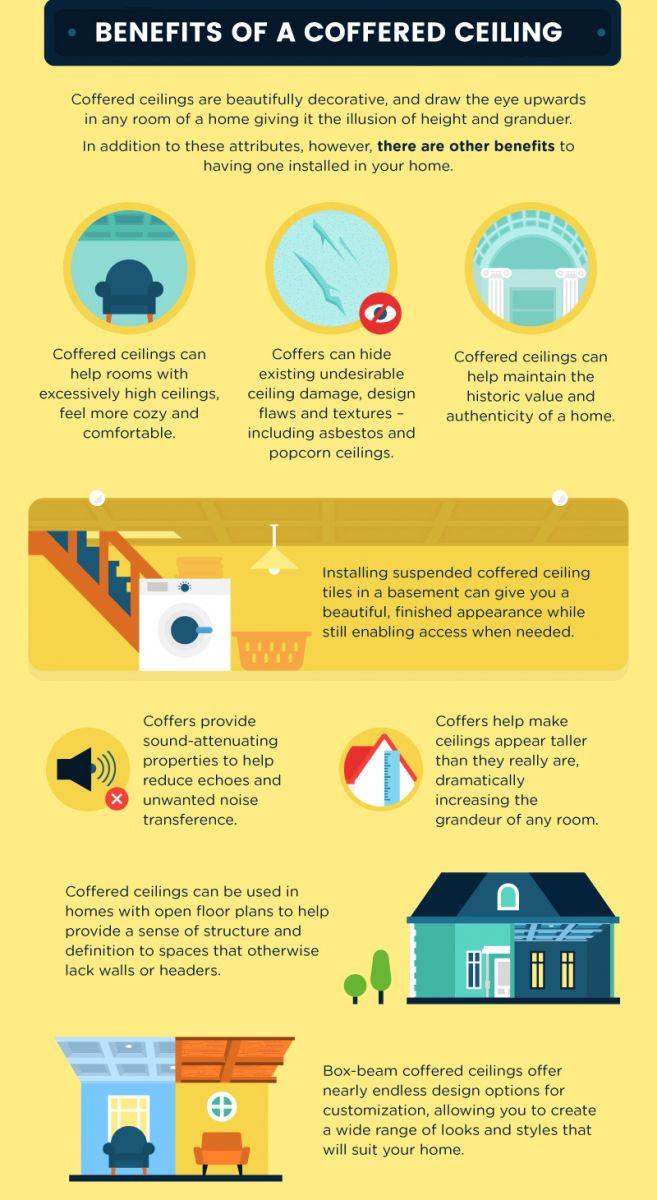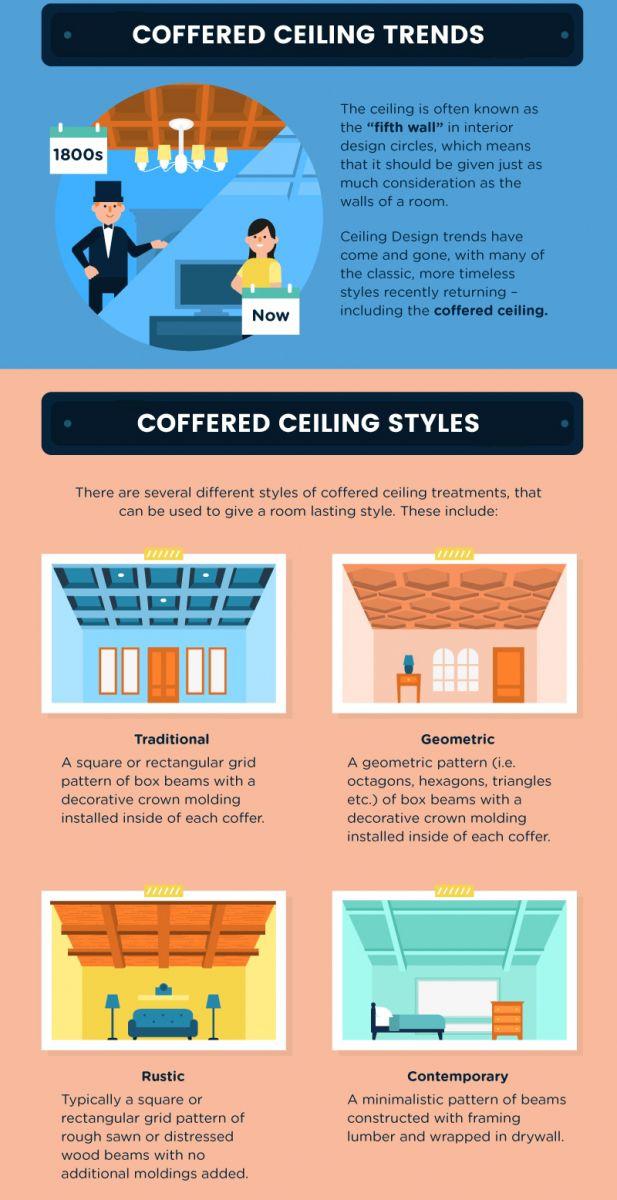 So, What Are They?
Coffered ceilings are represented by a series of dropped beams that make up some version of geometric grid. This grid is usually rectangular by nature, but can also be expressed by other shapes like hexagons and octagons. The two primary elements of a coffered ceiling are the crossed beam pattern and the infill panels that span between them.
Tray ceilings, on the other hand, are made up of a single raised area of a ceiling in the center of a dropped border that runs along the perimeter of a room. In most instances, the shape of the inverted tray reflects the shape of the room itself, but can take the shape of an oval or diamond if it fits in with the style of the architecture.
A Difference in Design
While coffered ceilings and tray ceilings can share similarities in detail articulation, the conceptual foundation behind them is completely different. Coffered ceilings have the effect of breaking up an interior space and making it feel more intimate and personal. Tray ceilings offer a much more grandiose architectural style, making rooms feel larger, more open and totalitarian in how they are used.
Coffered ceilings also can be designed to include a much broader variety of material expressions, such as installing a box-beam ceiling. Tray ceilings are almost always wrapped in drywall and plaster and finished with some off-the-shelf flavor of crown molding. Coffered ceilings, on the other hand, can be composed of wood, steel, or even glass as those materials tend to work better when broken into segmented parts and pieces. Also, by varying the beam width and grid dimension, coffered ceilings can take on a wide range of styles and aesthetics.
At What Cost?
The cost difference between tray ceilings and coffered ceilings will differ widely depending on the materials that are being used and the level of detail being implemented. That said, there isn't that wide of a cost gap when compared directly. The segmented nature of a coffered ceiling might save a bit of cost on labor, but when you think about what it takes to drop entire sections of the ceiling for a tray, it is pretty much a wash.
If you wanted, you could probably spend more money on a coffered ceiling just due to how much more design flexibility the feature offers. If you're going for the highest level of fit and finish, your budget can grow as far as your bank account will allow. 
In the end, it all comes down to how you are going to use the room in which you are installing the ceiling treatment. Coffered ceilings are great for living rooms, theater rooms, and kitchens, where tray ceilings are better for board rooms, entryways and dining rooms. If you understand how you are going to be living with these design elements, you'll have a much easier time deciding the direction to move them in.
For Related Articles Try:
Tips on Picking the Best Color Palette for Your Home
Best Way to Illuminate Your Bathroom
Update Your Kitchen in Less Than a Day