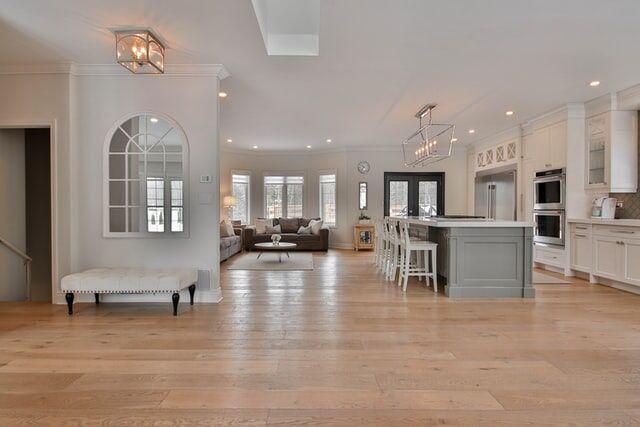 When you're doing renovations to improve the elegance of your home, one of the most significant investments you can make would be in your flooring. Your flooring will cover almost your entire home, so it's vital to choose materials that will last and have a great aesthetic appeal. In this post, you'll get an idea of the best tiles that you can use for each room in your home. 
Main Living Spaces
When choosing the tiles for your home's living areas, hardwood flooring would be best for your budget since it can be elegant, rustic, and offer a lot of versatility. When choosing the wood for your flooring, the ideal choice would be oak since it's the most versatile in finish and color. It's also stain-resistant, which is excellent if you have children or pets. 
According to Amber, another option you can go for is porcelain tiles. Depending on your space, larger tiles are more practical to install. If your living space has a contemporary feel, you can go for tiles with a creative pattern and color to create a visual impact. 
Kitchen and Dining Area
For homes with an industrial feel, going for polished cement flooring is a great option. Not only will it be able to withstand the high level of foot traffic, but it's also relatively easy to maintain. However, if the kitchen is continuous with other home areas, going for oak hardwood would be best. It will give the home a more cohesive look without you having to worry about stains. If you're going to use porcelain tiles, remember that darker tones are more complicated to clean than white ones because they would often retain white speckles over time. 
If your dining area is located in the same area as the kitchen, it may also be essential to consider the movement of chairs and tables. If you have hardwood flooring, you may need to use an area rug to lessen the chance of scratches due to the constant movement of the chairs. In this case, you may also want to consider porcelain tiles, as they are more forgiving than scratches and stains. 
Bathrooms
Going for a natural material will give your space a more classic feel when it comes to bathrooms. Some of the popular choices that can provide you a luxurious ambiance would be onyx, quartz, and marble. Since they are not porous, the use of porcelain and ceramic tiles is not advisable for bathrooms. There may be a need for you to keep maintaining it with grout replacement over time. Take note that natural stones may also need to be sealed every six months to a year. 
Glass tiles may also be considered if you want to create an illusion of depth and give your bathroom a unique aesthetic appeal. The trick with using glass floor tile is proper installation. You also have to choose textured glass so you can prevent any slips. You can also have glass tiles that come with tons of grout joints for added slip resistance. 
Bedrooms
Bedrooms do not have any special requirements when it comes to flooring. However, it would be best to come up with different patterns to make each bedroom unique. For instance, the master bedroom can have two-toned chevron-style porcelain tiles. For your children's room, you can go for high-quality and environmentally friendly ceramic tiles arranged in a herringbone pattern.  
Installing the flooring can have a significant impact on your home's overall design. Make sure to do your research when it comes to what would work best for your home. You have to consider usage, budget, and even maintenance requirements. Once you've got this settled, you can now start shopping for different tiles you will have installed in your home.