Everyone wants to live in a comfortable and fashionable house; they'd go miles to make their house feel like home. When it comes to real life, that may be so much easier said than done. With the gazillion different ideas that you'll find online, you'll quickly find yourself overwhelmed with all the options. Sick of being confused and overwhelmed? We've compiled a simple yet effective list of steps to get you started with the least possible hassle. Let's get started!
Create a Focal Point
In interior design terms, a focal point is an area that attracts all eyes first. It's the first thing that your guests will notice and, preferably, appreciate in your decor. In most households, TVs and the entertainment center are the focal points. Simultaneously, the TV is undoubtedly a necessary household item; it's long past due to being an attractive focal point. You'd much rather think of a more appealing focal point, which can be a powerful portrait of the walls, a table holding a collection of art pieces, a large window, or any other vital architecture fixtures. 
Choose Your Colors
It all comes down to your style at the end of the day. But some colors do wonders for your decor. Generally speaking, dull and dark colors will only make your room feel more congested and smaller, which will be even worse if you have limited space. Instead, it's better to paint the walls with classic and bright colors. They don't necessarily have to be vibrant, but they should be calm and soothe the mind and soul. Besides, colors like white, beige, and cream can go well with an extensive collection of other colors. Accentuate the rest of your decor better, making your furniture, floors, lighting, and wall art stand out better. Keep in mind that bright walls will demand more care, though, so you'll have to keep regular on your cleaning duties to maintain the classic atmosphere. 
Try the Minimalistic Look
Too tired of feeling cramped everywhere you go in your house? Maybe it's time you consider trying the minimalistic look. When was the last time you used that old sofa or this creaking chair if you think about it? You'll find yourself donating a lot of stuff and furniture to go minimalistic in your efforts but trust us; it will be worth it. However, you'll still have to design the final look first before throwing away all of your stuff. You want to make more space to focus more attention on the existing items, so these items should be well-chosen. That doesn't mean your options are limited, though; you can install a hammock, comfortable seats and a sofa, coffee tables, ottomans, rags, and other valuable items. Minimalism is all about quality, not quantity.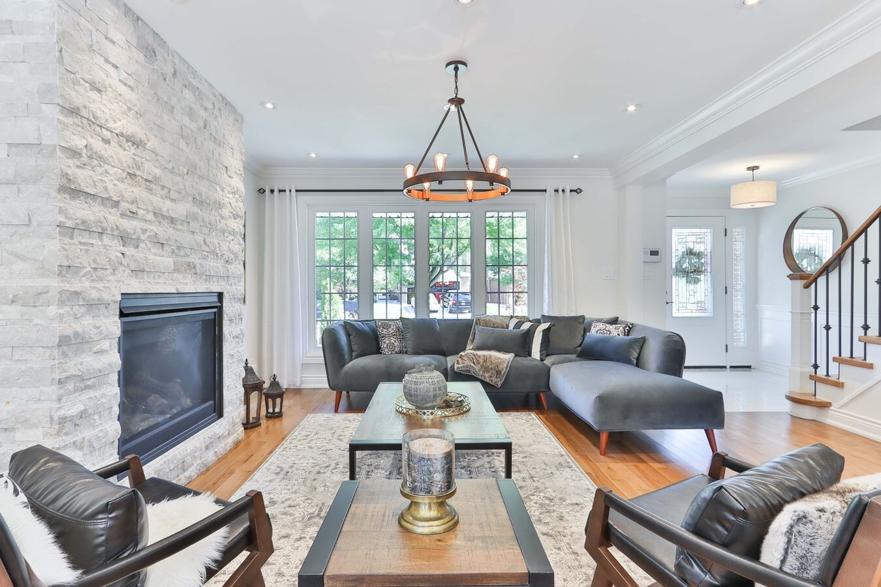 Get an Electric Fireplace
Who says you can't get warm in style without an actual fireplace? You'd do much better by choosing the best electric fireplace, all while embracing the modern air that it adds to your home. Not only are electric fireplaces fashionably modern, but they're also quite practical in a plethora of ways. They take away all of the hassles that come with actual fireplaces, removing the need for cleaning ashes and burnt wood, ventilation, firewood expenses, and safety hazards. You can even find portable electric fireplaces that can move with you across different rooms. 
Personalize the Walls
Are you ready to bring out your inner artist? Here's your chance. Whether you'd like to take on a simple DIY project or decorate your walls according to your taste, there are so many things you can do to your walls. Artists can draw and paint their art, and DIY enthusiasts can opt for tracing the art of their choice through projecting the image on the walls. If you'd like to steer away from the paint, you can opt for a gallery wall and hang portraits of your memories. In addition to art, you can add more life to the walls by installing blinds or opting for interior shades. While you're at it, make sure to hang mirrors in every room. 
Go for Simple Yet Unique Light Fixtures
Your decor will never be complete without the right lighting fixtures. You don't have to go grand in your efforts, but you'll have to choose lighting that accentuates the rest of your decor without blinding the eyes or being too dim. Aside from their functionality, they give you many options in enhancing the style of your home decor.
Upgrading your home decor doesn't have to break the bank. It doesn't have to be exhausting either; simple tweaks and artistic additions can go a long way in transforming your house. The most important thing of all is maintaining an organized and soothing atmosphere, and you'll be good to go.