Backyard parties are fun, especially when the weather is right. Here's how to host a backyard party that will thrill your guests.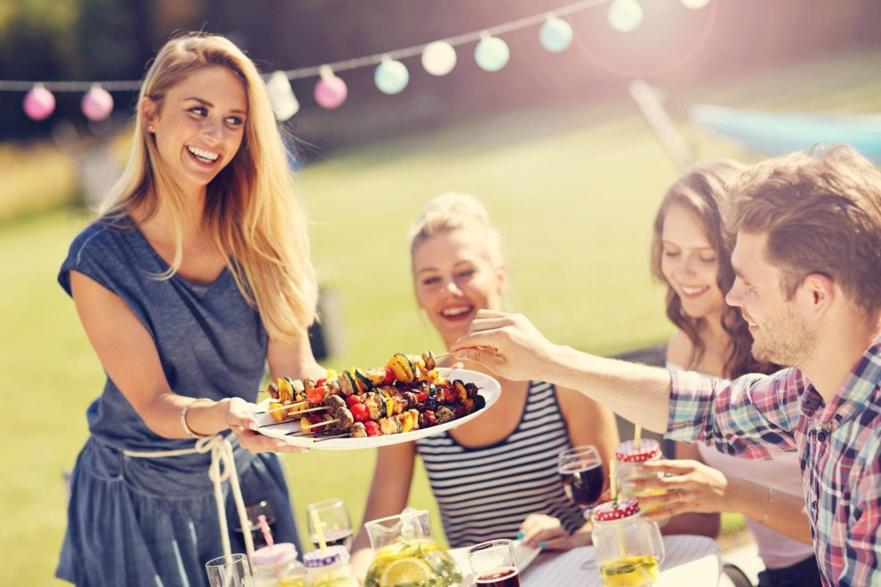 The weather is mild, the sun is shining bright, and there's just a good feeling in the air. Now's the season for gathering up friends and family to enjoy the great outdoors.  Or at least enjoying the backyard.
That said, we've all been to a boring barbecue or by-the-numbers backyard party. But as much as you don't want to bore your guests, you also want to keep things simple enough that you can enjoy yourself, too.
So to make things easier, we've come up with a three-point plan to cover your bases and help you throw a thrilling party without running yourself ragged.
Setting the Mood
Your aesthetic choices are the easiest place for you to set your party apart from every other event your guests will attend this year. With that in mind, you might go beyond the basic plaid tablecloths and "kiss the cook" apron.
While not every party needs a theme, it does give you an easy idea to rally around.
Maybe instead of your basic burgers and franks, you might decide to throw an old-fashioned seafood boil. Or you could spare your friends a flight to Munich by bringing Octoberfest to the neighborhood. Ideas like these are easy to theme a whole party around.
But if you want to keep it classic, you can still elevate your party by focusing on the details. Small things like creating a more dynamic lighting scheme for an evening gettogether or cutting an especially excellent playlist can make even a humble party more memorable.
Planning Your Menu
For any backyard party, food and drink will likely be the first thing on your guests' minds. Now obviously there are enough choices here to fill a bunch of books, but here are a few good rules of thumb to keep in mind.
For snacks and the like, you can't go wrong with the basic chips and dip. But if you really want to impress, a charcuterie plate is a surprisingly simple solution. Many grocers sell them pre-prepared, but to do it yourself all you need is to pick out 3-5 varieties of cheese and some quality meats and olives to match.
If you're hosting a barbecue then there's a good chance that you have your own opinions on proper grilling. Just don't forget your vegan and vegetarian guests!
Every party is bound to have at least a few, and by now the old reliable offerings are getting a bit stale. To show your guests that you really do care, try looking up a few more inventive vegan or vegetarian options beforehand.
Bringing It All Together
Organizing your party is the most involved step and the point where things are more likely to go wrong. A single overlooked detail like forgetting to get a fresh gas tank for the grill or running out of ice can bring a party to a halt. The simplest way to go about it is to come up with an itemized list of everything that you need based on your guest list, what kind of party you're throwing, and the layout of your space.
For example, do you have enough seating, or do you need some extra chairs and tables? If you're encouraging guests to BYOB, do you have enough cold storage to accommodate?
And if you're serving food, you need to consider supplies, of course. For our money, we prefer good-quality clear plastic plates and reusable tumblers over paper plates and party cups. They're more appealing, and they're washable and reusable which helps reduce waste.
Throw a Backyard Party Guaranteed to Thrill
The backyard party is a tradition that goes back for as long as we've had backyards to host them in. After all that time, it can feel like everything has already been done.
But if you look at it from another angle, you might find an opportunity to really put your own personal spin on an old custom.
And for more on how to bring all of your events to the next level, be they indoors or out, be sure to keep up with the latest from Fine Magazine.