Larissa Miller could hardly believe it––it was 2016, and she had just caught a flight to Bali when her taxi driver Noman said something that would turn the car around: he knew a local seamstress. Three months later, Pi Yoga Pants became a reality.
That was just over a year ago, when a young San Diego native and yoga enthusiast left everything behind to travel to Asia and chase her dreams of yoga, culture and her deep obsession with cozy-cute Elephant Pants. "Starting a business is like taking a class with no teacher," Larissa admits.
She didn't know where to start. She didn't know who to talk to, or even how to speak the language. But what she did know was that Thailand was just as beautiful as it was humid, and if she was going to make it in yoga pants, they sure weren't going to be made of cotton.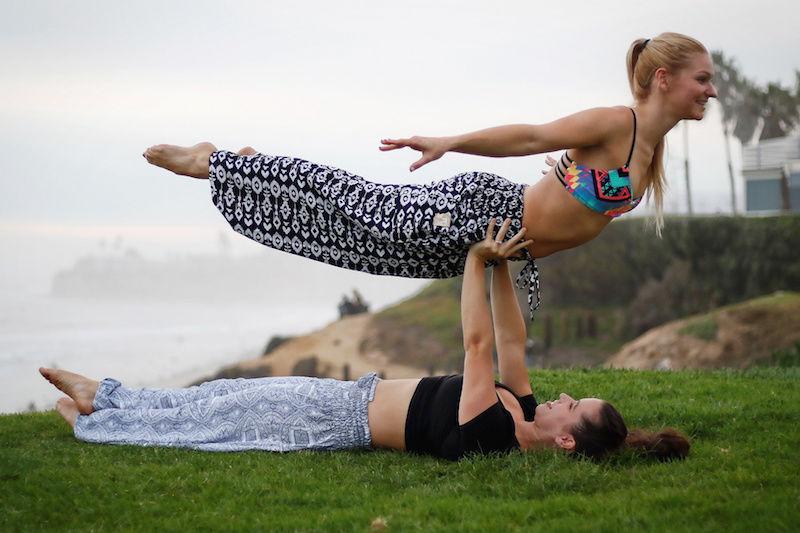 For an entire month, Larissa got to scribbling her ideas and designs for a stylish, breathable, Balinese inspired yoga pant--but couldn't find a seamstress anywhere. That is, until one conversation put everything into place.
Welcome to the 2017 debut: it's been 8 month of colors, textures and introducing chic names such as Blueberry Lemonade, Midnight Kisses and Touch of Paradise. With over 40 different styles now available, and a whole new line to be revealed in the Spring Collection, she's connecting local yogis with fashion that is just as unique as they are.
"You create a bond with your pants," Larissa says, who is confident that putting a whole new tropical spin on yoga pants is "something other countries have never seen before." Pi Yoga Pants are made of 100% Rayon fabrics that are super lightweight and won't bother the pores. They let you breathe, whether you're in Bali feeding bananas to elephants in 99% humidity, or in Tree Pose with your girlfriends in 98-degree weather.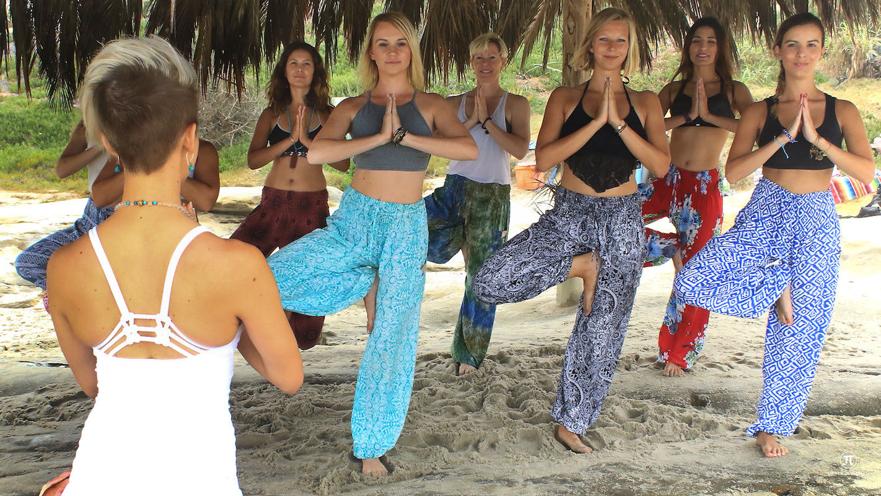 The best part? Each yoga pant is on a mission––10% of net profits goes to turtle conservation efforts in Bali, as a way to give back to the world that Larissa feels has offered so much beauty, positivity and culture.
Of all the experiences that have touched her life since that day, Larissa has a special place in her heart for the community that has since evolved both locally and abroad. "We really created this nice community together," she says, where yogis near and far travel to events together, and even strangers aren't shy to give hugs.
Larissa Miller is a San Diego native, yogi, and has her Advanced Diver certification in Bali. Things really came full circle when she found out the turtles will migrate from Bali to San Diego. If there's one thing she wants you to know about sea turtles it's to reduce your use of single use plastics, because if they get into the ocean they can be deadly to sea turtles. She is grateful to all the support and warmth on this beautiful adventure and would like to say, "Namaste."
For Related Articles Try:
Exclusive Melora Hardin Photoshoot