The Scottish Play––famously "cursed" so that all who speak its name while not on stage are doomed to bad luck. Referred to with euphemisms and spoken about in hushed, reverent tones, it's no surprise that William Shakespeare's classic play Macbeth offers murder, mayhem, and horror. However, The Old Globe's latest version of the esteemed production offers something more: madness.
This is a tale, told by an idiot, filled with sound and fury, signifying nothing––or perhaps signifying madness. In Brian Kulick's clever adaptation of one of Shakespeare's most famous play, the supernatural witches and ghosts may be nothing more than visions caused by trauma and PTSD. Fresh from what appears to be World War I and surrounded by broken men confined to a pristine and hollow hospital, the skilled general Macbeth (Jonathan Cake) appears, flanked by his faithful friend Banquo (Timothy D. Stickney). Wary and exhausted, Macbeth and Banquo both make themselves a little too at home in the hospital, popping handfuls of pills and lounging in the hospital beds.
That's when the three witches appear––or are they simply deranged patients? Wrapped in bandages, confined to wheelchairs, and cackling with foreboding, the witches are quick to share their warped truths with the shell-shocked Macbeth, igniting his quest for power and ultimately leading to his demise. Played with a deranged glee, the three witches (Makha Mthembu, Amy Blackman, and Suzelle Palacios) are dark, twisted, and so clearly not to be trusted.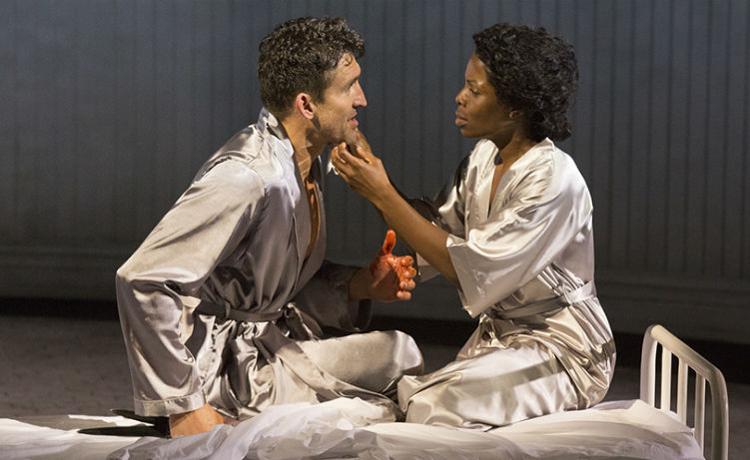 Yet Macbeth and his wife Lady Macbeth (Marsha Stephanie Blake) listen to the witches anyway, and we are treated to Macbeth's subsequent descent into madness––or perhaps the war had made him mad already. There isn't a definitive answer either way, and it's for the best. Macbeth brings enough ambiguity to keep the audience enthralled.
Lead Jonathan Cake offers a nuanced performance as Macbeth, speaking with a harried cadence not seen since the fast-talking ways of Gilmore Girls. Paired with the regal and cunning Blake as Lady Macbeth, the two present a devious and united front as the world around them descends into chaos.
Though this version of the play could have abbreviated Shakespeare's original Act IV, the play overall offers a layered look at Macbeth and his actions by drawing the supernatural into question. Other strong players in this show include Jerome Preston Bates as the spirited and steady King Duncan, Clifton Duncan as the determined Macduff, John Lavelle as the hilarious drunken porter, Ally Carey as the sweet and innocent Lady Macduff, and Daniel Petzold as Duncan's son, the reluctant leader.
The sound design (produced by Sten Severson and David Thomas) for this Old Globe production was flawless. Filled with dark music that held a twinge of terror and sinister foreboding, Macbeth reeked of horror from the very first moment.
The simple, though effective, sets were designed by Arnulfo Maldonado. Detailed period costumes––complete with lavish floor-length gowns for Lady Macbeth and some of the other women––were designed by Oana Botez. The brilliant outdoor lighting, designed by Jason Lyons, at times illuminated the action, and at times cast shadows both on the characters and their intentions.
With madness, horror, and a Shakespearean body count, Kulick's Macbeth offers a new take on a traditional story. Macbeth is playing at The Old Globe in Balboa Park on the famed Lowell Davies Festival Theatre stage. This production––the first in the annual summer Shakespeare Festival––is running through July 24th.