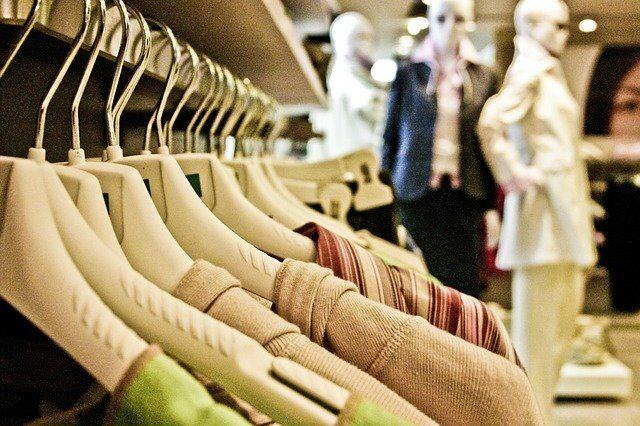 If you have cultivated a high-quality wardrobe, you understand how time-consuming finding the right pieces can be. But if you're still using cheap hangers to store your garments, you may also be unintentionally harming your garments.
Plastic & Wire Hangers Can Hurt Your Clothing. 
Flimsy hangers cause indentations in your garments because they are too narrow for the pieces you want to hang. The hangers aren't strong enough to support the weight of heavier clothing, so they begin to pull at the shoulders.
Wire hangers can discolor your clothing. Have you noticed that wire hangers are wrapped in paper from the dry cleaner when you get them back? This step is because wire hangers can bleed onto your garments. This discoloration may be on the inside of your clothing, but rust marks don't make you feel like you're wearing high-end clothes.
Maybe you have discarded your cheap hangers and have instead opted to hang many of your garments. But are you committing folding faux pas? 
If you fold high-quality clothing, it will crease and break down the fabric over time. Instead, it would be best to hang your skirts and pants on a hanger with clips or over a felted trouser bar that won't cause creases.
These are just a few of the reasons it's essential to know how to store your clothing correctly. However, after you understand what not to do, the question remains: what is the best way to extend the lives of your garments? Here, we'll discuss why luxury hangers are essential and what to look for when searching through the alternatives.
Are All Luxury Hangers Created the Same?
Several types of hangers bill themselves as "luxury." Space-saving, European-style hangers look stylish, but they're too flimsy to maintain the shape of heavier garments. The same is true for high-end acrylic or wire hangers, even ones that look like modern art pieces.
These modern-style hangers often mimic the shape of the wearer's shoulders. This feature is necessary when choosing luxury suit hangers or coat hangers, as proper protection requires a thick base and sloped edges, just like a person's profile.
The problem is not the design of these hangers. It's the material itself!
A genuine luxury hanger is more than a piece of functional art. The keyword is functional. The shaper of a hanger requires a material that can sufficiently hold even the heaviest garment. 
What's more, each type of luxury hanger you buy should include features specific to each garment type. For instance, if you want to hang blouses with thin straps, you need shirt hangers with notches in them.
If you choose a hanger with pointed ends, no matter the material, your clothing could have creases or the dreaded "shoulder mountains," both of which ruin the look and longevity of your items.
What Features Do Your Garments Need?
There are certain features you need to have when choosing a luxury hanger:
Sturdy Construction - 
Your hangers need to stand up to the weight of your clothing. If the hanger is too flimsy, your garment will wilt and may never regain the shape it once had.
Gently-Sloping Edges - 
If you choose certain types of hangers, they may have sharp or pointed sides. Gently curved edges are what you want to prevent creases and support heavily structured garments.
Wood Material -
While hangers in other materials may exist, luxury wooden hangers are the only type that looks sophisticated in any closet while also being weighty enough to maintain garments' shapes. 
Shaping for Specific Clothing Items - 
Some luxury hangers are supposed to hang up any garment, from pants to button-downs. However, this isn't a desirable quality as hangers for specific garments should have distinct features, from metal clips for skirts and pants to notches for thin straps.
Where to Find the Best Luxury Hangers
Butler Luxury has worked with tailors, fashion designers, and stylists to create the best-designed luxury wooden hangers on the market. Founder Mike Cragan wanted to ensure that the hangers where he stored his clothes mimicked a man's shoulders.
So, he created a series of luxury wooden hangers made of Grade A premium wood with metal finishes designed to match every closet. The hangers are heavy enough to support every garment and won't cause bunching or creasing in the shoulders. What's more, hangers for different types of clothing have distinct features, like flared ends on a coat hanger and felted trouser bars for dress pants.
Gentleman's Gazette writer Sven Raphael Schneider describes why these are the best hangers he has discovered:  
"Now, whether it is the best hanger in the world, I do not know, but it is the best I have seen in appreciating that the folks at Butler Luxury continuously try to improve their product by listening to their customers, and by now you should know I don't just say that because they advertise with us. It's apparent by the changes that Butler takes their promise to produce the best hangers seriously."
Why Invest in Luxury Hangers Today?
You have already spent a considerable amount on your wardrobe. Indeed, your wardrobe will wear out over the years, but you don't want to speed the process along by buying cheap hangers or luxury hangers that are only aesthetically pleasing.
Remember, the less effective the hanger, the more likely your garment will end up on the floor or with dents in the shoulders. Luxury hangers should be sturdy, gently-sloping, and wooden, as well as having features that make them well-suited to storing particular types of garments. If you find a luxury hanger with all of these qualities, you ensure the preservation of your favorite clothes for years to come.