A wood look tile bathroom is not only a great way to create a modern outlook but also very effective in creating a refreshing, natural look that benefits in relieving stresses.
Not everyone is lucky to go to a spa and recover from daily stresses. Even if you can, it is not convenient to go to a professional spa and unwind after a day of work. Therefore, many people are looking into creating a refreshing, holiday-like atmosphere in their personal bathroom. Thanks to the massive advancement in manufacturing techniques, it is now easier than ever to create an innovative natural look in your very own restroom.
Of course, there is a great variety of ceramic tiles design that you can choose to furnish your bathrooms. But if you opt for a wood look tile bathroom, you can easily create the nourishing atmosphere, without needing to put any extra effort into maintenance.
Recreate the Natural Look of Woods
A brilliant result of year-long research, wood-look stoneware tiles can recreate the natural, authentic look of a great number of wood grains, giving the timeless design an innovative twist. It has an endearing ability to calm the nerves and reenergize the minds while elevating the look of your bathroom to its maximum potential with its realistic appearance. An epitome of class and luxury, a wood look tile bathroom refreshes the body and mind in such a profound way that you would feel like you have just been in a mini holiday, without setting foot in the outdoors.
Variety of Designs to Choose From
As seen in Refin's collection, wood look tile comes in a great variety of sizes, shapes, and textures. While enjoying all the benefits of high-quality stoneware tiles, you can choose from a number of inlays and surfaces of woods such as French herringbone, Hungarian Chevron, Mansion Baita, Larch woods, etc. If you are a big fan of the minimalist Japanese artisanal design, you can also opt for the Kasai collection that effortlessly recreate the realistic look of Shou Sugi Ban or Yakisugi.
The ceramic tiles can exude a variety of different hues and available in different color tones. The color options include natural woods, dark and grey shades, sunny and fresh, etc. Offered in many different plank lengths and widths, you can use them even in a challenging corner. Mixing and matching a few different textures is also a nice way to create a unique pattern.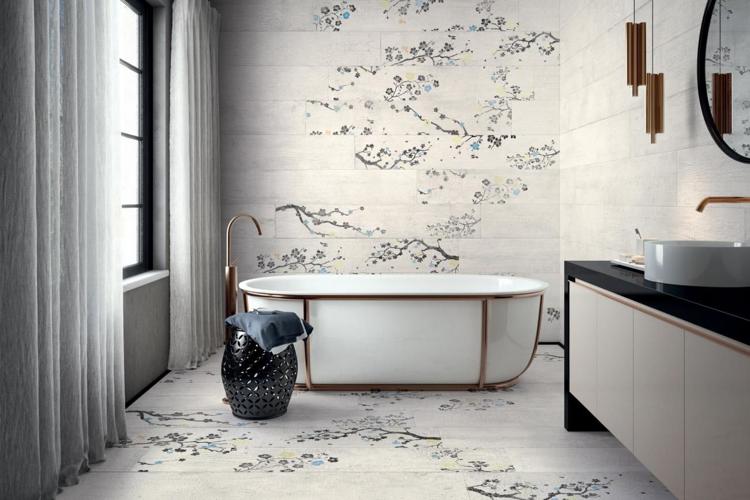 Durable Tiles Offering Effortless Luxury
Highly durable, less slippery, as well as very resistant to water, fire, and sudden change of temperature; a wood look tile bathroom can serve your multi-functional needs for many years. These floor tiles are also scratch-resistant, enabling them to look anew even after years of usage. They are also very easy to clean with the use of any normal cleaning detergents, eliminating the need to put any extra efforts for your luxurious bathroom.