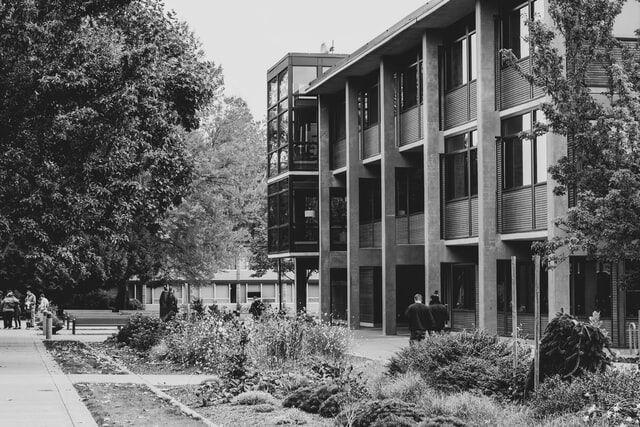 As a college student, you've lived through dorm room experiences that were awful, hilarious, and sometimes even fun. You've seen way more of your roommates than you ever wanted to, and you've tried to study through the party going on next door. You've hung out with friends, stressed over exams, and cooked more packets of ramen noodles in your mini-microwave than you ever thought possible.
But all good — and terrible — things must come to an end, and the dorm room experience is no exception. You've decided it's time to abandon your college dorm's tiny double room and public bathrooms and instead rent a place for yourself. Easy, right?
Not so much. No matter how many classes you've taken on gender studies, research methods, and abnormal psychology, there is never a class on really useful life skills. No one sits you down and teaches you how to pay your taxes, how to recognize when a car salesman is trying to scam you — or, in this case, how to rent an apartment as a college student.
Renting as a student can be a complicated process with the many technical ins and outs no one prepares you for. We've put together this comprehensive guide to tell you everything you need to know as you begin this process. We'll try to answer the most pressing questions you might have and teach you the top apartment renting tips and tricks to keep in mind as you begin browsing nearby apartment listings.
1. DON'T WAIT TO LOOK FOR A COLLEGE APARTMENT
This is the most important thing to do right away to find the best apartments for rent in Koreatown at USC and other campus cities— apartment rentals go fast. Very fast. Even if you find it very easy to do so, think about the many students who will seek rentals close to campus because they are so far from where they live within a few miles of the school. If you go to a bigger school, this becomes a bigger problem.
If you decide to wait until a week or so before school begins, you probably won't be able to find an apartment. And if you do, it will be one everyone else has already passed on — either because it's too expensive, it's in a bad neighborhood, or it has insulation falling out of the holes in the ceiling.
If you're looking for an apartment in September, start looking right after your school's graduation the previous spring, when many apartments will open up thanks to the mass exodus of graduating seniors. If you're looking for an apartment to move into at the beginning of the spring semester, start looking during the fall.
A great way to begin your search is to drive or walk around the nearby neighborhoods, noting which ones you would be comfortable living in and which ones you'd rather avoid. This way, you'll be better able to narrow your search when you begin browsing online listings. While scouting out neighborhoods, you might also keep an eye out for any "For Rent" signs. You never know what you might happen to find when you aren't even looking for it.
2. DECIDE ON A BUDGET FOR YOUR COLLEGE APARTMENT
Maybe you have already made a budget — if so, good for you! If not, this step is essential before you begin renting your first apartment. For many students, this is their first experience with budgeting. As intimidating as it might seem, it's crucial to your success as a renter and adult.
Add up how much you spend on things like gas, food, textbooks, other necessities, and any fixed payments like car insurance, health insurance, or any loans you've started to pay off. Designate a chunk of money you can allow yourself to have fun with — to go shopping, out to eat, to the movies, or any other activity. Decide how much you want to save each month.
Once you've done all this, look how much money you have left. This amount is how much you can spend on an apartment every month. Keep in mind that this figure doesn't just include rent. It will also include any utilities that aren't included in the rent, such as water, electricity, trash, or sewer. Compare your budget to the average prices of apartments in the area, and make adjustments to your budget as necessary. Look at what neighborhoods and what size apartments fit into your budget.
Another idea is to talk with other students you know who are already renting. If they're leaving their current apartment, they might be willing to let you know the day their landlord posts the listing or even to put in a good word with their landlord. They also might be able to tell you if their landlord has other properties for rent.
3. CONSIDER A ROOMMATE FOR YOUR COLLEGE APARTMENT
We know that you're moving out of a dorm and into an apartment to get away from roommates. But think about all the benefits that come with living with another person.
First and foremost, you split the cost of living. Rent and utilities suddenly become much more manageable when you only have to pay half. If you have similar taste in food, you might even share groceries. Or, if you aren't willing to go that far, you could at least share essentials like milk, eggs, and bread.
Having a roommate also helps when it comes to furnishing an apartment. Trust us on this — it takes a lot of furniture to fill an apartment. Buying it all yourself means you'll rack up some serious bills. But with a roommate, this becomes much more manageable. Maybe one of you buys the TV, while the other buys the couch. Or one buys the kitchen table, while another buys a few end tables. You can also pool dishes, meaning you have to spend less money there.
And if the dorm room experience completely ruined the roommate's idea for you, consider how different a dorm room is from an apartment. In a tiny dorm room, the two of you are constantly tripping over one another, fighting for space, waking each other up, arguing over the limited number of outlets, and continuing walking in on each other, changing.
An apartment is entirely different. Depending on the apartment, you'll most likely have your bedroom, separate living space, and a full-sized kitchen. You and your roommate can be the best friends, or you can be casual acquaintances who live in the same space but rarely spend time together. An apartment supports both types of roommate relationships.
4. VISIT MULTIPLE COLLEGE APARTMENTS
You'll often hear people say you shouldn't marry the first person you ever date. After all, you don't know who else is "out there." How do you know the first person you're with is the one if you have no one to compare them to?
Whether or not you believe that's true, this principle is very applicable for apartment hunting. You might think you love the first place you visit. But it's also possible you're just overwhelmed with happiness at the prospect of having your bathroom, a bedroom to yourself, and a kitchen that has more than a microwave and a mini-fridge.
You owe yourself to check out at least two or three apartments and give yourself something to compare to. Maybe it will turn out your first visit was perfect. But either way, it's worth seeing your options. Apartments, unlike people, won't slap you if you ask them to wait for you while you see if there are any better options out there.