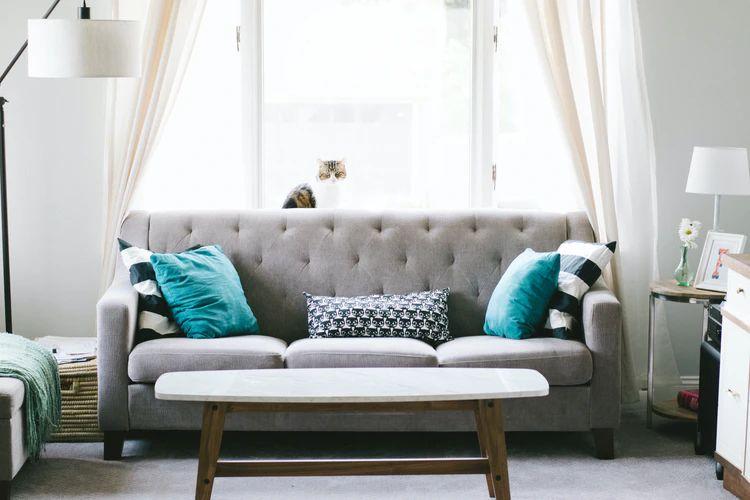 When you set foot inside a Japanese home, clean and minimalist interiors will greet you. The floor has tatami on top of it, which is a type of mat that is woven with straw and could be arranged in multiple ways. Everything inside a Japanese home looks well organized.
This style of interior design owes to the philosophy that spacing is important, which is also related to the concept of Ma or negative space. It believes that the space inside the home is essential as it can encourage creativity.
When it comes to furniture-making, one of the skills that distinguish Japanese people is their top-tier craftsmanship. The way they design is influenced by their traditions, reflecting in all of their interior designs. It can be said that Japan has its own unique sets of furniture. Take the design of their sofa, for instance. 
Importance of Japanese Tradition
When purchasing things, Japanese people think of how to put purpose on every single thing they own. This unique way of thinking can only be likened to how the traditional Japanese household works. Great thought and care are given to the culture when designing Japanese furniture. 
All of this is apparent in the details of their sofa designs. A Japanese sofa is low,  mainly because of their tradition that made them accustomed to sleeping at a low level. It also complements the traditional tatami mat where they sit and relax. 
Their sofa design draws inspiration from tradition, but that does not mean that their comfort is compromised. It can be smart to purchase one since it is easy to maintain, unlike the elevated sofas we use that are hard to clean. 
Their piece, while simple, both had function and elegance that can help enhance the living area. Because of this, people across the globe began to embrace such designs.
5 Sofas With Japanese Influence
Traditional and contemporary Japanese arts highly influence Japanese sofas. The style is full of elegance and simplicity, like a scribe with meaningful patterns. It is a work of art carried from one generation to another. From simple minimalism to intricate design, we can see Japan's influence all over it.
Floor Sofa Bed
The design of the sofa is perfect for those who like minimalist interiors. It's also good to use for floorings with tatami mats as it is light, with equal proportions on each side and uniform weight distribution. The design, through the name itself, can be a good alternative for a bed. However, modern versions of this sofa have adjustable armrests.
Orga Sofa 
The complete opposite of the Japanese floor sofa bed, the orga sofa is a type of sofa that is heavier due to its dense design. Composed of detachable parts that can be combined according to your taste, the design is flat, from the sitting place, and the "hijikake." 
The term hijikake means armrest. It is a feature that is not just suitable for arms but also for temporarily putting books, remote control, and the likes, on top of it. 
Creer Sofa
The creer sofa is one of the finest designs that features minimalism, but with a touch of nature. It is combined with a black leather seat to match the wood and designed with the perfect length of edges to keep the balance and high-level craftsmanship. It's commonly made with walnut wood due to its beautiful appearance.
Borderline Sofa
When it comes to creativity, Japan always has something to offer. The function is always taken into consideration, and creativity just as much. All of this manifests in the borderline sofa.
It's no coincidence that it helps maximize space with its design. It can be a sofa, but can also turn into a bed, depending on an individual's need. 
But what makes their borderlines unique? Unlike the other designs, this sofa is not elevated. Additionally, since it can be rearranged to the user's will, the sofa provides comfort, whether as a sofa or as a bed. 
Kotatsu Heated Sofa
When the winter comes, people from Japan also have their ways to deal with the cold weather. They use their Kotatsu, which is a wooden table frame covered by a futon, or heavy blanket, upon which a tabletop sits. Later on, with innovation, it became a Kotatsu Heated Sofa, which uses electricity for its Built-in-heater. 
Just like the borderline sofa, it is also multifunctional and can turn into a bed. However, this sofa is intended for winter use. During the cold months, people can spend time sitting, reading, sleeping, or even taking a nap on it. 
For many years, people from Japan have used it and are extremely satisfied with their comfort. Although this invention is exclusive in Japan, with the internet, it is made available for anyone to purchase.
Takeaway
To many, the concept of minimalism with a multifunctional purpose is the best way to live. The range and uniqueness that they offer in the market can be beneficial for everyone, especially those who live in tiny spaces. Sofas Japan has produced not only has a touch of its tradition and culture, but it is also functional for everyday use.