Golf Gift Ideas for Dad
Surprise Your Dad with a Great Golf Gift This Father's Day
If your dad is a golf fan, then this Father's Day is an excellent opportunity to gift him with a new item that will remind him of his favorite sport. Supporting his passion is shown best when we choose something our dad will use. Get your daddy ready for a great golfing season with some awesome accessories just for him. You're in the right place to get the right ideas when shopping for dad.
Chippo Golf
Born from a Kickstarter launched in 2017, This will be great fun for dad, Chippo Golf has brought the game of golf to anywhere like, the beach, backyard, tailgating, office, and clubhouse. Chippo Golf will add a fun spin to those old traditional backyard game for not just dad but the whole family. We've combined the old fashioned, beer-slugging, tailgate-dominating, sunshine-basking goodness of games like cornhole with the gentlemanly, giddiness-inducing, side-betting beauty of golf. Chippo is the only backyard game where you can work over your buddies while working on your short game - radical right! The Chippo Father's Day Bundle is $234.99. Chippogolf.com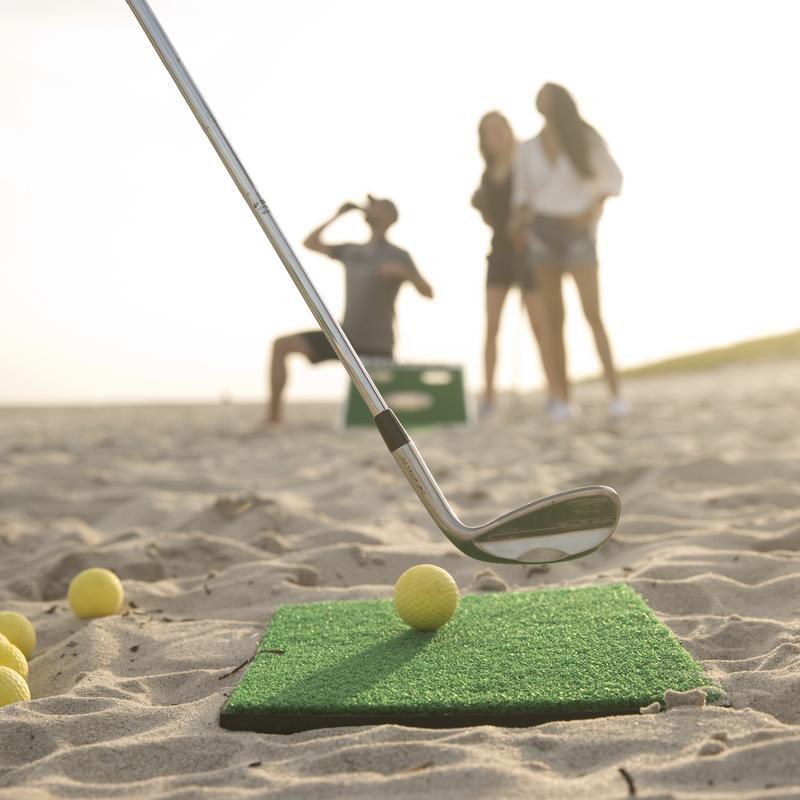 Golf Mug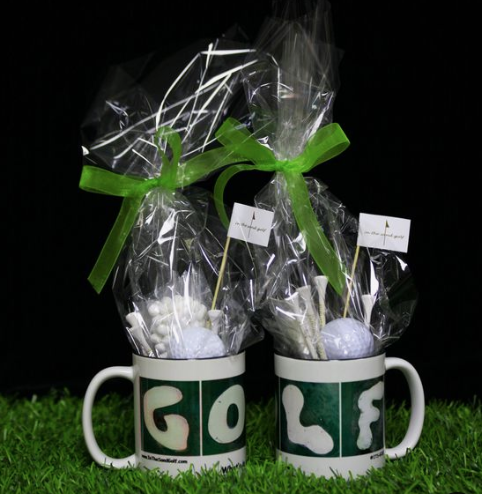 GOLF Coffee Mug, 12oz filled with sugar-free golf ball candy, divot repair tool with pop out ball marker, tees and a golf club pen. Great gift for your favorite golfers!
Callaway Golf Balls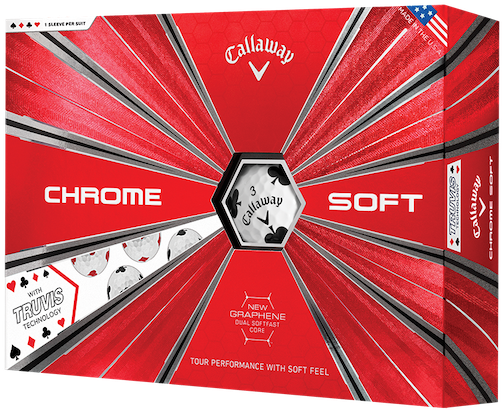 I don't know a single golfing dad that wouldn't love a box of these Callaway Golf Balls. They just introduce these CHROME SOFT TRUVIS SUITS GOLF BALLS Performance Suited For Your dad. The Chrome Soft Truvis Suits golf balls combine Tour-proven distance and performance, unparalleled feel, exceptional mis-hit forgiveness, and their popular Truvis pattern with one sleeve of each suit. Every Chrome Soft Truvis Golf Ball is made in the USA. Dad is going to love these. $ 44.99
FREE Personalization!
Prices: Options for all budgets
No matter what dad's favorite option is, Golfballs.com carries models from all the top brands and customizes them for free! This includes the industry's largest selection of custom options: personal photos, logos, monogrammed initials, text, numbers, novelty images and the best tool for lining up putts, AlignXL™. Not just looking for golf balls? They've still got you covered, as customers may choose from a variety of gift packs or a selection of bags, apparel, tees, and much more. Order by June 10 to guarantee delivery by Father's Day.
Golf Socks
For beginners or pros, for those who play once a year or those grabbing every free moment to get on the golf course, for any golfer who enjoys a good laugh these socks are cool, practical, and fun gift for Father's Day. Having a unique pair of socks like these will most likely become his favorite pair when playing golf or relaxing after a game.
Personalized Golf Ball Marker and Divot Tool
Engraving his name or just "Dad" on a golf ball marker is a great way to make sure he'll be reminded of such a great gift every time he takes himself out to play golf. What a neat way of saying "I love you, Dad" or "May the course be with you" on this Father's Day.
Golf Gloves
Having a good grip is essential to any golfer. It can help prevent their club from slipping. Golf is a sport that most players wear a glove. Dad can appreciate getting a new glove for Father's Day. You can't go wrong here - if your he already has a pair no worries they wear out quickly. If he is just starting to get in the game, this will be a super useful gift. Either way, you can't go wrong with this gift.
Garmin Watch
Perfect for the gadget-loving dad who will enjoy all the golfing features like measuring shot distance, digital scorecard, stat tracking, yardage to layups/doglegs, swing tempo and many more. Easy to use, with lots of precision tricks, this watch will so be much more than just a golfing scorecard, but dad will love it extra for it.
The Golf Father T-shirt
Is this the year when you decided to give the coolest dad ever the coolest T-shirt ever? Make it happen on this Father's Day and let him show what his favorite sport is everywhere he goes.
Personalized Golf Ball Set or Golf Balls Illuminating in Dark
Write a funny nickname for dad, a hilarious saying, or just go with putting "Best Dad Ever" on the ball set he will cherish like no other. Night lighted golf balls will be perfect for golfers who don't leave the course when it gets dark. Get them for your dad so he can enjoy his game at night better with these golf balls that stay illuminated for around ten minutes after each hit.
Shoe Bag
Playing golf comes with a lot of equipment. Getting dad a bag with his initials will be perfect for his shoes or anything else he wants to bring like a spare T-shirt, towel, or a sun protection hat.
Sun Protection Hat
Speaking of hats – he will definitely need one for spending hours playing while the sun is beaming. Remind yourself of dad's favorite color and choose the one that will protect not just his face, but his ears and neck as well.
Golf Ball Monogrammer
This set will help your golfer dad create his own recognizable golf balls that will be easy to find when they all get mixed up with other golfers'. Great and useful gift for dad to play with indoors while prepping for playing his favorite sport outdoors.
Arccos Caddie System
For years, Arccos has helped golfers better their game, helping them to understand their strengths and weaknesses, and delivering pro-level stats for the amateur player. Doesn't this sound perfect for your dad. It will be incredibly satisfying to himto be able to track his numbers and see real-time data such as how far he is hitting each club in his bag and where his misses are. The Arccos Caddie Smart Sensors are golf's first and only fully-automatic shot-tracking system, meaning it does all the work – recording and analyzing every shot while providing exact distances.  $249.99