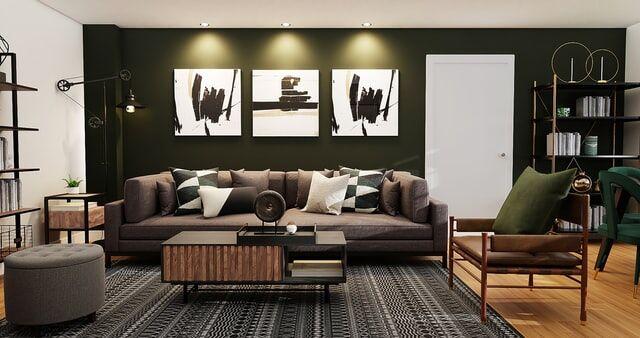 Finding a home that suits all of your needs is challenging enough as it is. Decorating that same home after you move in often requires the help of astute professionals who can see beyond what's in the space now and into what the room can become. Look at everything from the flooring to the style of the baseboards to what's on the walls to determine what will work best for you, your family, and your guests when they stay.
Home decorating is more than choosing the perfect color palette; it's about creating a feeling and a flow. Interior designers know how to do this in a way that suits your individual needs. Here are some of the best home decorating tips from the pros.
Choose the Art You Love
Choosing art is not about keeping up with the Joneses. Wall art has long been an opportunity to connect people in subtle ways. The best art is art you love. You could be a collector who loves pieces from specific eras in art history. Perhaps you want art that leaves you feeling a certain way. And then some controversial love art. You want to start conversations, and art becomes a launching point.
There is truly no good or bad art. Interior designers may help you decide on certain pieces because of the type of room they'll hang in. Some might want a relaxing ocean scene for a bedroom, and others prefer abstract art for the living room or the hallways.
Less Is More
Home decorators choose each piece with intention. They know how it'll help make a room feel, how it supports the overall flow of the design, and how to draw people's eyes to the right things and keep their attention moving from piece to piece in a room. While not everyone must embrace minimalism, it is essential to be intentional about what you keep in your space.
You don't need shelves stuffed to the max with knick-knacks. There are ways to store smaller items so you can easily change them throughout the year. This gives you more opportunities to enjoy the pieces you love without them getting lost in a sea of clutter. Look at your spaces to see what you can thin out to create less chaos.
Don't Think About Resale
Unless you plan to move, any updates you make to the home should be for your enjoyment. Almost anything is fixable, and you can easily repaint, restage, and change out those personalized details if you decide to sell your home. You should live in a home you love, not a museum.
On that note, you can also consider resale on your significant improvements. If you know that rearranging your kitchen will make it more usable and desirable for others, that's one place where you can think ahead. It doesn't mean you won't put personal touches on it; it simply means that you'll make sure that the unchangeable parts aren't too niche or unique.
Consider Furniture Placement
Putting the tallest items in a room at the furthest spot away from your line of sight can make a room feel larger. Not only that, it also draws your eye more naturally through the room without having items that cut you off in the middle. Think about a narrow living room with bookshelves on the wall the furthest from the opening.
Additionally, furniture placement should consider flow. Is there a door on the other side of the room that you constantly need access to? How can you make the path through the room clearer and easier to follow? Putting large pieces in a way that blocks the flow of a room can make it unappealing to spend time there. Some designers use tips and tricks from Feng Shui and other modalities to create the correct flow and movement in a room. If you leverage these same tips, you too can create better designs throughout your home.
Keep Your Bedroom For Sleeping
Getting great sleep is critical for mental and physical health. If you aren't sleeping well, it could be that you are using your bedroom for more than sleep. Too many people try to use their bedrooms as a multipurpose space; from a health perspective, this is a bad idea. If you still want a lounge area in your room, most designers would agree that the more you can create distinct spaces, the better. You can do this by arranging your bedroom furniture to create a sleeping area and a lounge space.
Consider Storage Space
When decorating a home, you must consider all the little things you store in a room. If you don't have the right storage, you may look more like an episode of Hoarders than the reveal during Fixer Upper. Storage solutions can be hidden under a bed or in a storage ottoman, and they can also be more obvious, like a basket on a shelf or a decorative storage box. When you consider what needs to be in that room, you can decide how to store those things. Additionally, many decorators will ask you to declutter and pare down your belongings to ensure that you don't have more than what you need in a room.
Mix Up Textures and Patterns
Not everything in a room must be matchy-matchy. This design trend is long gone. Instead, designers like to mix and match textures and patterns to create a more dynamic look in a room. For instance, try matching animal hide rugs with plain, monochromatic curtains to achieve an elegant yet rustic appearance. Alternatively, you can find sheepskin pillows over here and add them to vintage throws for a cozy and welcoming atmosphere on your sofa.
You can create a vibrant and aesthetically pleasing environment that showcases your distinct style and character by integrating various materials, patterns, and textures. Whether your objective is to create a comfortable and casual vibe or a more sophisticated and refined atmosphere, experimenting with different decorative elements can assist you in achieving the perfect balance.
Think about smooth walls with an accent wall with texture or a great wallpaper pattern. Think about sleek furniture with cushions with stylish patterns and designs you love. Consider a clean wall with a bold piece of art. All of these things help to create contrast and interest within a space.
Designing a room doesn't need to be complicated. Take some of these tips from the pros and start to make subtle changes in your home design and décor.
Here are Some Other Articles Related to Your Search: