Tom Cruise is running to the backdrop of Neoclassical architecture, check. The action that is as unbelievable as Scientology, check. Cruise performing stunts so precarious and precocious that even Buster Keaton may turn a blind eye, check. Baddies that elevate the plot to the apex of nuclear fun, check. Yep, it's another "Mission Impossible" movie alright. And what better time than summer to sit back, kick our feet up, and watch impossible feats within director Christopher McQuarrie's 147 minute time bomb. 
Time doesn't count for much in a sixth installment that sees 56-year-old star Tom Cruise hanging from helicopters over the rural snowy hills of Kashmir. In jarring fist-fights in a bright white bathroom at a nightclub, and turning back the clock driving counterclockwise in Paris around the always magnificent Arc De Triomphe. On the subject of the "Arc." It does seem odd that McQuarrie's biggest influence, I believe, comes from the slow-burn underground conspiracies of Jean Melville's 1969 masterpiece "Army of Shadows." A bleak yet beautiful portrait of the French Resistance during World War 2. Here, we get the trademark art-house back alley meetings as exposition sequences, the always symbolic fluttering birds in the background (another Melville trademark), similar unforeseen narrative twists, and of course the Arc De Triomphe as the films standout set piece.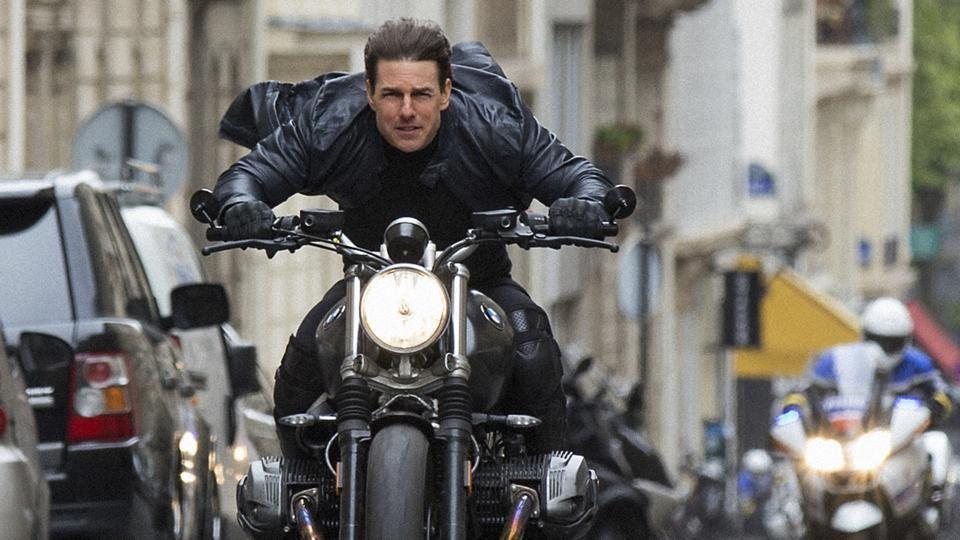 Why is it odd that this is an influence? If Melville's pictures exerted the contained suave exterior and moody blues interior of Jazz, then McQuarrie's movie takes the shape of the second half of Lynyrd Skinnard's "Freebird". That should be taken as high praise. Since "Mission Impossible Fallout" is as exciting as anything that will come out all summer. 
Excitement hardly hints at whats to come in Ethan Hunt's latest mission, which he ironically didn't choose to accept. This time around, three plutonium cores have gone missing, and if the terrorist group The Apostles acquire such merchandise, then the old world order will be obliterated before folks can even finish their last supper. With Solomon Lane(played by Sean Harris in a Jesus beard) running the show, we have a haunting presence as a nemesis.(Unlike past installments, the plot here overlaps with one of the past, that being "Rogue Nation"). The real nemesis, however, seems to be Walker(Henry Cavill). A fill-in agent with super-human, or rather superman, capabilities, with broad shoulders and an even broader mustache. The two flaunting their egos the way a Bond girl flaunts her alluring physique. 
As usual, there is a lot of show--minus the tell-- to be seen here. A tour de force in the spectacle department, this will sure clean up at the box office this coming weekend. Rarely has action been so spell-bounding that I found myself setting aside the exiguous plot for a films mise-en-scene. The technical gravitas, old-school action(by today's standards all that means is not overdoing the CGI), and life-threatening stunts bring Paris and its amplified chase sequences to life. And there is something to be said about a scene that sees Hunt scaling a vertical cliff a couple thousand feet above the fertile forests of Kashmir. As a helicopter threatens to tip over and join him at the bottom. There aren't sunglasses waiting for him at the top, but Mcquarrie's expert camerawork and Cruise's physical performance convince us that he is still the personification of cool.
Nonetheless, one has to wonder if this onslaught of visual veneration may be our buddy Cruise's last outing. With the amount of on-set injuries our star has gone through, I question if Lane's motto applies here more than ever; "The greater the suffering the greater the peace". Hunt's close ones may think so too. Simon Peg, Ving Rhames, and Alec Baldwin are back winningly as blabbing McGuffin's who show affection and uncertainty for Hunt. He may be skydiving onto the roof of the Grand Palais, and yet, he still feels remarkably human. Even grander is the affection is shown by the always lovely Rebecca Ferguson and Michelle Monaghan. Who are given remarkably trite lines in an attempt to add weight to the enterprise?  In fact, the entire script seems flimsy if not lazy. But it doesn't matter all that much once the action revs up. There is no vindication in this relentless display of buoyant extravaganza. Just like Cruise, "Fallout" puffs up its chest, flexes its muscles, and once it starts running, it never looks back