Au Revoir offers a taste of French elegance in the heart of Hillcrest. The charming corner restaurant entices diners with its warm colors and inviting lighting. Sparkling glass chandeliers hang daintily from the ceiling, bouncing soft white light off of the tall mason jars placed on each table. The kitsch paintings and Eiffel Tower replicas are somewhat unnecessary, as the food itself is enough of a reminder of the bistro's French influences. I was welcomed by manager Thomas Bardin, his warm greeting accentuated with a subtle yet genuine French accent. All of the servers at Au Revoir are French, he told me, which adds to the authenticity.
"The idea in Hillcrest is to have affordable French cuisine for every day … to create a typical Parisian atmosphere," Bardin said.
This idea is successfully played out in Au Revoir's menu, which changes three times a year to suit the season. Lunch and dinner are served daily, and brunch is served on weekends. Bardin collaborates with the kitchen to create the menu and works with seven food and wine providers from Southern California all the way to France.
"When people go to a French restaurant, they want that French experience," he said. "The goal is to go fully French."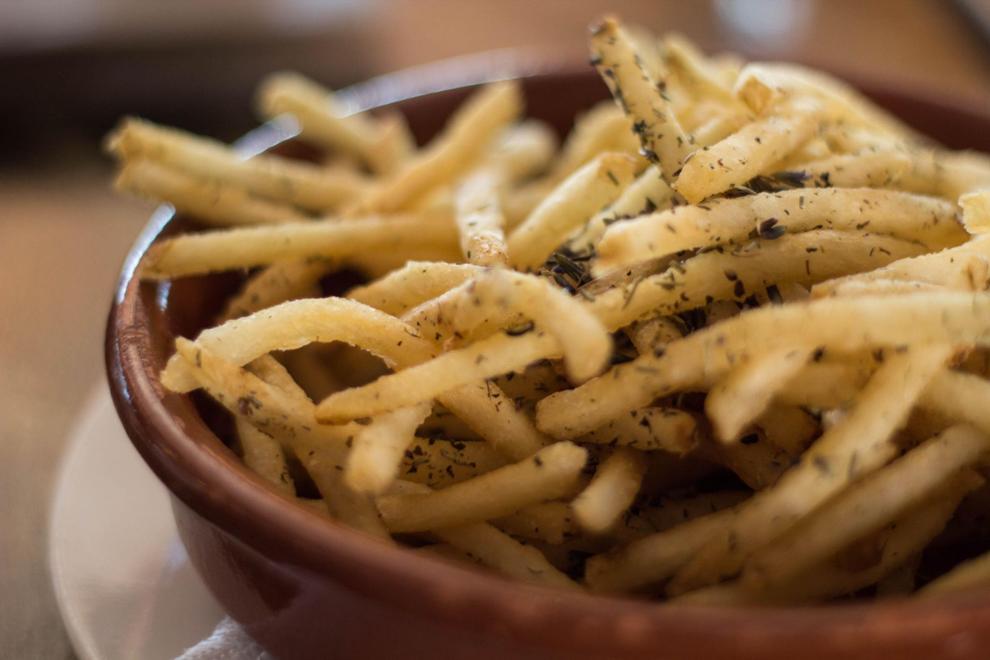 And fully French you can be, if you so desire. The menu is what you'd expect from a French-themed restaurant. Salade du bistro and soupe du jour often preface a roasted duck breast with peaches and lavender or a rack of lamb with ratatouille. If you're feeling particularly French or simply adventurous, order the expertly prepared escargot or sautéed frog legs. You can even practice your language skills by ordering in French.
My meal began with a traditional French onion soup. The dark beef consommé was laden with caramelized onions, their sweet flavor adding depth to the already rich broth. Perfectly browned gruyere topped the thick crouton and spilled tauntingly over the side of the bowl. Steam emanated from the dish with the first spoonful, releasing the beautiful aromas that had been trapped beneath. I was in French onion soup heaven.
Reluctantly I pulled myself from my reverie as I was greeted with the tantalizing scent of lavender. Au Revoir's pommes frites à la lavande are quite possibly the best fried potatoes I've ever had, their thin cut allowing a crispier texture. The lavender was certainly not an afterthought, and easily works in concert with oregano, thyme and rosemary. These fries are tasty enough to be enjoyed without condiments, though for added magnificence I might recommend the restaurant's made-from-scratch aioli as a dipping sauce.
Fries and onion soup aren't typically enough for a meal, however. They can be fantastic precursors to any of the main dishes, which pair well with Au Revoir's selection of delectable French imported wines and beers. I was served the pave de saumon, a wild salmon filet accompanied by two deliciously fresh scallops, hearty fingerling potatoes and crispy broccolini. The savory beurre blanc and creamy leek fondue is what ties this dish together. Bardin said the advantages of operating a French restaurant in California is the easy access to fresh, local seafood and vegetables. This was definitely apparent throughout the dish, from the melt-in-your-mouth scallops seared with just the right amount of seasoning to the flaky salmon that must have been plucked from the ocean not a day before.
Bardin said another goal is to bring in more local produce. Though working with international suppliers is arguably crucial for a French menu, there are definitely benefits to buying local. The bread supplied to the restaurant is also made fresh daily at a sister bakery by the same owner.
Another way Au Revoir pays homage to its French roots is by honoring traditional French holidays and events (last month the "Beaujoulais Noveau" dinner took place, featuring a three-course meal that celebrated the first wine of the season). Special reservation required wine dinners are held once a month when there are no local or international events, and they often feature guests knowledgeable in a certain industry to offer insight and conversation for diners.
The restaurant celebrated its fourth anniversary last month. I recently returned from a trip to Europe, and while I didn't visit France, if Au Revoir is any indication of authentic French cuisine, I'll gladly pack my bags and plan my next trip for Paris. Thankfully, San Diegans won't have to as long as Au Revoir continues to bring a little bit of France to Southern California.
Located on 420 Robinson Ave, Suite A.