The seventh annual La Jolla Art and Wine Festival took place October 10th and 11th along Girard Avenue in La Jolla. Over 150 artists and musicians from Southern California gathered under the shady white tents to display their art to the public. The La Jolla Art and Wine Festival also featured several renowned wineries and breweries from Southern California. 
In addition to being a cultural meeting place for artists to share their work, the La Jolla Art and Wine Festival included a philanthropic aspect. This event—originally organized by Friends of La Jolla Elementary and partnered with La Jolla Village Merchants Association—acted as a fundraiser for the underfunded art, music, science, medical and technology programs at local public elementary and middle schools. 
The La Jolla Art and Wine Festival featured various forms of art including mixed media, photography, live music, jewelry and painting. Below are some of the featured artists from the event.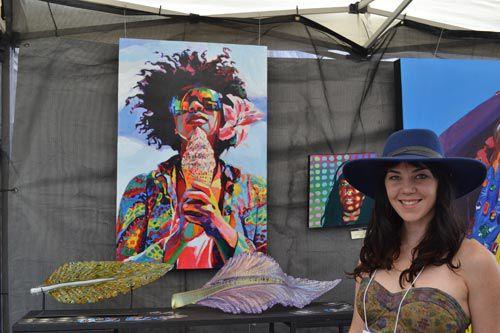 Stieber is a San Diego-based painter who describes her style as "electric realism." Stieber paints in mostly oils or acrylics. Her work is characterized by bright colors and intricate details. Stieber's paintings feature people in any and all situations: romance, sleep and even daily life. Stieber's focus on people stems from her stated fascination with the human condition. 
Stieber's shown work at the festival included her painting, Fierce, which is included in her "Dolls" series. The original copy of this work is available at Adelman Fine Art studio in San Diego and was painted using oil on canvas. The painting Stieber is standing with shown here is entitled "Legendairy," and was painted with acrylic paints on canvas.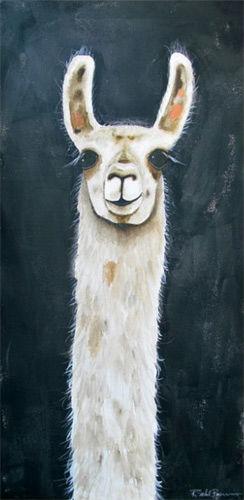 Rachel Brown is a watercolor artist who works out of Los Angeles but originated from central Missouri. Brown has a fascination with painting animals such as ostriches, alpacas, and flamingos because she finds them knowledgeable about the world. Within her work, Brown most often uses water-based inks and charcoal, as well as minimal brushstrokes. Brown would describe her pieces as being playful.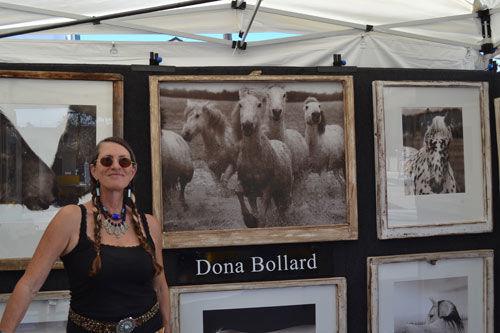 Dona Bollard is a Colorado based photographer who prints her work exclusively in black and white. Bollard is intricately involved in her photographs; she notes that she hand processes her images. Bollard's collections feature a western theme. Her pictures are often of horses, women and rural imagery. 
Bollard's photographs showcased in the La Jolla Art and Wine Festival featured her pictures of horses, including that of the spotted pony for which she named her website. These images often portray the horses as wild or untamed, and they play with contrast between the darker backgrounds and the light horses.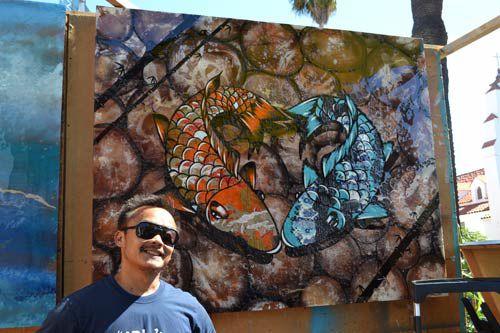 John Hung Ha owns the HA Factory in Garden Grove, California. Ha works in mixed media and utilizes a number of materials including oils, acrylics, fabrics and papers. Born in Vietnam, Ha frequently uses traditional Chinese imagery, such as Koi fish or goldfish, accompanied by bright colors in an effort to blend Western influences with Eastern painting styles. 
Ha's Koi fish in particular often include images and designs within the fish themselves. One of the images featured at the festival, titled "Harmony," featured a Koi fish whose scales were imprinted with international flags.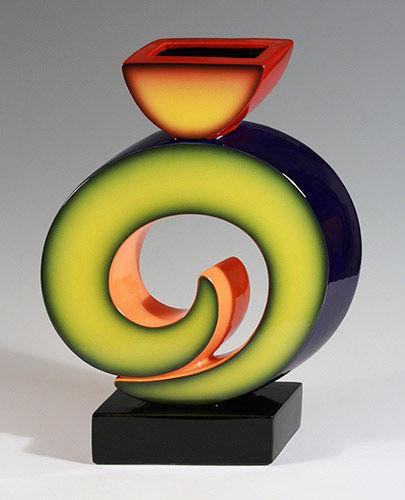 Fred Stodder is a ceramic artist located in San Juan Capistrano. He is known for using bright colors, unusual shapes, and hard edges in his creations. Stodder frequently makes unique vases and teapots from earthenware clay, and he uses multiple underglaze colors. His vases and teapots have an unusual three-dimensional quality to them by contrasting the vases' dark edges with their lighter faces. 
Evgeny Yorobe is a San Diego photographer. Yorobe has both artistic portfolios featuring his landscapes and commercial portfolios featuring wedding photography. Yorobe's fascination with landscape photography stems from his love of San Diego. Yorobe has multiple collections of images, including landscape photographs of La Jolla, Ocean Beach, Coronado and the downtown San Diego skyline.
Shown here is Yorobe standing beside his photograph, "The Bridge to Somewhere." This image features a long-exposure photograph of both Petco Park and the Harbor Drive Pedestrian Bridge during the evening. Also featured at the festival was "Corridor to the Sun," a surreal image of the beach underneath the Scripps Pier at sunset.