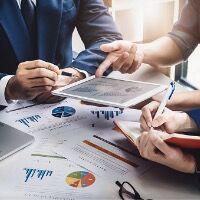 The rise of technology and people turning to phones have quickly become game changers for many industries. However, the disruption has been particularly notable in the finance domain. Digitalization has been caused by many factors like COVID-19, reliance on technology for both customers and staff, and increased need for fast and efficient ways to work with finances among modern consumers.
We created this article for those organizations who still consider the impact of digitalization on financial services. Knowing how this transformation can change your business is essential in 2023 if you want to stay an appealing option for your clients in the upcoming years. 
Shift to Online & Mobile Banking
The shift to mobile phones is the first thing that has changed the world today. Mobile apps are becoming more popular every year and seem to overcome any physical store. That is why finance companies have started developing mobile apps known as mobile banking. And this is one of the key things that are changing the finance industry in 2023. 
This has become so popular, probably because of users' inability to visit physical banking during the era of restrictions. That is why companies should now consider offering clients an online option for money management and transactions like mobile phones and web services. 
The Popularity of Challenger Banks
Challenger banks is a term used to describe digital-only banks that offer faster, more efficient, and smoother user experience than traditional banks. They also provide users with more attractive fees and rates, which makes challenger banks a more appealing option. 
The growing popularity of challenger banks is also caused by digital transformation in finance. Since more and more financial transactions are performed online, there is a high demand for banks to follow tech trends and offer digital experiences. Challenger banks can also cover those needs, and they are becoming more appealing among consumers.
Fintech Solutions
FinTech organizations are extremely popular today. Living in the highly digital era, financial technologies (FinTech) offer a vast range of services, including tracking money, budgeting as well as customer service chatbots. Considering the number of financial firms that now rely on FinTech solutions, these organizations have been driving factors in the financial industry transformation. 
Digital Investments Companies
One of the key areas that sees great change is investment management. Platforms based on algorithms are becoming more popular since they have been shown to offer investors of all kinds a more hands-off approach. In addition, startups benefit from this change as these platforms also tend to be more affordable. 
SEO
Search engine optimization (SEO) is essential for modern companies today. It allows companies to stand out from the crowd and attract relevant audiences. That is why you, as a modern finance company, need to develop a website and fill it with content. Invest in SEO for finance companies, as it will help you be at the top of the search when potential clients look for services you offer.
Blockchain Adoption
We all know the importance of blockchain for several industries, including banks. Blockchain is the leading technology today that offers fast, efficient, and secure transactions. The security issue has always been a priority for most organizations, and blockchain ledger quickly resolves this question now. Blockchain offers finance organizations a new way to identify, record, and store digital assets, as well as create a new way for banks to boost the security posture of transactions.
Paperless transactions
Paperless transactions have also become one of the most significant trends in the financial industry today. This has been shown to offer many benefits for both customers and businesses. That is because paperless transactions are much more efficient and easier to manage. In addition, paperless transactions offer bespoke services to each customer's custom needs which is much easier and better than using a one-size-fits-all approach. 
Workflow Automation
Even though some finance companies are still considering workflow automation, others have put this process a top priority for asset managers amid the pandemic, based on the 2020 Digital Readiness Survey. In fact, most managers participating in that survey found that they were ahead of the game when it came to digital transformation, mobilizing their services, and following trends before they became necessary.
Workflow automation includes utilizing a system with software tools that execute mundane and repetitive tasks in contrast to relying on human resources. For instance, your organization can easily use a system that will automatically create invoices based on your custom rules and then route them for human approval. 
This is already applied by some companies and has been said to reduce the need for human resources to create invoices manually before sending them off for approval.
Artificial Intelligence
Artificial Intelligence (AI) is a great trend that drives digital transformation in this domain. AI is used in different industries today, being trained by special systems. As a result, financial service providers help identify patterns and automatically implement practices to reduce unfavorable conditions. For instance, one of the technologies from the AI sector is machine learning, which can be used to find fraudulent and weird activities like money laundering and credit card fraud. 
Cloud Services
Cloud is a hot topic today. Cloud services are gaining popularity, so this domain globally migrates its services and processes to the cloud. Cloud-based solutions have been shown to provide higher scalability, which makes it easier to keep up with changing demands by clients. In addition, cloud solutions are more secure and cheaper to implement.
Here are Some Other Articles Related to Your Search:
5 Renovation Trends & Their Financing Options
How Seniors Can Finance Remodeling Their Homes
Sensible Financial Planning: 5 Right and Wrong Reasons to Buy a House