Three luxury hotels in San Diego -- the Grand Del Mar, Park Hyatt Aviara and Rancho Valencia -- earned five stars this year in Forbes Travel Guide's annual ranking. Presenting a list of the top 3 luxury hotels in North County San Diego. 
The Grand Del Mar
Evocative of 16th and 17th century Italy, The Grand Del Mar's design began as a blank canvas;  interior designer Warren Sheets has taken architect Robert Altevers' fusion of Mediterranean and California influences to new heights. Possessing a natural proclivity for beauty, Sheets notes, "Initially, the space is empty and things appear in my mind. I look for inspiration and begin to create a story visual."
From there, Sheets and his staff develop a storyboard translating mood elements into visuals from his 10,000 square foot studio space of pictures, product samples and art. "I was very passionate about this project," Sheets emphasizes, and it shows.
As San Diego's newest 249-room golf, equestrian and spa luxury resort reveals - nestled amidst the Los Peñasquitos canyon reserve, a staggering amount of creative expression is in evidence; from original oil painting selections to Sheet's own medallion designs on floors and stenciled walls; from the 20 tons of cubic marble carvings and Jerusalem limestone columns throughout the entrance, library, and ballrooms to grille work that replicates the same pattern and era. From upholstered wall coverings to the tiniest details like parchment lampshades, doorknobs and vases, Warren Sheets' own artist gifts are felt seamlessly throughout the property as if one is casually strolling through a Renaissance art gallery. And guests overwhelmingly agree, the beauty and elegance of The Grand Del Mar is simply unrivaled. 
The Grand Del Mar [ For more information visit thegranddelmar.com ]
L'Auberge Del Mar
The sublime comfort of the recently renovated 120-room L'Auberge Del Mar hotel and spa by interior designer Barclay Butera renders a feeling of ease and relaxation. Drawing on the theme of livability and sophistication, Butera has created clean and classic interiors in combination with exotic Far Eastern and Atlantic influences. The boutique-style hotel is highly compatible with Butera's own lifestyle.
"I've lived in style, beginning with the beach," says Butera. His expression is felt when entering the lobby, incorporating dark wood flooring with ample lighting; flowing through free-style NANA doors, the design, reveals casual living, unveiling a Pacific wake -  as fas as the eye can see. And without effort, the natural landscape marries the interior design.
With lots of white-shuttered features, rocking chairs, and light-colored upholstery, accents, and woods, the ambiance is both sophisticated and homey. In fact, Butera further contributes his livability theme throughout the property with rooms appointed in parallel fashion. He firmly believes that every room should "have one truly establishing piece."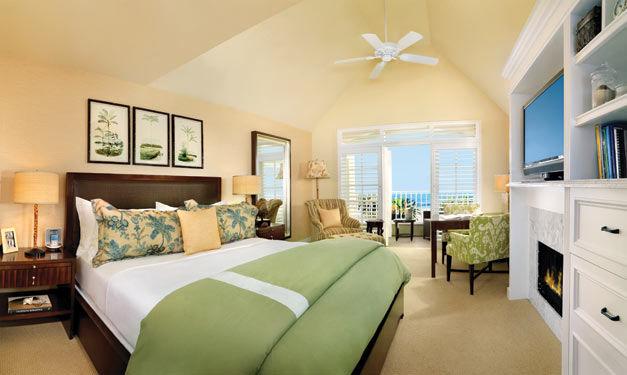 Butera has designed a decidedly un-fussy yet casually charming atmosphere – a 'home away from home' feel that alternates between "restful and invigorating;" from the billowy duvets to the salt breezes stimulating your skin, teased into a dreamy sleep near the waters' edge.
L'Auberge Del Mar [ For more information visit laubergedelmar.com ]
Rancho Valencia Resort
Nestled on an expansive plateau in Rancho Santa Fe, Rancho Valencia's tennis and retreat-style resort features casitas and villas encompassing interior designer Hank Milam's signature theme of "Bigger is Better." Yet, it is the way he chooses to express this sentiment through combinations of furnishings, color, a wood's grain, and Mexican influences that distinguish his elegant designs.
From his philosophy has emerged overlarge rooms complete with high vaulted ceilings, ample walk-in closet space, and extensive bathing areas, exposing an abundance of light and space throughout each of the 49 suites and communal spaces.
His use of Southwestern colors of aqua, burnt sunset orange and sand, as well as near-stripped Douglas Fur wood beams and hand-painted tiles interface with the luscious landscaping of the resort.
"I want to see the (wood) grain," Milam has confessed, adding "in the raw" is compellingly natural. He focuses on establishing "volume, dimension, weight, and proportion" that make his case throughout the property, highlighting large antique style furniture.  "I prefer to have really dramatic and sizable 'statement' pieces in a room."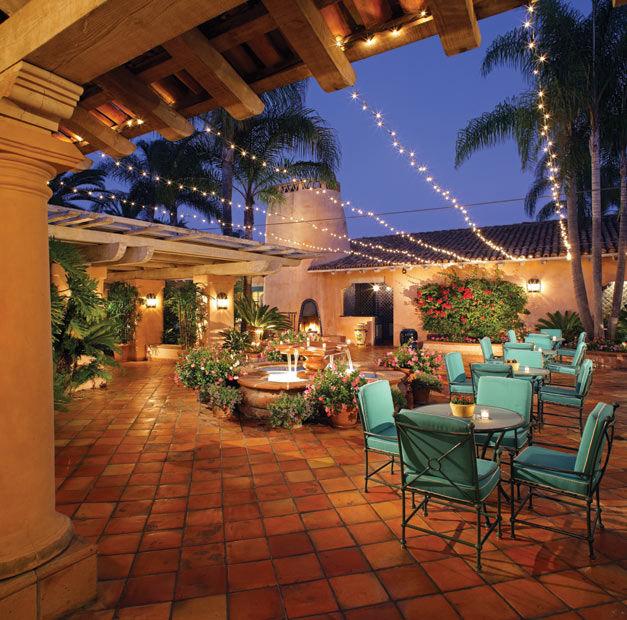 Blue and white tiles appear in most locations, complementing the raw design with additional sand-tiled flooring and multi-colored tiles as well. Fireplaces warm most public spaces and all suites, even the Spa. The sense of tranquility is successfully established by these combinations, contributing to an elegantly rustic feel throughout the property.
Rancho Valencia [ For more information visit ranchovalencia.com ]
Related Article: 4 Best Luxury Hotels in San Diego