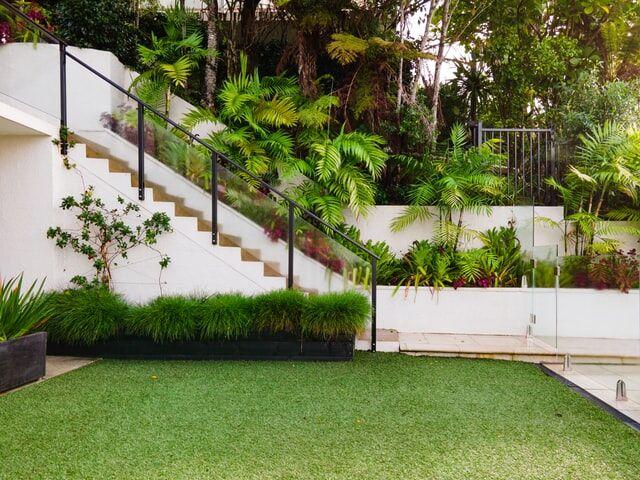 Sometimes you don't need to be a professional real estate agent but think about all the times you visited a home. One of the first things to charm a buyer is the exterior before stepping into the house. People spend most of their time and money styling and designing the interior and neglect the yard's power regarding property value. 
The excitement of a potential buyer psychologically starts before they get out of the car. If the yard fails to charm them, chances are they will not take everything the property has to offer and pass. Some many outdoor amenities and features that could help increase your property value, and here are a few to consider. 
Swimming Pools
There are many home improvements you can make to increase the value of your home; however, there are a few additions that guarantee the increase in value; adding a swimming pool by custom pools and masonry is one of them. Having a pool in your backyard gives the landscape an uplift while incorporating a natural water element. 
The most considerable demand with pools nowadays is adding water features like a fountain or waterfall. Many people like a collection set in their home to enjoy a book while sunbathing or cooling off during scorching summer days.  
Landscaping and Lighting
One of the most crucial features to add to your home is landscaping, such as walkways, patios, or gazebos, finished with lighting. Choose the style of your garden and plants in a way that complements the geographical location. Remember, when you decide on the kind of patio design, you need to hire a professional; it may ruin the desired image if done wrong. 
While these fantastic features increase the value of your home, well-placed lights allow trees, shrubs, and flowers to stand out at night. One of the most significant advantages of exterior light is the safety aspect.
Outdoor Kitchens
I'm sure you've had the pleasure to enjoy an excellent outdoor breakfast or dinner in great warm weather. Having an open-air kitchen in your backyard offers more than a traditional barbeque; instead, it allows you to entertain your family or guests on a more ambitious and gracious level. 
A fully equipped outdoor kitchen puts a statement and a burning desire in the eyes of potential buyers; an elegant, fully functional kitchen with electricity, plumbing, and gas. An outdoor kitchen is not complete without amenities such as icemakers, wine coolers, a refrigerator, sinks, ovens, burners, and a grill.  
Outdoor Screening Rooms
Bring the charm of a drive-in movie to your home. An outdoor screening room in your home allows you to enjoy your favorite TV shows while sunbathing. To truly appreciate the benefits of an outdoor screening room, manufacturers have designed waterproof screens to stand the test of different climates. They are bright enough to watch on the most brilliant sunny days.  
Eco-Friendly Amenities
Another great way to add value to your home is by adding sustainable, eco-friendly improvements. Eco-friendly features include a green roof with vegetation, solar panels that help power the house with electricity, and landscape lighting. To help capture rainwater for irrigating gardens, you can consider a drainage system.