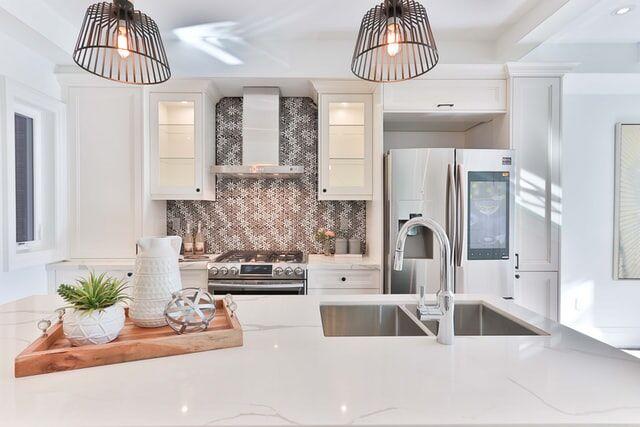 Worktops are the crowning glory of your kitchen. Highly visible, practical kitchen worktops have the double duty of being aesthetically pleasing and have a durable, functional surface. With so many choices on the market, it's hard to know where to look. Should you stick with country classic wooden worktops? Are our natural stone or marble worktops worth the money? Or maybe you're looking to branch out and try an artificial, composite solution. Whether you're looking to add a new face to your existing kitchen or designing your space from scratch, worktops will be an essential consideration. Today we'll be looking at three of the most popular kitchen worktops - natural stone, composite and laminate worktops, to discover what makes them so popular and which you should choose for your home.
Natural Stone
Natural stone, such as granite or marble, has long been an exceptional choice for worktops of all kinds. Natural stone is highly durable, relatively easy to clean, and resistant to high temperatures. But stable doesn't mean indestructible. Due to its raw material, if impacted hard enough in the wrong way, it can be susceptible to chips and cracks. 
If you're looking for worktops that make a statement, look no further than natural stone. Natural stone incorporates a unique pattern with a natural color range: beige, black, blue, brown, burgundy, grey, green, red, yellow, or white. It is important to note that appearance, pattern, and color may vary significantly from slab to slab.
Composite 
Composite worktops come in many names: quartz, engineer stone, or Corian. Like natural stone, composite worktops are incredibly durable and very easy to clean and maintain. Composite worktops are manufactured, so they have been engineered to withstand more impact than natural materials. Alongside this, composite materials are non-porous. This means that neither germs, bacteria, or even tough stains like beet juice or red wine won't be absorbed into the surface. This makes for a hygienic and easy-to-clean worktop perfect for busy families. On top of all of this, composite worktops come in a wide variety of colors and patterns, even those that mimic natural stone, so your finished worktops will have a seamless finish.
Laminate
Laminate is one of the most versatile worktops on the market. Laminate worktops are relatively stable and heat resistant, made from bonding a super durable plastic overlay to the artificial board. Relatively light and easy to install, laminate is available in a wide variety of colors and patterns. Laminate worktops can easily mimic softer, less durable materials like wood or make a big statement replicating expensive veined marble, but at a fraction of the price. Extremely easy to maintain and clean, laminate is a non-porous surface, so like composite worktops, it is hygienic and antibacterial. 
Speak To An Expert
If you want personal advice on the best kitchen worktop for your home, contact Matter Design, a home design company based in Essex, UK.