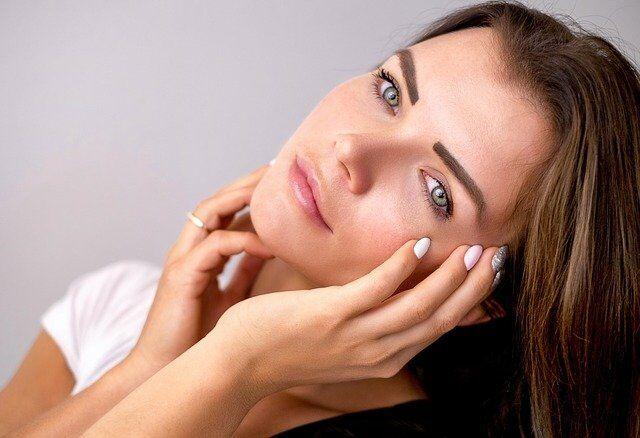 The concept of beauty is about to change again as 2020 comes to an end. While many people are still practicing minimalism, colorful beauty looks are ready to go back in 2021. Minimalism and artistic takes on beauty will co-exist as the Spring/Summer 2021 looks combine fewer skincare products with kohl-rimmed eyes and bold '80s shadows.
From big hoop earrings as a simple yet bold fashion statement to only using benzoyl peroxide wash for the face, here are some trends to watch out for in 2021.
Hair and Makeup 
The Wet Look
If you're running late and don't have the time to blow dry your hair, rock your wet hair look. After all, it's one of the most accessible 2021 beauty trends to recreate. The Wet Hair Look is gracing runways once again as models stop the runway looking like they just got off the shower. For a perfect wet look, comb back your hair and be generous with the gel!
Sculpted Hair
Sculpted coifs are all the rage this 2021 - the runways say so. From severely slicked side parts at Miu Miu to Dries van Noten and Valentino's take on intricate finger waves, sculpting your locks is in this 2021. Consider spending a few minutes on a style that's worthy of the runways.
Gothic Liner
Cleopatra is no longer the only queen who can carry a swipe of kohl eyeliner. The gothic eyeliner makes its comeback to fashion runways this 2021. A bold line around the eye guarantees the most impact on the looks. Add the right amount of flair by emphasizing the eyes with a smoked-out liner à la Chanel.
'80s Bright
The '80s are coming back to the 2020s with a splash. The bold colors never go out of style, as proven by the Spring/Summer 2021 runways. Whether you go out with a diffused fuchsia lip or an electric blue eyeliner, the trend is all about standing out colorfully - even with the shoulder pads.
Au Naturale
Perhaps the easiest of all the 2021 beauty looks, all-natural makeup, emphasizes your natural beauty without the loud colors. Models at Alberta Ferretti strutted down the runway in au natural makeup paired with natural texture, yet again proving that less will always be more.
Fashion
Power Pants
Power pants never go out of style for both men and women. Even international sensations like BTS are big fans of statement pants (it's a trademark BTS fashion style, after all).
The oversize trousers are big staples at The Row, Louis Vuitton, and Stella McCartney shows. With the eye-catching swoosh, these pants revive the '80s with a twist. Strutting around in power pants guarantees that wherever you walk - from the table to the bedroom or around your neighborhood - you'll always look elegant and dramatic.
Stylish Sweatsuits
It's all about creating a new uniform. For example, Raf Simons' collaboration with Prada resulted in the sweatsuits, which is a combination of Simon's graphic tendencies and Prada's full-skirts. These runway newbies are perfect for the slouchy year that is 2020.;
Skin Care
Simplified Products
The recent months have seen skincare brands offering minimal, simple-to-use ranges. The no-fuss skincare has trumped the 10-step skincare people practiced fervently before 2020.
Skincare brands know that customers want simplicity with their skincare, which is why most products simplify the language of ingredients. Customers are not experts on skincare science, so brands are demystifying ingredients by using them as the product's name.
Beauty Edibles 
Complement your beauty regimen by taking skincare edibles, including capsules, vitamins, and mineral supplements you can eat on their own or add to a liquid beverage. Chewable gummies are still on the market, as well as ready-made drinks that fill your daily quota while quenching your thirst.
Centella Asiatica
Most skincare brands use Centella Asiatica, also known as Gotu Kola, a highly-concentrated extract of sugars, amino acids, niacin, and carotene designed to heal the skin and the body. Centella Asiatica is known for reducing cellulite, calming inflamed skin, and fighting against premature aging.
Pimple Patches
Adult acne is real and remains a problem even today. For those of you with blemish-prone skin, pimple patches are lifesavers. The hydrocolloid patch is here to stay as more people use these patches to address stubborn pimples.
Originally used to protect and bandage uninfected wounds, hydrocolloid patches do not remove fluids such as oil and pus while preventing bacteria from infecting the pimple.
In terms of fashion, makeup, and skincare, 2021 will be yet another colorful year. Don't miss out on next year's surprises and selections. Here's to another year of beauty and fashion innovations!