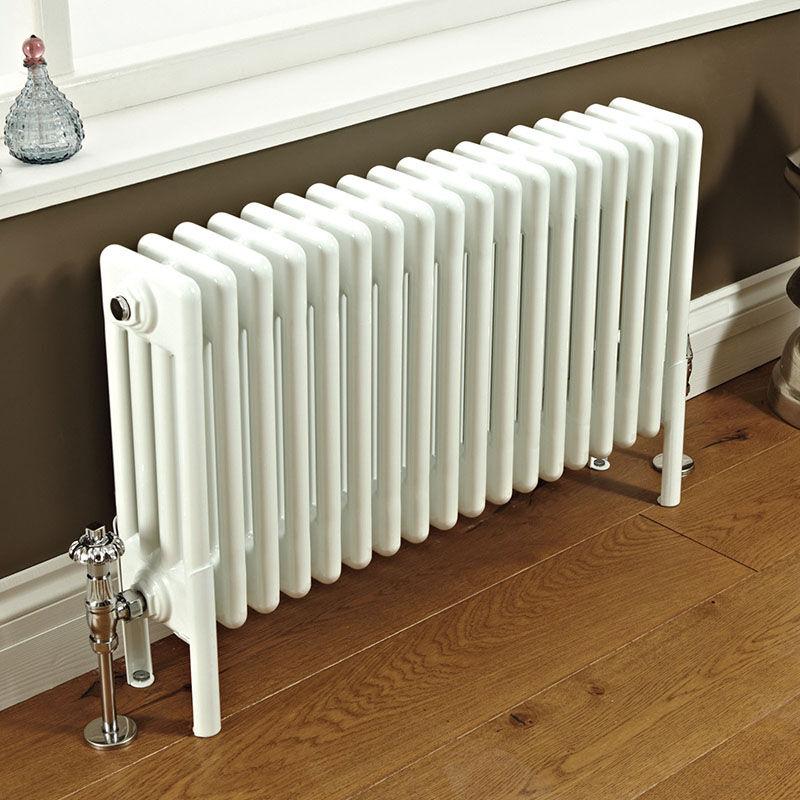 Hard-working. Resilient. Long-lasting. Three qualities you'd expect to hear in someone's work review, but three key elements I always expect to find from any radiator installation. It is all too often the case that radiators are overlooked when it comes to having a complete look, and are just something we tend to shy away from and leave by. 
In my experience, it is mainly due to people not instinctively knowing how their radiators work or thinking that some aspects of an installation are too dangerous/pernickety/cumbersome to change about. This couldn't be further from the truth.
If you're in a house and hate looking at a specific radiator because the colour of the valves doesn't match, the pipes underneath are all splattered in paint, or you can't use a towel rail the way you hoped, I have some good news for you. I'm about to look at some of the radiator accessories you really should have in place to help add those finishing touches. Most of the accessories I'm about to discuss are available from Trade Radiators if you're interested in finding the right one for your home, or just want a good deal on a new radiator.
The accessories I'll be discussing are:
Valves

Pipe Sleeves

Rail Hangers

Robe hooks

Air valves
And here is what you need to know about each one.
Valves
I like to think you should treat radiator valves the same way you treat the taps in your kitchen or bathroom. If you're happy enough to have plain old taps that do the job and don't look the part, that's fine. But, if you are someone who needs their taps to look nice and have a bit of character, you should do the same for your radiator valves.
You'll be surprised just how many styles and shapes of valve that are out there. You can run the gamut from the cheapest plastic valves all the way to designer name valves with ornately decorated handles. My rule of thumb is that you should always have radiator valves that match the colour of your radiator; otherwise, you'll end up with the radiator equivalent of wearing mismatched socks.
Oh, and read up on thermostatic radiator valves. They're the ones with the numbers, and most people use them in entirely the wrong way.
Pipe Sleeves
If you don't think of your valves as the odd socks on the radiator, then your pipes most definitely are. Anyone who has ever redecorated and painted a room at home will know all too well the anger that comes from carefully covering the entire floor and furniture to avoid paint, only to see flecks of paint all over the pipes under the radiator.
Pipe sleeves are your best friend when this happens. They're a cover that pops on and off when you need your pipes looking like they're brand new. Even if you have old pipes that don't look the best no matter how often you clean them, a pair of pipes for less than £10/$12 can instantly transform your entire radiator set-up.
Just like valves, I recommend going for colours which match your valves and radiators, so if you have a silver radiator, make sure you also have silver pipes.
Rail Hangers
Towel rails are trendy nowadays and aren't just for bathrooms but spaces like hallways and kitchens. And while they look so good, there's a common theme which follows many when you have rails with narrow bars; you can't actually hang a towel on the rail.
If this has become a daily occurrence in your home, and you're sick to the gills of having to cram towels in so they'll stay in place while you shower, the miraculous workaround is to get yourself a rail for your rail.
Yes, rail hangers are adjustable/extendable rail that you pop on to a towel rail, so it has an exterior rail. While it sounds a little silly to have, when you find yourself in the habit of using it all the time, it's just another minor accessory that helps keep things tidy around your radiator.
Robe Hooks
Just like an un-hangable towel, what can one do when they're getting ready for a nice bath and would prefer to have their robe hung up on the radiator and not draped over the floor where it could get cold and wet.
The humble robe hook is your best friend here. Unlike a towel rail, they are much less invasive and do an excellent job of keeping towels and robe warm and dry. They also have the added benefit of helping prolong the exterior of towel rails. Some manufacturers recommend against putting damp towels in between rails as it can increase the chances of rust occurring over time.
Air Valves
Read an article on radiator advice, and you're always guaranteed to find a paragraph on how to bleed radiators so you can avoid problems in the winter. What if I told you the best way to bleed a radiator was never to have to bleed it ever again?
Yes, you can avoid the awkwardness of holding a basin under the radiator every few months by getting an air valve. I'm honestly surprised these aren't talked about more, or that every new radiator made doesn't have one as standard.
Radiator air valves will automatically release any air that builds up inside a radiator. This helps prevent cold patches and lowers the chance of oxidation (which leads to rust) occurring. They're an incredibly cheap accessory, and even if you don't think you need some of the other accessories I've mentioned here, air valves are a game-changer and you should definitely get some.
Are you feeling a chill in the air already?
Summer is about to wind down, and you don't want to be caught out by the first cold snap in autumn. Get ready by reading How To Prepare Your Home For Winter. The article has some great advice on preventing blockages in your drains and checking overlooked areas like trimming and exterior surfaces.
Read the latest DIY tips from the blog
Thanks for reading this article on radiator accessories, but don't stop there!
Keep your home looking great by reading the latest home repair articles from the blog here. You don't have to be a DIY master, but you can soon see yourself saving a lot of money by doing simple work at home yourself.