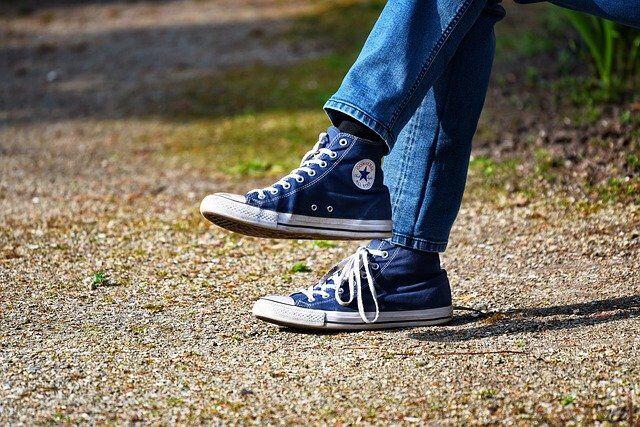 If you're the type that wears sneakers all year round, no matter what the weather's like, you've might've run out of ideas when it comes to matching your sneakers to your outfit. But there are plenty of things you can do to style your favorite sneakers in a way that complements your clothes. From finding a matching snapback to changing your shoelace color, there are tons of things you can do to showcase your unique individual style while rocking your favorite sneakers. Here's how.
1. Get a Matching Hat
 A snapback or fitted cap can help pull an outfit together (shoes included). Find a hat that goes well with whatever sneakers you decide on. While the colors don't have to match precisely, you'd do well to choose colors that go well together. Get yourself a few hats so you can switch things up when you feel like it.
2. Change Your Laces
If you ever want to add a pop of color to your sneakers, you can always change the laces to match something in your outfit. This works exceptionally well for sneakers with only two colors, but you can still do it with three.
3. Buy Them in Black (or White)
If your mother never told you, black goes with everything. So buying your sneakers in all black (or black on black) would give you the freedom to wear them with pretty much anything. The only exception is navy blue. So get yourself a nice pair of Jordan 1s in black (high tops if you want to survive the winter months). You can also buy them in white to match virtually anything, but make sure you keep them clean.
4. Pair Them With Slim- and Tapered-Fit Denim
The classic sports sneaker goes well with denim, so consider getting yourself a few pairs of nice jeans if you don't already have some. A slim denim jean would work well for more dressed-up looks, while the tapered-fit denim jean would be better for a more casual event. Find a few styles you like and try to color match to present a more cohesive look.
5. Wear Loose Color-Matched Jackets
During the colder winter months, you're likely going to be wearing jackets in addition to your coat. Make sure your jacket matches your shoes. It doesn't have to be a solid color, but if it contains at least an inkling of the colors in your sneakers, you're already doing it right.
6. Pair It With a Blazer
If you're into the sleek, polished look, a blazer could go well with your favorite sneakers. Pair your blazer with slim jeans and a t-shirt that helps complete your monochrome look.
7. Go Bold With Dress Pants
Wearing dress pants with sneakers is always a fashion risk unless you do it right. That means making sure your sneakers don't clash with the dress pants. For example, plaid pants with neon yellow sneakers aren't going to work. Look for inspiration online so you can find your perfect look.
Finding Unique Ways to Style Your Favorite Sneakers
Now that you've got a few ideas about style your favorite sneakers, you can start creating looks that help express your unique style. From pairing them with a slim or tapered pair of jeans to getting a matching hat, you've got tons of options when it comes to complementing your go-to shoes.