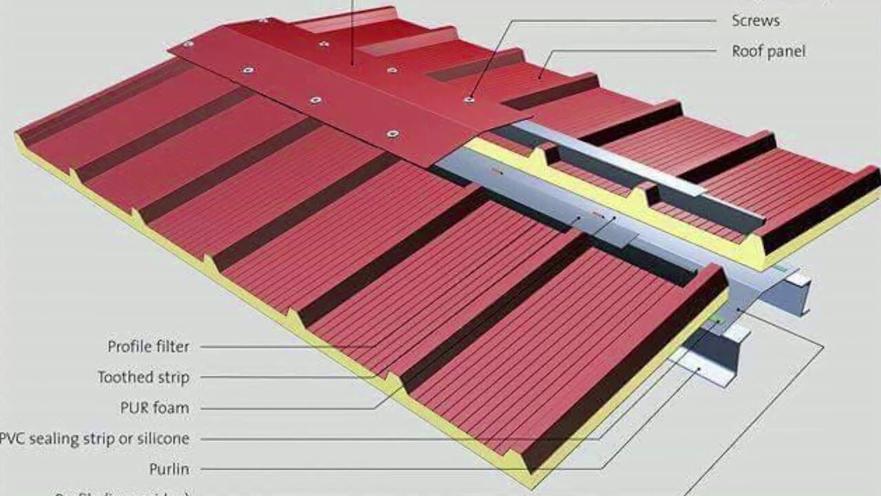 The construction of the roof is one of the most critical stages of the work. In addition to the structural issue, the type of tile used also says a lot about the quality of the project itself. For example, the thermal tile has already become a reference for buildings that require maximum functionality combined with an excellent cost-benefit ratio.
Also known as sandwich tiles, thermal tiles are used both in residential projects and in businesses or industries - what will vary is the tile model indicated for each feature. The advantages, however, are guaranteed regardless of the standard of the work.
Do you want to know these advantages and how the thermal tile would work in your home? So, read on and surprise yourself with this idea!
Thermal Tile Operation
The main feature of this type of tile is the thermal and acoustic insulation. This is only possible due to the pieces' composition, assembled in the following scheme: metal tile/insulating material (polystyrene or polyurethane)/metal tile. This composition has earned it the popular name of "sandwich tile."
The two metal sheets are made of galvanized steel or galvalume, and the weight varies from 12 to 14 kg per square meter of roof. As for size, in stores specializing in construction material, it is possible to find thermal tiles with a width of 1 meter and lengths ranging from 2.23 meters to 8.18 meters. There are two basic models, namely:
Simple thermal tile - The top layer is formed by the metal plate, and the bottom by an aluminum film;
Double thermal tile - Both layers are formed by metal sheets.
They can be applied in the most varied architectural projects, from residential and commercial to universities, hospitals, and airports. The installation, however, requires specialized labor, whatever the project.
The main precautions are regarding the roof pitch and the distance between the supports, which must be compatible with the question overload. Only then will the thermal tile work with quality and safety.
Reasons For Using Thermal Tile In Your Project
Below, we detail the three main functionalities of thermal tiles so that there are no doubts when choosing. Let'sLet's read on!
1. Provides Excellent Thermo-acoustic Comfort
If it were to define this type of tile in a single feature, thermal and acoustic comfort would speak louder. However, it is essential to note that the metal sheets' core materials provide different performances concerning this characteristic.
It works like this: for projects that demand thermal and acoustic comfort simultaneously, Styrofoam is more suitable and less expensive. On the other hand, if the idea is to prioritize acoustic comfort, the most suitable materials for the core are mineral wool (rock and glass).
In this case, it is also worth remembering that these two materials do not ignite. Therefore, they are also recommended for buildings that involve some risk and require fire resistance. Polyurethane, in turn, is more efficient in providing thermal insulation.
In general, construction material manufacturers point out that it is possible to guarantee a thermal reduction of approximately 90% using thermal tiles. That is why they are more viable alternatives to avoid overheating of roofs.
The acoustic reduction usually varies around 20 to 40 decibels according to the thickness of the tile. In practice, this means a considerable reduction in interference from outside noise.
2. Has Excellent Durability
The two main models of thermal tile are light and have a resistant structure. However, because it is more malleable, the polystyrene (EPS/Styrofoam) tile is also more susceptible to the winds' action, which would cause a loss of resistance over time.
Since polyurethane after being injected tends to be a material with more excellent structural resistance. However, there is no reason to worry about both models' durability, as, in general, thermal tiles have an extraordinary service life.
3. Cost Reduction Help
Another magic word when it comes to thermal tile is sustainability. It is not difficult to understand why: due to their insulating properties, sandwich tiles do not need to be spent on heaters or air conditioning units, significantly reducing electricity costs.
Investing in a thermo-acoustic roof is not cheap. Still, if you consider the cost-benefit of the installation, you will understand that this is an excellent alternative for your home, as it provides home savings for the rest of your life.
In any case, we reinforce the need to rely on specialized labor to carry out the installation. This is because there is no use in thermal tiles and not taking care that the rest of the project is consistent with the thermo-acoustic proposal.
For example: if the idea is to avoid overheating the roof and there is an extensive area of ​​sunlight entering the site, it is necessary to adapt the project to not interfere with the maximum functionality of the tiles. - and this is what only a technically qualified professional can do.
Other Specific Advantages Of Thermal Tiles
● They have low structural weight, which guarantees a less expensive roof structure;
● Can be used on low-slope roofs;
● Save material waste, as they are provided with measures compatible with the project;
● They present pleasant, versatile, and harmonious aesthetics;
● Are easily installed;
● Require little maintenance;
● Do not require the use of lining;
● Do not propagate flames;
● They do not mold or serve as food for microorganisms that generate infestation.
If you were still afraid about the advantages of thermal tiles, we bet that, after this reading, you are no longer! After all, with such potential combined with the excellent cost-benefit of the installation. There is no reason not to invest in this type of roof.